Description
The Naked Studio is a professional photo session in expressing yourself in front of the camera. How naked you get is up to you.
---
For some, it's an opportunity to see what it feels like to be photographed naked...or to find the courage to be photographed. For others, it's been about sharing a personal story and having an area of their body photographed.
Whats included
• Pre shoot questionaire and consultation which shapes and personalises your experience
• 1 hour in the studio with coach and photographer Hannah Anketell
• 3 edited photos sent digitally
• Digital contact sheet for additional images which are charged at £10 each
What to bring
accessories, small props, a letter, photographs, a playlist (on your phone).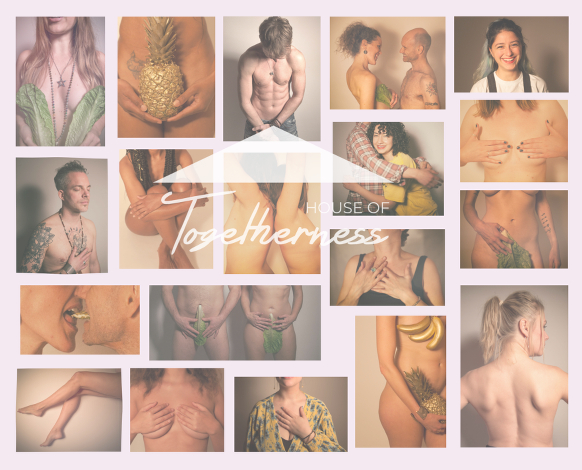 What others said about their experience:
"Thank you! I loved the session, I found it very heart opening, it feels good to be seen by you."
"Thank YOU for your time on Saturday. I'd never done anything like that before so it was really invigorating!"
"You made me feel so at ease and safe in your hands and I could really feel all of your love, warmth and care in that moment which really made the experience a whole lot easier for me!"

Timing

Sessions run from 10am - 5.30pm. Choose your session
First Session at 10.00am.
Last session 4.30pm.
10.00am
11.10am
12.20am
01.20pm Break
02.00pm
03.10pm
04.30pm
Venue Information
There will be teas and sweet snacks available to buy on the night. We're a sustainable venue and no longer use disposable cups for our events so bring a refillable water bottle or coffee cup for drinks. Alternatively we have reusable cups you can purchase from our tuck shop.


About House of Togetherness
The Home of Human Connections in London, we are a six month pop up in Covent Garden until July 2019. We create live experiences that explore our relationship with ourselves and others in a playful, meaningful and sometimes soulful way.
We welcome everyone beyond their identity, labels and beliefs. There are no shoulds or musts at HoT only permission to be yourself.