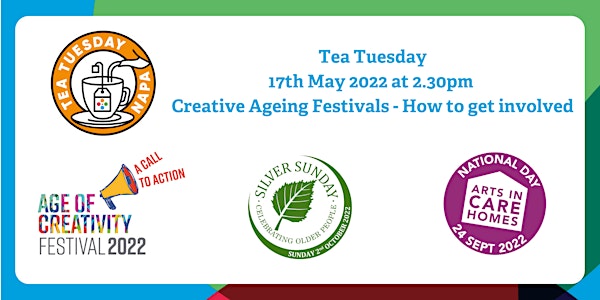 NAPA Tea Tuesday – Creative Ageing Festivals - How to get involved
Find out more from the organisers about each event, where to get info and resources and how to get involved.
About this event
Join Hilary for a Tea Tuesday chat about three fantastic 'creative ageing' festivals taking place this year. Find out more from the organisers about each event, where to get more information, resources and how to get involved.
Guest include:
Farrell Renowden - Age of Creativity Director
The Age of Creativity Festival takes place 1-31st May each year and celebrates creativity with, for and by older people across England. This year we have a particular focus on supporting those individuals and communities who have been badly impacted by Covid-19. Age Friendly Creative events and activities can be found and added to the festival on our dedicated website, please click here.
Lucinda Hurrey - Project Officer, Silver Sunday
Initially launched as a local campaign to tackle loneliness and isolation, Silver Sunday is now a national day where people of all generations can come together by hosting fun and free activities for older people. It is a day where older people can meet new people, visit new places, try new activities and connect with their local communities and the generations around them.
This year Silver Sunday takes place on 2nd October. Join us and the hundreds of community groups, local businesses, care homes and charities taking part to celebrate older people!
Alison Teader, Programme Director, Arts in Care Homes
Alison has led a number of national projects on behalf of NAPA. She is currently Programme Director for Arts in Care Homes, a five year programme funded by The Baring Foundation and the Rayne Foundation, aimed at promoting the importance of arts, creativity and cultural participation in care settings. She has developed the Arts in Care Homes website , a user-friendly resource for anyone wanting to organise arts activities in care homes. Alison also manages the National Day of Arts in Care Homes, an annual event that takes place on the 24th September.
Please feel free to make a donation to the NAPA support line , when you book your ticket.
Many thanks
The NAPA team