NASA Neemo mission, gender equality & mental resilience
Description
The Athena SWAN Annual Lecture is a lunchtime event open to all men and women at the University of Bath, staff and students.
In her talk, Dawn will talk us through her journey: from career progression and experience of being a woman in a male-dominated environment, breaking barriers and stereotypes, to epigenetics, extreme environment, diving, health and mental resilience. The presentation will be followed by time for questions, discussion and networking.

Registration will begin at 13:05, with a talk scheduled to begin at 13:15.
Professor Bernie Morley, Deputy Vice-Chancellor and Provost and Acting Vice-Chancellor, will welcome everyone and introduce the speaker.
Attendance at this event WILL form part of your iTrent Personal Development Plan.
The event is free, but you must register on Eventbrite to secure your place.
_________________________
Dawn Kernagis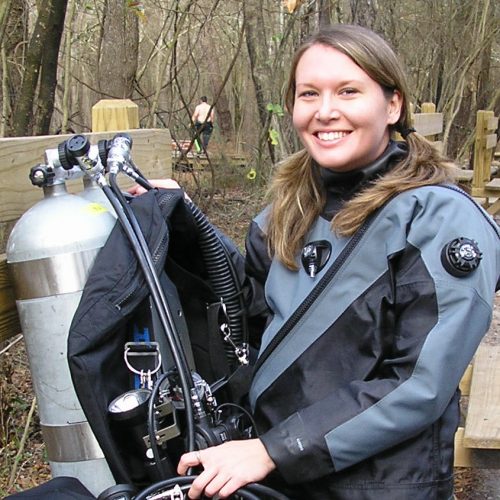 Dr. Dawn Kernagis is a Research Scientist in the area of human performance optimization and risk mitigation for operators in extreme environments, such as those working undersea, at altitude, and in space.
Dawn came to IHMC from Duke University Medical Center, where she was an American Heart Association Postdoctoral Fellow and funded by the Office of Naval Research (ONR) to identify mechanisms and potential therapeutic targets for acute brain injury. She completed her PhD at Duke University as ONR Undersea Medicine's first Predoctoral Award recipient. As a graduate student, Dawn also assisted with numerous DoD and NASA-funded projects focused on extreme environmental physiology. Dawn obtained her undergraduate degree in Biochemistry at North Carolina State University, where she was a recipient of the Sigma Xi Undergraduate Research Award.
Dawn has also been a diver and manager of numerous underwater exploration, research, and conservation projects around the world since 1993, including the deep underwater exploration of Wakulla Springs and surrounding caves for over a decade. In 2016, Dawn was selected as one of six crew members to live and conduct research while living underwater with NASA's undersea mission, NEEMO 21.
Based on her extensive exploration, mentorship, and experience in diving and in the extreme environment research community, she was selected as an inductee into the Women Divers Hall of Fame (Class of 2016) and as a Fellow National of The Explorers Club. In 2018, she received the Undersea and Hyperbaric Medical Society's Young Scientist Award.
In addition to her research, Dawn is co-host of IHMC's podcast, STEM-Talk. She is a member of the DoD Biotechnologies for Human Performance Council, a member of Leadership Florida's Class XXXV, a Guardian Group Ambassador, and an advisor to NWF Marine EDGE. She loves traveling, playing piano, and spending as much time outdoors and on the water as possible.
____________________

INDIVIDUAL REQUIREMENTS
If you have requirements, such as:
dietary
access
sign language interpreter
large print transcription
chairs in the foyer area
wheelchair space reserved
priority seating - i.e. near the front to aid hearing, first level to restrict stairs etc.
Anything else that will make your experience more appropriate for you...
Please just let us know by either emailing: diversity@bath.ac.uk or telephoning 01225 383723 and we will do our best to accommodate.