About this Event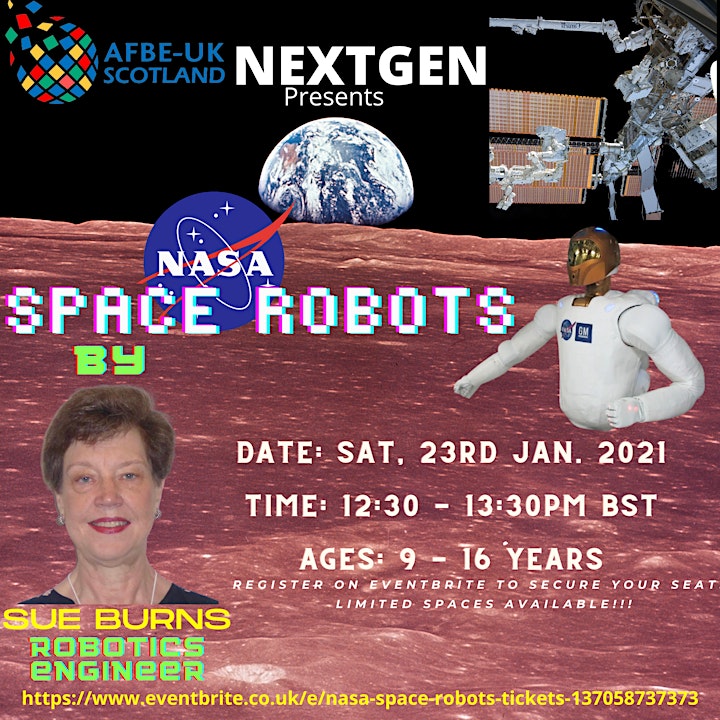 ABOUT THE TALK
The evolution of Space has brought the need to augment the Astronaut's work capability. Robots have been used in Space Shuttle and Space Station. Robots allow for the maneuvering of large volumetric and mass items for assembly and maintenance tasks. Space Station is also beginning to add a dexterous robots to help conduct tasks in lieu of the astronaut. With humans being super eager to explore deep space and profit from the potentials space has to offer, NASA is counting on humanoids, a special kind of SPACE ROBOTS to do the job. NASA manufactures these space robots which are excellent precursors for carrying out science missions ahead of human exploration . This is because they are non-living things; they are manufactured from materials that can withstand the harsh climate in space; and they face the risky presence of asteroids without dying. There are also other Robots that work with astronauts in space. The Robots are programmed with special codes and can be controlled from earth using special software which NASA staff like Sue develop.
To learn more about NASA's Space Robots, register and attend this NextGen STEM session
Date: Sat, 23rd Jan. 2021
Time: 12:30 -13:30pm BST
Venue: Microsoft Teams (Link to be sent after Eventbrite registration)
Ages: 9 -16 years
Speaker: Sue Burns
The talk will cover : The role of Robots and Astronauts working in Space
ABOUT THE SPEAKER
Sue Burns studied Mechanical Engineering at University of Colorado, Boulder, Colorado. She is a Robotics Engineer at NASA, USA. She later became NASA Space Station Robotics Chief Engineer. Currently, she is the NASA Orion FSW Test & Verification Lead. She had also worked in Construction and then, Oil and Gas industry before moving to Aerospace.
This great woman is also a mother and grandmother. She enjoys spending time with her family, motivating young people to believe in themselves and to explore space amongst other hobbies.
*The photo in the flyer is a significant photo that was taken when Sue participated in the NASA Apollo 50th Anniversary, July 19, 2019 (Landing Mission)*.