Natalia Taffarel High End Beauty & Fashion Retouching Series - London

Saturday, 24 May 2014 at 09:30

-

Sunday, 25 May 2014 at 18:30 (BST)
Event Details
Train to Create presents Natalia Taffarel: High End Beauty & Fashion Retouching Series - London. Proudly sponsored by Wacom, this is a two and a half days series of events focusing on: Skin, Hair, Beauty & Fashion Retouching. Natalia will share her complete workflow focusing on the techniques and the basis for her aesthetic decisions and she will showcase her "tricks" to optimise the use of Adobe Photoshop CS5 (or higher).
The most Complete and Exclusive Retouching Workshop
2 DAYS INTENSIVE RETOUCHING WORKSHOP + SEMINAR
LIMITED TO 20 PEOPLE ONLY

The masterclass will be structured as follows:
COMPLEMENTARY SEMINAR: Friday, 23th of May
4:30 pm to 6:30 pm
Retouching, myths and reality of the industry Sponsored by Wacom and in partnership with London College of Fashion, Train to Create presents Natalia Taffarel, Retouching Seminar. 
The seminar is a private and dedicated event for all the students of the London College of Fashion and for those attending the Master Class. The seminar will feature several experts and insiders who will speak about their experiences in the industry and provide helpful advice for aspiring photographers and retouchers. There will be a Q + A where guests can feel free to ask their most pressing questions about the fashion and retouching world. The seminar is by no means a prerequisite to attend the workshop but serves more as an added bonus. 
*Please note that this Seminar is FREE to attend if you have booked and paid for the workshop
London College of Fashion: 40 Lime Grove , W12 8EA London
The Masterclass' objectives: Natalia Taffarel in this retouching workshop in London will discuss the entire process and techniques of retouching focusing with great attention upon the fashion, beauty and hair images. She will showcase her peculiar techniques and explain the process behind the practicalities of retouching, including the why and when specific retouching methodologies are employed. This practical and intensive masterclass will teach you how to retouch beauty and fashion shots to make it naturally perfect while not being digitally obvious. You will learn about whitening and straightening the teeth, redefining lips, reshaping and resizing the nose, sharpening eyes, perfecting the face features, adding and removing makeup, creating different skintones and the most challenging hair correction or redoing as well as creating the background and elegant lighting adjustments to produce that "vogue magazine" output. This makes for a thorough and complete learning tool. You walk away with the knowledge needed to competently evaluate an image, envision the result in the mind's eye, plan the process and execute the work needed to achieve the vision.
DAY 1: Saturday, 24th of May
9:30 am to 18:30 pm
The techniques and the basis of aesthetic decisions
The importance of using "not destructive" techniques for the treatment of textures and light manipulation
Understanding of key concepts and principles (such as composition, color, light and local contrast) and their application for  retouching images
Color Theory
Semiotics and semiology applied to colour and colour perception.
The brain and psychology applied to advertising and design, and their application in photography and post production of images
The business and the real "magic" behind it: there are no secrets
DAY 2: Sunday, 25th of May
9:30 am to 18:30 pm
Hands on: the practical application of the techniques and principles learnt in Day One
Personal time and feedback from Natalia & Train To Create
Question and answer: trouble shooting and doubts solving
What you need:
Own Workstation
Tablet (Optional)
Photoshop CS5+ installed
knowledge of layers, adjustment layers and masking
What you will gain:
The topics discussed in this masterclass will provide you with extremely valuable techniques and competences that you will able to apply to both jobs in top fashion industries and simple works like a 'Real Pro'.
During the masterclass you will have the unique opportunity to apply the techniques Natalia will present directly onto your works while being personally followed by Natalia herself on a one-to-one basis.
Every participant of the masterclass will leave the classroom with the necessary professional knowledge to assess and analyze an image, preview the final result in his own mind, plan his work and achieve the expected result through professional techniques of the highest level, exactly like Natalia does.
Natalia Taffarel will hand out personally signed certificates attesting your attendance.
The Retoucher: Natalia Taffarel
Argentinian high end retoucher Natalia Taffarel's clients include Vogue, Michael Jackson, Westlife, Rihanna, Fatboy Slim, Florence and the Machine, Alex Reid, JLS – Jack the Lad Swing, Pendulum, Lily Cole, MIA, Elle Magazine, Sugar UK, Fabulous, The Big Issue, Q, Sublime UK, Loreal, Maybelline, Revlon, ASOS, N Peal, Wella and Unilever. For the past years Natalia conducted workshops all over the world, and she holds a 5 star reputation as a teacherhaving a crystal clear voice with proficient English speaking abilities. Natalia's Photoshop and retouching classes can be easily followed by advanced students as well as beginners with basic knowledge of layers, adjustment layers and masking. The speed of her speaking is moderate and guarantees full understanding of her demonstrations. Web / Facebook / You Tube

Events Prize draws
Seminar:
Master Class:
Meet Up: ..and more!   Venue for the Masterclass: Holiday Inn London Commercial Road261 - 267 Commercial Road, London, E1 2BT, United Kingdom Services included with the venue:
Unlimited tea, coffee, fresh fruit and biscuits
Two chefs daily themed breaks i.e. pastries, scones etc.
Restaurant Deli Lunch or a Working lunch in Meeting Room
Bottled mineral water and confectionery
Meeting stationery kit
Screen and LCD Projector
Flipcharts with pens
Internet connection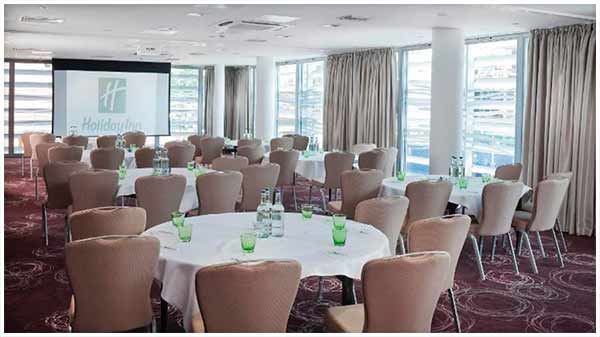 Refund Policy 
Event cancellation: 
Full refund.
Before April 23rd, 2014 : You can get a refund of 70% of the workshop value
After April 23rd, 2014: no refund after this point.
*The tickets are transferable so you are welcome to give them or sell them to a third person if necessary.
Do you have questions about Natalia Taffarel High End Beauty & Fashion Retouching Series - London?
Contact Train To Create
When & Where

Holiday Inn London Commercial Road
261 Commercial Rd
E1 2BT London
United Kingdom


Saturday, 24 May 2014 at 09:30

-

Sunday, 25 May 2014 at 18:30 (BST)
Add to my calendar
Organiser
Train to Create is an invitation. A team of photography passionate people that facilitates visual creativity through workshops, conferences and networking.
Train to Create calls at London to connect all passengers interested in expressing their vision through photography, filmmaking and digital arts.
Welcome on board!
We believe in the importance of the creative impulse in human beings. Our mission is to provide opportunities to build on that impulse.
This is what we do:
We create an environment for the sharing of knowledge and expertise.
We maintain a network of lasting collaborations with international artists.
We organise a range of activities, from tailored laboratories to conferences, for the professional and amateur photographers, filmmakers and digital artist interested in developing their skills.
Our gatherings are opportunities for practical training within a professional environment. They are hosted by established artists and photography authors, each of them focusing on their particular area of expertise.
Whether you are a passionate amateur, a semi-professional or a professional photographer, you will have the opportunity to complete the process of a professional shooting, starting from the concept to the final retouching.
In an inspiring setting within London, your creativity will be encouraged by working with models and using the costumes, scenery and lighting equipment of a professional studio. It is a fun and inspiring atmosphere where all the participants are challenged to go through the barriers of their perceived limitations and freely experiment their ideas.