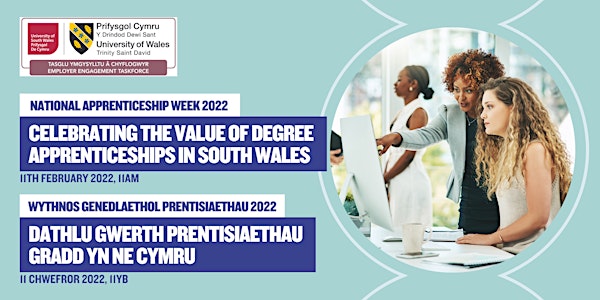 National Apprenticeship Week 2022 / Wythnos Genedlaethol Prentisiaethau
Hosts: University of South Wales and University of Wales, Trinity St David / Cynnal: Prifysgol De Cymru a Phrifysgol Cymru, Y Drindod De
About this event
Build the future - Celebrating the value of Degree Apprenticeships in South Wales
University of South Wales and University of Wales, Trinity St David invite employers to an online event with contributions from Managers, Apprentices and industry partner organisations for a discussion about the benefit of Degree Apprenticeships.
We would like this to be an interactive event offering the audience the opportunity to engage in Q & A with our expert panellists.
Adeiladu'r dyfodol – Dathlu gwerth Prentisiaethau Gradd yn Ne Cymru
Prifysgol De Cymru a Phrifysgol Cymru, Y Drindod Dewi Sant yn gwahodd cyflogwyr i ddigwyddiad chwyddo gyda chyfraniadau gan Reolwyr, Prentisiaid a sefydliadau sy'n bartneriaid yn y diwydiant i drafod budd Prentisiaethau Gradd.
Hoffem i hyn fod yn ddigwyddiad rhyngweithiol sy'n cynnig cyfle i'r gynulleidfa gymryd rhan mewn sesiwn holi ac ateb gyda'n panelwyr arbenigol.