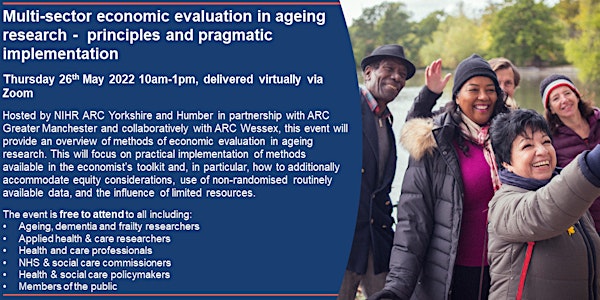 National ARC Shared Learning & Development Event - Health Economics
Multi-sector economic evaluation in ageing research - principles and pragmatic implementation
About this event
Hosted by NIHR ARC Yorkshire and Humber in partnership with ARC Greater Manchester and collaboratively with ARC Wessex, this event will provide an overview of methods of economic evaluation in ageing research. This will focus on practical implementation of methods available in the economist's toolkit and, in particular, how to additionally accommodate equity considerations, use of non-randomised routinely available data, and the influence of limited resources.
The event is free to attend to all including:
Ageing, dementia and frailty researchers
Applied health & care researchers
Health and care professionals
NHS & social care commissioners
Health & social care policymakers
Members of the public
This webinar will be delivered via Zoom. A calendar invite with the agenda for the event (see image of agenda below) and Zoom joining instructions will follow in due course.
If you have any questions about this event, please get in touch with NIHR ARC Yorkshire & Humber: yharc@bthft.nhs.uk / www.arc-yh.nihr.ac.uk