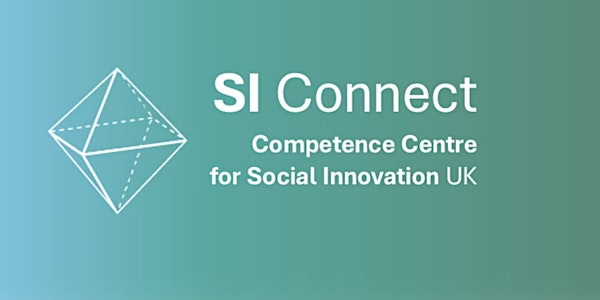 National Conversations: Social Innovation Enablers across the UK
The National Conversations on Social Innovation will create debate on forms of SI for the future and understanding critique/criticism
About this event
The National Conversations on Social Innovation will create debate on forms of SI for the future and understanding critique/criticism. This series of events will occur over the next few months, aiming to cover a range of thematic areas and engage key practitioners and organisations in lively discussion. These sessions will take the form of a roundtable where dialogue and discussion can be held on broad and high level themes. As we are aiming to make this a UK conversation about each topic, we are inviting a range of organisations from the four UK nations to be a part of the conversation. These will be online events, held on Zoom.
National Conversation on Social Innovation Enablers across the UK
Social Innovation is often supported by key agencies and organisations across the UK. These organisations are key to understanding what support is needed locally and nationally, and where key gaps are. Whether these organisations are public organisations focused on specific support, or independent organisations that provide key resources and services to budding social enterprises and community projects; they empower and drive groups and individuals with a social mission.
There is much to navigate when deciding to undertake a business or project that addresses a social cause. It can be a very lonely place to be, and a difficult journey engaging a community or group, and also navigating the complicated legal and financial processes to get established. Failure is common for new social innovators, and organisations that support them are often the ones that persuade them to keep trying in the face of adversity. Organisations like this also face their own challenges, working with the context varying across the UK between regions and the four nations of the UK. Justifying their existence often becomes a key issue when funding and policy changes around them, and to survive organisations have to be agile and prepared to pivot focus whilst still supporting the communities they did before.
During this session we will hear from leading organisations in different regions of the UK about Social Innovation and Enterprise in their local context, and also about the ways in which we can start to collaborate with our communities to address the variety of challenges we face as a society today. This will be an online Zoom session. The panel discussion will be followed by audience questions. Our panel speakers for this session will be:
● Dr David Haddow, Co-Founders - Social Shifters
● Cleo Goodman, Co-Founder – Basic Income Conversation
● So Jung Rim, Chief Operating Officer - Social Innovation Exchange
Organiser and facilitator: Social Innovation Connect, or SIC is the European Social Fund UK Social Innovation Competence Centre – set up and led by Glasgow Caledonian University. SIC aims to create a better, more connected UK social innovation ecosystem across the regions, with stronger transnational ties to Europe and beyond. It is a member of the European Social Innovation Alliance (ESIA), an EU-funded programme which is supporting the establishment of national social innovation 'competence centres' across Europe.
Please note, this session will be recorded. If you have an issue with this let us know. If you have accessibility requirements, please let us know.
As this is funded by European Social Fund, we may have to share simple information with the European Commission about attendance at this event. This is confidential and is not sold on or used beyond providing proof of attendees. If there is any issue with this, please let us know.