Description
National Cyber Security Programme – Autumn Showcases 2018
Think Cyber Think Resilience Seminars
Birmingham: Wednesday 12th December 2018: De Vere Colmore Gate, Colmore Row, Birmingham B3 2QD
Time: 09:30hrs - 16:00hrs (09:30hrs arrival for 10:00hrs prompt start)


Background: We all know that Digital Public Services in the UK are under constant cyber-attack. The UK Government has in place a National Cyber Security Strategy aimed at protecting UK Public Services from cyber-attacks. The National Cyber Security Programme (NCSP) is responsible for delivery of that strategy and is working with cross-government partners (such as the National Cyber Security Centre) to improve cyber resilience across UK Public Services.
The seriousness of this challenge has been brought home recently by the UK and its allies exposing a campaign by the GRU, the Russian military intelligence service, of indiscriminate and reckless cyber-attacks targeting political institutions, businesses, media and sport.
How then do we meet the security and resilience challenges of living and working in a world of 24/7 service delivery expectations; coupled with the drive to online digital services and the constant expectation of service transformation and improvement? How can the NCSP help local service providers to become more cyber secure?
MHCLG and iNetwork, working with NCSP partners, are running a series of interactive events aimed at Senior Executives, lead practitioners and policy makers from Local Public Service providers (Local Authorities, Local Resilience Forums, and their wider Public Sector delivery Partners) with the aim to:
Raise awareness about the NCSP, explain the role of key national strategic partners and increase understanding of the importance of Cyber Resilience in localities

Provide locality leaders, policy makers and practitioners guidance on developing a cyber-aware culture within their organisations and across their partnerships

Offer guidance on where to go for further advice or training, supported by the NCSP Think Cyber Think Resilience Initiative
Programme: The seminar programme will provide participants with a view on the ways and means leaders, policymakers and practitioners can develop a cyber-aware culture within their organisations so that strong cyber resilience is seen as not just an IT issue but a key part of the wider operating culture and an integral part of the corporate DNA. They will comprise a mixture of key note presentations and interactive sessions featuring contributions from:
National Security Secretariat

: Update on the National Cyber Security Strategy from the Cabinet Office Cyber Defence Group and next steps for wider public services on cyber security.
NCSP-Local

: Think Cyber - Think Resilience Pathfinder Scheme – looking at the new exciting free training scheme being developed in partnership with the Emergency Planning College offering over 3000 day places for local public service and local resilience community members starting January 2019.
MHCLG

– Resilience and Emergencies Directorate Cyber Advisers: Update from the

RED Cyber Team working with LRFs to help develop their cyber capabilities and multi-agency networking.
Resilience Direct

: on the new Cyber Hub on Resilience Direct - a virtual forum where cyber learning and experience can be shared and developed.
These events are designed round a series of interactive sessions creating an opportunity for two-way engagement between NCSP partners and Local Public Service Providers. This is your opportunity to not only hear about products and services - many of them free to use - but also to explain and discuss the challenges of Cyber Resilience in the local context.
Audience: Senior Executives, Policy Makers and Practitioners from English Local Authorities, Local Resilience Forums, and Public Sector Partners
Senior Executives from public sector organisations responsible for policy making and strategic oversight of cyber security, information or data management, business continuity planning, and incident management handling - especially in Local Authorities; Local Resilience Forums; Warning Advice & Reporting Points; or other Local Public Sector Bodies.
These events, which are free to attend for public service delegates are aimed at Senior Executives from Public Service providers - especially (but not limited to) Local Authorities and Local Resilience Forums or their public sector delivery partners - with responsibility for:
Cyber Resilience/ Security

Information Assurance

Data Management and the impact of GDPR/NIS

Democratic and Electoral Services

Business Continuity Planning

Emergency Planning
Agenda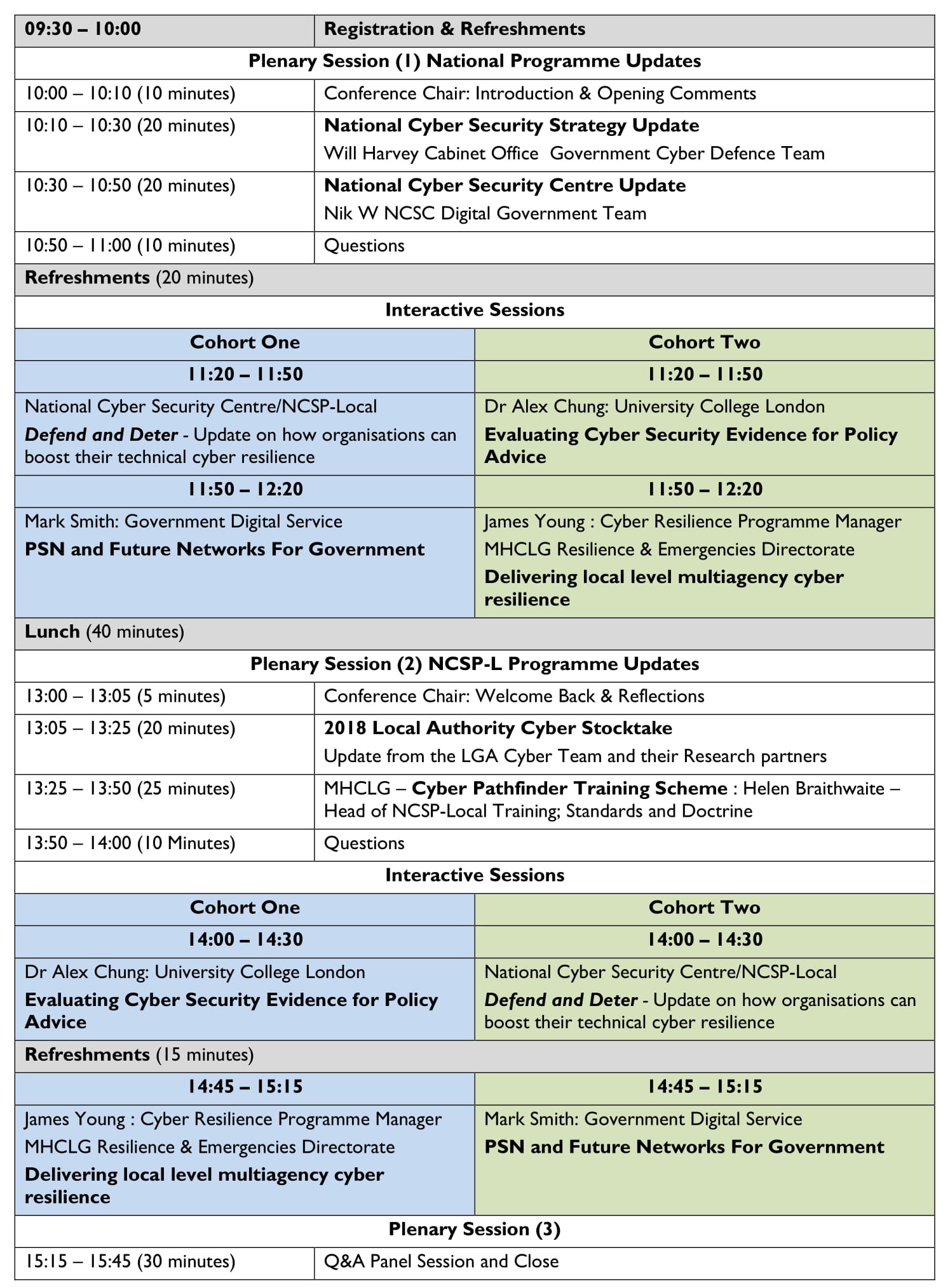 Polite Notices
Charging Policy: This event is funded by Ministry for Housing, Communities and Local Government and is therefore FREE to attend.
Registration: There are a few questions as part of the registration process - you will be given the opportunity to request CPD etc.
Special/ Dietary Requirements: You will be asked to specify if you have any special or MEDICALLY RELATED dietary requirements when completing the registration form.
Please note: We cater for vegetarian option as standard at all our events. This does not have to be specially requested.
Cancellations: In the interest of efficiency, please let us know if you are unable to attend at least 10 working days before this event, so that we can make adjustments to the delegate list and catering requirements. Apologies given with less than 10 working days, we request that delegate substitution is made wherever possible.

Name badges will be printed according to the information that is entered on the registration screen. Please ensure you use proper case. If you are registering for other people please enter their full details otherwise they will not have name badges or be on the entry list and therefore may also not be able to enter.
iNetwork's privacy notice can be found here: https://www.tameside.gov.uk/privacynotice/finance