National Group Visit - Business Breakfast 2017

Monday, 17 July 2017 from 08:00 to 10:00 (BST)
Event Details
Plymouth is hosting its first Digital Policy Alliance Cyber Security breakfast briefing at Plymouth Science Park on 17th July and we have invited you to join us as a respected voice in the business community.
The event aims to provide exclusive access to high level UK and global industry experts in Cyber Security who are advising on Government policy making and the skills required to combat the rising global threat of Cyber Crime in the UK.
The morning will bring together decision makers from across the City and the UK to look at the realistic options to safeguard data, how to work together collaboratively and make Plymouth one of the first and safest places to operate in the UK and produce the next generation of cyber security professionals. We want Plymouth to set the standard and become a model to other cities across the UK.
Why should you come?
Hear from the leading authorities within the Cyber Security Skills industry 
Give your insight into how as a city we can tackle the cyber security skills shortage
Increase your knowledge beyond the news headlines
Look at the sensible steps to take action to protect your business
How to handle the press if you do get hacked
Network with local and national business leaders
Who is attending?
Chair
To head up the discussion, Philip Virgo, EURIM Consultant and Advisory Board Member at the Digital Policy Alliance, and Specialist Advisor to the government's Culture, Media and Sports Select Committee will chair the session.
The Expert Panel
Lord Lucas, Chairs the 21st Century Skills Group of the Digital Policy Alliance within the House of Lords
Louisa-Jane O'Neill, Vice-Chair, Information Assurance Advisory Council (IAAC)
Martin Howlett, Director of Development, Youthfed
John Pritchard, Head of Apprenticeships, British Computer Society
Graham Hunter, Vice President, Skills Certification – Europe & Middle East CompTIA
Lyndsay Barrett Turley, Director communications and Public Affairs, ISC2
Julia Von Klonowski, Oracle Director of Education for Europe, Middle East and Africa
Nuna Guarda, Head of Corporate Affairs UK and Ireland, Cisco UK and Ireland
Nick Penston, Business Development Manager, Cisco
Neil Stinchcombe, Director, Eskenzi PR
Michael Dieroff, MD of BlueScreen IT
Who is involved?
The event is being hosted by Devon Chamber and Plymouth Science Park and being run by the partnership of Plymouth's Digital Policy Alliance that includes Blue Screen IT, Plymouth City Council, Plymouth City College, RIO, The College of St Marks and Johns, Plymouth College of Art and Plymouth University. 
CONFERENCE TRAVEL INSTRUCTIONS
1. Parking is limited and is strictly available on a first come first served basis.
2. The Park encourages Green Travel and we are passionate about reducing carbon emissions. We encourage conference delegates to use alternative methods of travel to the Park and suggest using the following websites to plan your journey:
http://www.travelinesw.com/swe/XSLT_TRIP_REQUEST2
http://www.plymouth.gov.uk/sites/default/files/PublicTransportNetworkMap.pdf
http://www.plymouth.gov.uk/parkingandtravel/publictransport/parkandride
3. You might also consider car/taxi sharing with fellow delegates.
4. The Park is ideally located just 10 minutes away from The George Park and Ride, with regular buses serving the adjacent Derriford Hospital a short 2 minute walk away. At peak times buses serve the hospital every 3 minutes which makes public transport a good alternative.
5. You are permitted to park in the Visitor car parks as shown below.
6. The 'overflow 2' car park may not be accessible throughout the day, and we reserve the right to ask you to double park your car.
7. It is important to park in the designated spaces, failure to do so may result in a Civil Penalty Notice and fine of up to £100.
8. Plymouth Science Park accepts no liability for damage or loss whilst parked on site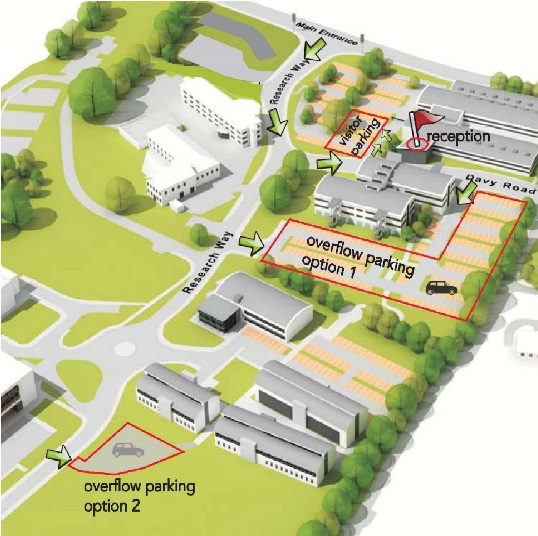 When & Where

Plymouth Science Park
Davy Road
PL6 8BX Plymouth
United Kingdom


Monday, 17 July 2017 from 08:00 to 10:00 (BST)
Add to my calendar
Organiser
DPA Security Skills and Partnership
The Plymouth Security Skills Partnership reports to DPA Skills Group, chaired by Lord Lucas (known mostly for creating the Good Schools Guide) and has been tasked with developing and piloting a working model of co-operation between employers (both public and private sector), security providers, schools, colleges, universities, law enforcement agencies and both central and local government to identify, attract, motivate, train (not "just" educate) and employ local talent for the Cyber Security industry.

The pilot is being used by national and international professional bodies and trade associations to test and document processes for co-operation, including with schools and law enforcement, that can be used elsewhere.
A number of components are needed to enable the building of a cohesive learning and support offering that incorporates employable industry experience which can then be promoted across the city and its travel to work area. Each component is crucial to the success and sustainability of the programme in order to ensure longevity and industry participation.

A Cyber Security Skills Pathway (CSSP) will be created (customising material from existing national and international frameworks) which will identify the numerous different routes that local individuals may take to get into the sector starting with those in schools, those not currently in employment or education, learners in both further and higher education (including post-graduate), on apprenticeships and those already working in the wider digital sector.

The pathway will involve a skills escalator powered by both professional and apprenticeship training and strongly supported by and connected to local digital companies, to careers service providers as well as recruitment and employment agencies and their advisors.

Each learning path will be linked to industry organisations who will provide work experience, mentoring, and support to the learners and their schools, colleges, university or local employers (both public and private sector). These organisations have a key role in the delivery of the programme pilot while at the same time showcasing the existing partnerships within the city and their ability to positively react to the current cybercrime and cyber skills crisis.

The programme will galvanise the approach to Cyber skills and related work and develop and host Cyber security professional skills, ranging from senior executive and management through to the technical. The numerous entrance points will allow learners to engage at any point in their development from initial briefings in school through to those already working in the sector. The use of the more experienced participants in mentoring roles will further assist less skilled colleagues.

A shared "Security Incubator" working on live problems (e.g. SME security audits or the identification of customers at risk of impersonation using information already available on the dark web) will be used to provide practical work experience for pupils, student, apprentices whilst at the same time progressing along one of the validated Cyber security skills paths that the partnership is building.

A shared cybercriminal awareness programme will focus on addressing current and emerging fears and threats (e.g. the criminal profiling of more than half of all pensioners to identify which are worth targeting, the stalking of the majority of children social media such as Snap Chat and the ease with which inquisitive youngsters can be drawn into criminal behaviour that will destroy their future career prospects.

A key focus will be the documentation of the processes used and the business benefits to participating employers, from reduced recruitment and training costs, through the improved of local security skills at all levels, to reduced losses from impersonation and fraud.
National Group Visit - Business Breakfast 2017