About this Event
Incorporating a hustings event with London Mayoral candidates where you'll be able to ask them questions about how they'll make London greener, healthier and wilder.
Our Gatherings bring people together from every borough across London: Across interests, skills, experiences, problems solved and "What Ifs?" made a reality.
We celebrate the whole of London's great outdoors: from big projects transforming places alongside tiny, quiet, local successes by hard-working, imaginative, caring people
All these drive London as a National Park City.
Greener, Healthier & Wilder London - The London Mayoral Hustings Hosted by London National Park City
During the morning session with Mayoral candidates:
Shaun Bailey, Conservative - confirmed
Siobhan Benita, Liberal Democrat - confirmed
Sian Berry, Green - confirmed
Sadiq Khan, Labour - invited
Rosalind Readhead, Independent - confirmed.
Mandu Reid, Women's Equality Party - confirmed
Rory Stewart, Independent - confirmed.
Gathering
Throughout the day, watch and listen to a variety of speakers and performers who will explore ideas and topics from the point of view of those making a difference in their local community. Arrive thinking "What If?" and leave thinking "Why Not?!"
Network with new and existing contacts on bringing London National Park City alive in 2020
Give your feedback on London National Park City plans for 2020 beyond, including our brand new National Park City Rangers programme and share your ideas on how we can make London a better National Park City
On Stage
We'll add details of all our presenters and speakers as they are confirmed over the next couple of weeks. They include:
Kabir Kaul's Rewilding London Together - Designed and introduced by Kabir, hear young people's perspectives on how we can make London wilder together. Kabir Kaul is a 14 year old conservationist and wildlife writer, passionate about protecting London's biodiversity. He has created an interactive map, 'Nature Reserves of London', and has been featured in several publications, including the Big Issue, Evening Standard and the Guardian. He is an ambassador for the Cameron Bespolka Trust, and an RSPB Youth Council member. Hear from young people from:
Action for Conservation
Cameron Bespolka Trust
and more to be confirmed...
Flourishing Diversity - By creating a platform for wisdom traditions, the Flourishing Diversity Series seeks to inspire appreciation and support amongst Western leaders and the public for the vital role Indigenous people play in resisting ecological collapse. We can all be Flourishers.
EPIC (Every Person is Capable) - People from different cultures, backgrounds and ages come together to engage in positive urban arts. Expect some surprises.
Time and Talents - More than a Party – celebrating community outdoors. For 133 years, T&T has been working to make sure that nobody is left out. This presentation will feature outdoor fashion and creativity.
CycleSisters - Cycle Sisters is a thriving Muslim women's cycling group based in Waltham Forest. Formed in October 2016, it now has over 50 members and volunteer ride leaders. 
May Project Gardens - Hip Hop Garden - an award-winning CIC, working across South London to address poverty, disempowerment, access to resources and influence. Working with marginalised groups, mostly young people, people of colour and refugees, using what we consider universally connecting tools - nature, food and creative arts - for social change.
Plogolution - How plogging can transform communities - Once upon a time, not so long ago, two friends sat down and moaned about the state of the world and the barrage of plastic and rubbish blighting our rivers and oceans. But what could two people do?
Forest & Family - Walking The [nature] Talk. Forest & Family run outdoor nature connection experiences for urban families in London.
Greg Packman - Life and work amongst the trees of London
Bring along your group
Why not invite along the other members of your local group?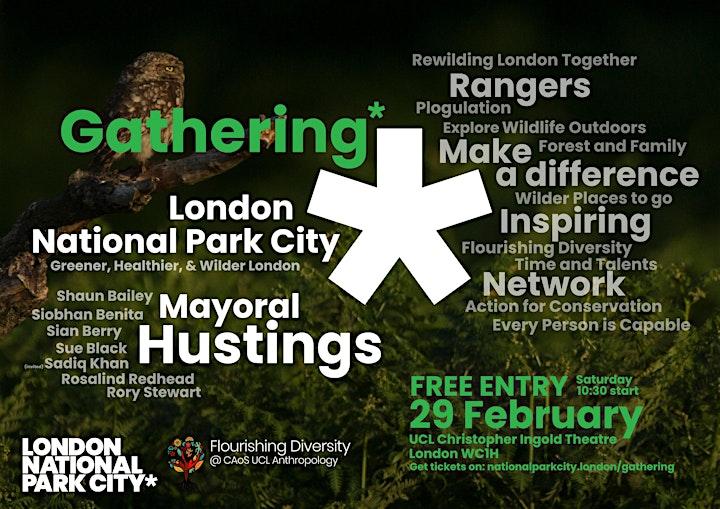 Tickets
We are making available morning, afternoon and all day tickets. We expect a high demand so please only book the sessions that you will be attending to allow others a chance to attend as well. Tickets are free.
Attending
Doors open at 10:30am for a 11:00am start. Please try and arrive with some time to spare so we may start on schedule as we have a lot to fit in during the day! We will have activities and information to share beforehand.
There will be a lunch break.
Accessibility
Accessibility - There is step free access all the way into the theatre, and space within the venue allocated for wheelchairs. Please see the guides on accessable.co.uk:
For the theatre - See here
For the overall building including main entrance - See here
Previous Gatherings
Watch some of the films from our previous gatherings over on www.nationalparkcity.london/gathering