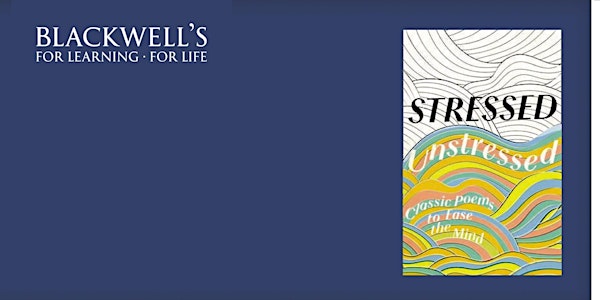 National Poetry Day: 'Stressed Unstressed', Can poetry make you happier?
Location
Blackwell's Bookshop
51 Broad Street
Oxford
OX1 3BQ
United Kingdom
Description
Can poetry make you happier? A conversation with Jonathan Bate, Paula Byrne, Andrew Schuman, and Sophie Ratcliffe, editors of 'Stressed, Unstressed', led by John Mitchinson, co-founder of the groundbreaking publishing house, Unbound.
'Words are, of course, the powerful drug used by mankind'. So wrote Rudyard Kipling in 1923. With this in mind, bestselling writer Paula Byrne set out to create an anthology of poetry which would act as a kind of mental health toolkit.With her co-editors, the Shakespearean scholar Jonathan Bate, NHS General Practitioner Andrew Schuman, and writer and critic Sophie Ratcliffe, she produced 'Stressed Unstressed: Classic Poems to Ease the Mind'.
The anthology has sold 20,000 copies worldwide, with all proceeds going to the mental health foundation, ReLit.
Unbound was formed in 2010. An award-winning publishing house, it uses one of the oldest methods of bringing books to readers - the subscription model (aka crowdfunding). John Mitchinson, its co-founder, has always been committed to supporting new poetry collections - from established writers such as Roz Kaveney and Murray Lachlan Young to emerging talents such as George Chopping and Iona Lee. The evening aims to be as inclusive as possible, with plenty of time for audience participation and Q & A.
Please join us for what is certain to be an enriching evening. This event will be held in the Norrington Room.
This event is just one amongst several fantastic events we have lined up for this year's National Poetry Day. For more information on others, please see our main Eventbrite listings page.