National Primary Care Conference - Clusters: past,present and future
Description
We are excited to open booking for the 4th Annual National Primary Care Conference in Wales. The conference will be held on the 7th November in the brand new International Convention Centre near Newport.
We are incredibly excited by the agenda and speakers, the draft agenda is outlined below but this is subject to small changes. We have listened to all the feedback from prior events and have designed the conference to maximise opportunities to learn and share from innovative practice in Wales. We have also allowed more time for delegates to meet and talk, and have increased the number of delegate spaces available compared with previous years, allowing those who wish to attend the opportunity to do so.
The ICC is a purpose built conferencing venue which will give us incredible flexibility for space. There is access to relaxing green outdoor space - although whether the weather in November will allow this is up in the air! Chargeable onsite parking is available, but we would encourage you to use public transport, further details will be shared prior to the event.
Important Information
You have the opportunity to select two workshops, please ensure you do this or we will allocate in random – we appreciate it's a hard pick between them all!
Although this is a free event for you to attend the cost of running such a conference is vast, please only book if you can attend. If you discover nearer the time you cannot make the conference please cancel your ticket, this will free up your spot for others to attend.
During the day there will be photographers capturing the day, if you do not wish to be photographed please make them aware.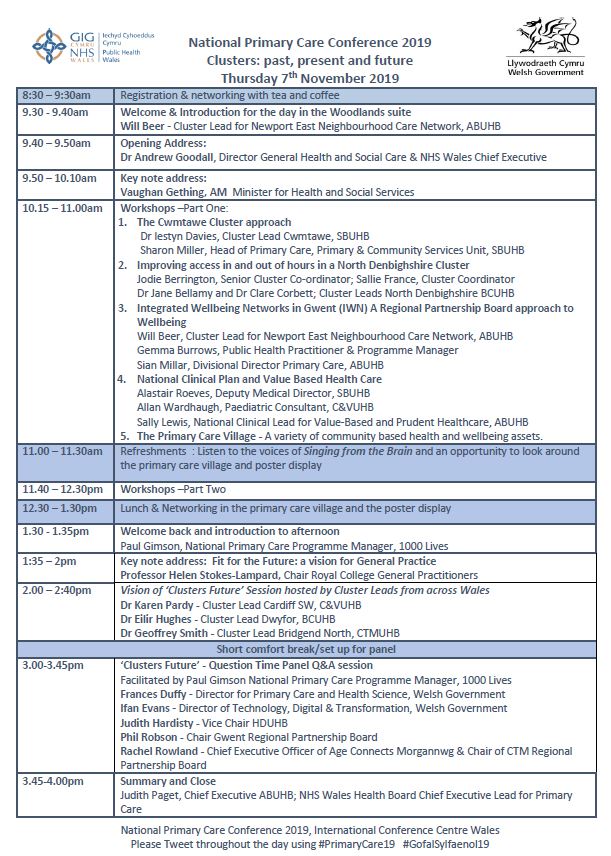 Organiser of National Primary Care Conference - Clusters: past,present and future