Description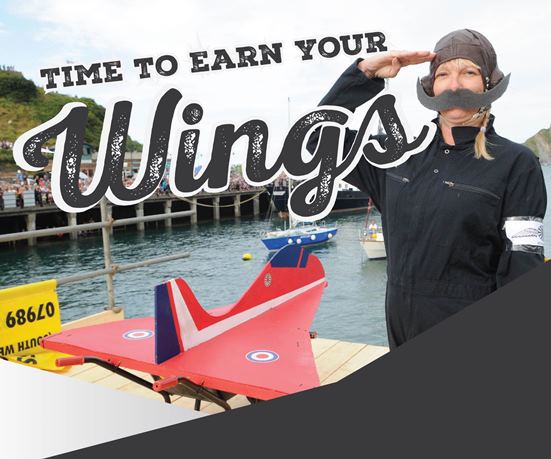 Click on GET TICKETS to enter the National Round Table Birdman competition.
Please note: Only entries through this booking will be accepted (no entries on the day)
Are you brave enough to leap from our jumping platform and defy gravity?
Sign up now to take part in the National Round Table Birdman competition, where would-be aviators in their home-made flying machines soar from Ilfracombe Pier. Have you got what it takes to jump the furthest and take home the coveted Birdman trophy? Join us on Saturday 11th August for what will be a whole day of fun and frolics, culminating in the Birdman competition taking place in front of thousands of cheering spectators. There is no feeling in the world like it!

Because of tide limitations, we can only accept 20 entries to this year's Birdman competition, so please complete your entry soon before places sell out.
What makes a good Birdman entrant?
Make your entry as visual, funny and inventive as possible. Flying machines are an essential part of the day and the prizes reflect this, but other props and fancy dress can also make for a fantastic Birdman entry. Prizes are available in different categories (see below) so decide what sort of theme you will choose to stand a chance in at least one of the categories.
What can you win?
The Icarus Award - £500
Given to the team whose craft flies the longest distance on the day.
The launch platform will be 8m wide x 14m long giving you plenty of room to get your speed up ready to set the longest flight!
Just Wingin' It Award- £100
This title, along with the trophy, will be awarded to the team who impresses our judges the most. They will have a combination of a great flying machine, an impressive display on the jumping platform, inspired outfits and an impressive (or hilarious) descent into the water. Judges will be scoring each team on these criteria, and the one with the highest overall score will be declared Just Wingin' It Champions 2017.
How do the funds raised make a difference?
The entire National Round Table Birdman event is for charity, raising money for local worthy causes. The £50 entry fee per team helps to cover some of the admin involved in such a large scale event with the remainder being used to support the local community. Each team will be expected to raise sponsorship for their efforts. Funds raised will go to Ilfracombe Round Table, who make grants to various charities and good causes throughout the local area. Every pound raised will go back into the local community, helping to make it a better place for everyone. If there is another particular cause you would like to support, please let us know and we can talk to you about making this happen. It should be pretty easy to raise some sponsorship if you are taking part in Birdman. It is such a madcap thing to do, all your friends and family will think it is worth a few quid in donations! We will also help by setting you up with an online fundraising page, where people can sponsor you safely and securely online. You can then share this page with your friends on Facebook, Twitter and via email. We'll also send you a paper sponsor form so you can ask people face-to-face, or put it up at work. Your efforts will help Ilfracombe Round Table make a real difference to groups and individuals in need within the local community.
PLEASE NOTE: WE CANNOT ACCEPT ENTRIES ON THE DAY. ALL ENTRIES MUST BE SUBMITTED VIA THIS BOOKING PAGE AT LEAST ONE WEEK PRIOR TO THE EVENT
Declaration:By entering the National Round Table Birdman Competition via this site, you agree to the following statement: I enter this event at my own risk. I have read and agree to be bound by the rules of the National Round Table Birdman Competition (which can be found at www.Ilfracombe.RoundTable.co.uk). I will not hold Ilfracombe Round Table or any sponsor responsible for any accident, injury, loss or damage to myself or my property arising from participation in this event. If my application is successful I will be responsible for arranging my own personal injury insurance. I understand that the National Round Table Birdman event may be filmed and photographed by the media and personnel appointed by the organisers and sponsors. Footage and photographs will appear in the Press, on websites and may be transmitted on television. Any filming / photographs may be kept and used by the organisers and sponsors for promotional purposes. Details submitted on this form will be retained on a database for this event and future events. If you do not want your details held on this database please notify the organisers in writing.
For more information, please contact event organiser, Marc Newland on 07530 141100 or email roundtablebirdman@gmail.com