National Waqf Fund: Working 9 To 5 Breaking The Cycle. What Will Be Your Legacy?
About this event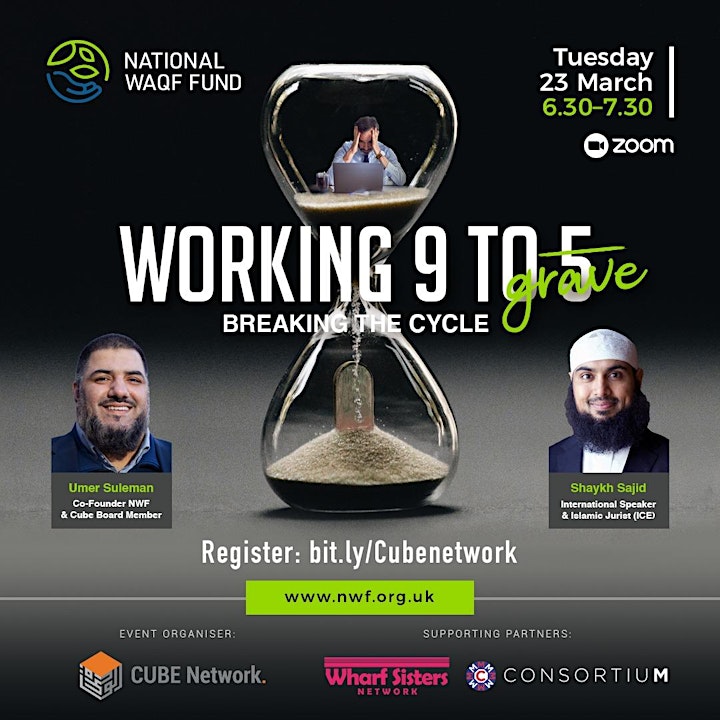 CUBE Network is delighted to host the National Waqf Fund and invites you to a timely session on examining our relationship with charity.
Join us online, where our expert speakers will share their own experiences and explain why we need to address these issues with a new perspective. The Islamic Financial system is integrated between profit and purpose. Let's explore how we can apply corporate success strategies to the charity market to succeed as an ummah.
Our speakers have been actively involved in the charity sector for decades from hand delivering aid, to being trustees and specialist advisors on how to navigate within a shariah-compliant framework, actively working to re-connect our worldly activities to a hereafter-based reward.
We at NWF, have taken inspiration from our rich heritage and believe that building a Waqf is part of the solution. Let's explore how we can make the most of our charity to support sustainable solutions that help to rebuild communities and escape a culture of dependency on external aid.
A Q&A session will follow, as an opportunity for you to ask your own questions to the speakers.
Panel Includes:
• Mudassar Chaudhry - CUBE Host (EY)
• Shaykh (Dr) Sajid Umar - Islamic Jurist, Shariah Advisor to various investment Funds & International Speaker
• Umer Suleman - Co-Founder NWF,(Board Member for CUBE Network,  UKIFC & Wahed Invest UK)
Please submit any questions you have for the panel to: events@cubenetwork.org
We look forward to welcoming you to this event.
Limited FREE Places - Register Now!
Admin:
1. FREE admission to the event via Zoom.
2. Zoom access details will be sent via a follow up email once you have registered.
3. Event will promptly start at 6:30 PM insha'Allah
FAQs.
How will my personal data be processed?
CUBE Network as registration facilitator, will process your personal data for the purpose of organising this event and to inform you of future events.
Organiser of National Waqf Fund - Working 9 To 5 Breaking The Cycle
Connecting Professional Networks
CUBE Network is an umbrella initiative that connects professional networks, groups and organisations with an interest in Islam to deliver a cohesive, united impact to charitable campaigns, corporate diversity considerations and communities through the utilisation of professional skillsets and networks . Our purpose is to provide support to existing and new ideas whilst enhancing our presence within the City and beyond.      
CLICK to subscribe to our mailing list