Join Bounceback Food CIC's fight against food poverty as part of our nationwide network of charity/VCSE partners!
About this event
Who are we?
Bounceback Food CIC is a non-profit community cookery school that has been fighting food poverty since 2014. As part of adapting to Covid, we have been focused on mobilising delivery teams and volunteers across the UK to provide catering services in disadvantaged communities, donate food to foodbanks and teach people how to cook.
How can you get involved?
Over the years, we've developed partnerships with a range of third sector organisations to collectively fight food poverty across the UK.
We're on the lookout for charities and VCSE organisations who share our mission of eradicating food poverty throughout the UK. By joining our nationwide network of partner charities and VCSE organisations we can provide your beneficiaries with free places on our online public cookalongs and free access to our online Cooking & Nutrition Portal to further support your work.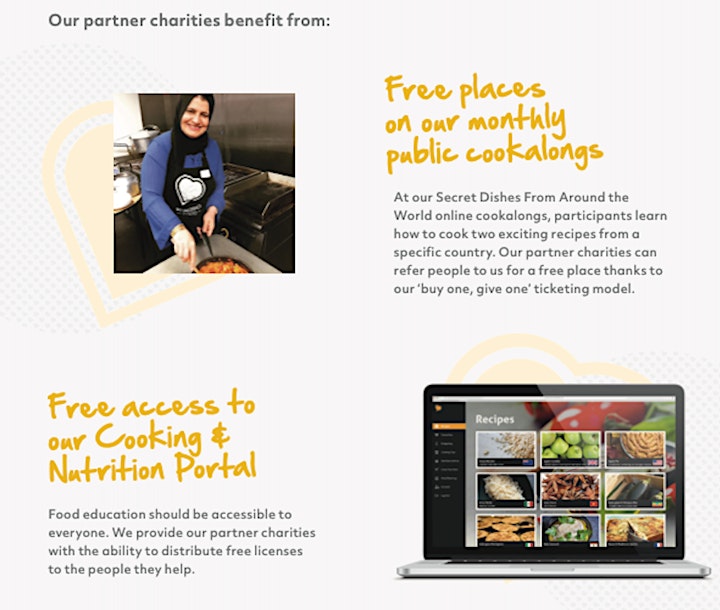 Want to know more?
We'll be providing further information about the process of referring people to our online cookalongs and providing access to our Cooking & Nutrition Portal at our onboarding session on at 10am on Wednesday 23rd November via Zoom. If you or a member of your team is interested in attending, register with a free ticket via Eventbrite and we'll send you the joining details one week before the meeting via email!
I can't make this session but I'd like to know more...
We run information sessions quarterly. Check our Eventbrite listings for our next session!
If you have any further questions please email us at info@bouncebackfood.co.uk and a member of our team will be in touch!
Organiser of Nationwide Community Cookery School - Information Meeting
Bounceback Food CIC is a community cookery school that supports people living in food poverty across the UK. We teach people how to cook, donate nutritious items of food to foodbanks from our 'buy one give one' foodbank drive at market events and provide catering services in disadvantaged areas. Since 2014 we have supported foodbank beneficiaries, carers, stroke survivors and people living in sheltered accommodation – working with schools, housing associations and partner charities to deliver social impact. We run a variety of public cookery courses and fundraising events, have published the Secret Dishes From Around the World fundraising cookbook series, released a podcast and are now focussed on building delivery teams in towns and cities across the UK!