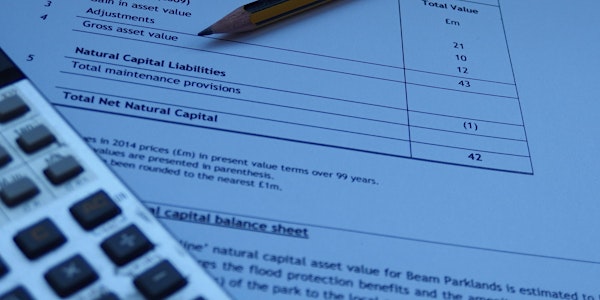 Natural capital accounting at the local & landscape scale: an introduction
Event Information
Location
Scottish Natural Heritage
Battleby Conference Centre
Redgorton
Perth
PH1 3EW
United Kingdom
Description
About the topic
There is growing interest in the use of accounting frameworks to understand the value of the natural environment. The aim is to inform planning, management and investment decisions that minimise risks and maximise opportunities. They are typically divided into asset accounts, maintenance costs, physical flow and monetary flows. Different frameworks help distinguish maintenance costs, physical flows of ecosystem services and their monetary values, and asset values.
Alongside efforts to develop natural capital accounts for large organisations and countries, accounts are being produced for natural features across smaller areas of land and water. This includes private estates, public parks and protected landscapes.
These seminars will introduce the process of accounting for the value of the natural environment at the local and landscape scale.
What will I learn?
The session will increase your understanding of
the methods for ecosystem and natural capital accounting applicable at the local and landscape scale

relationship with other tools and methods, e.g. ecosystem service mapping

the resources and skills required to undertake an assessment

the potential for informing planning, investment and management decisions
Who are the seminars for?
Estate managers in the private, third and public sector

Businesses dependent on goods and services from the UK's natural environment (such as in agriculture, water, tourism)

Managers of designated areas (such as National Parks)

Local heritage and environmental initiatives (such as Landscape Partnerships, Futurescapes, Living Landscapes, Catchment Management Partnerships.)
Seminar leader
This seminar will be led by Ian Dickie, a Director and environmental economist at eftec, the economics of the environment consultancy. Ian has extensive experience of the seminar topic, having served clients in the public, third and private sectors.
This event is being delivered in association with the Scottish Natural Heritage, which has kindly provided the venue.
Programme
A sandwich lunch (included in the cost) will be available at 1 pm. The seminar session will commence at 1:45 pm and finish at 5 pm.
Further information is available at http://ecosystemsknowledge.net/events/local-accounting-2017.
This is one of a series of regional seminars being held around the UK in 2017.
Booking conditions
For cancellations up to 14 working days before the event, refunds can be claimed less a £20 administration fee. Thereafter, no refunds can be given. Delegate names can be changed up to 3 working days before the event.
Date and time
Location
Scottish Natural Heritage
Battleby Conference Centre
Redgorton
Perth
PH1 3EW
United Kingdom