Sales Have Ended
Ticket sales have ended
Ticket sales have ended. We hold four Natural Death Salons a year. The next Salons are planned to be held in late September and early November.
Sales Have Ended
Ticket sales have ended
Ticket sales have ended. We hold four Natural Death Salons a year. The next Salons are planned to be held in late September and early November.
Guest speaker Nina Ahmad will talk about widowhood, followed by a group discussion. For a maximum of 20 guests.
About this event
Nina Ahmad is a journalist and documentary filmmaker who is not a widow herself. For personal reasons, which she will tell us about, she embarked on a documentary film project looking at widowhood. In the process of making this documentary she got support from Dying Matters who tweeted about the idea and that's how we met. I responded and agreed to be interviewed. Nina spoke with many widows and widowers. Listening to her talk about their different reactions to bereavement and the rituals they developed in remembrance of their dead, made me think about my own rituals. I hope that Nina's talk will make us think about how we, or people close to us, have reacted to being widowed. There will be time for reflection, sharing and discussion. Nina says:
"Documenting widowhood has been an ongoing passion project which was sparked after my year of experiencing many different losses. Among the most poignant being a family bereavement that opened my eyes and mind to the grief of a partner's death. Even within the five year duration of this project I've seen how attitudes towards bereavement and the dialogue around it have changed."
The Zoom link will be sent to you one day before the event. This Salon is part of a series. If you want to join Josefine's Natural Death Salon mailing list to receive future invites, please contact the organiser.
Nina Ahmad is a journalist with over two decades of experience editing and writing for a range of national newspapers and magazines. After a career in the national press, Nina made the move to developing and producing documentary films, a long-held passion and ambition.
Josefine Speyer is the host of the Natural Death Salons. She is a psychotherapist, clinical supervisor and death educator with experience of accompanying the dying, professionally and personally. She is a founder of the Natural Death Centre charity (1991) with her husband Nicholas Albery who died in a car accident in 2001. She was co-editor of the Natural Death Handbook (2003) and a contributor to the Natural Death Handbook (2012) www.naturaldeath.org.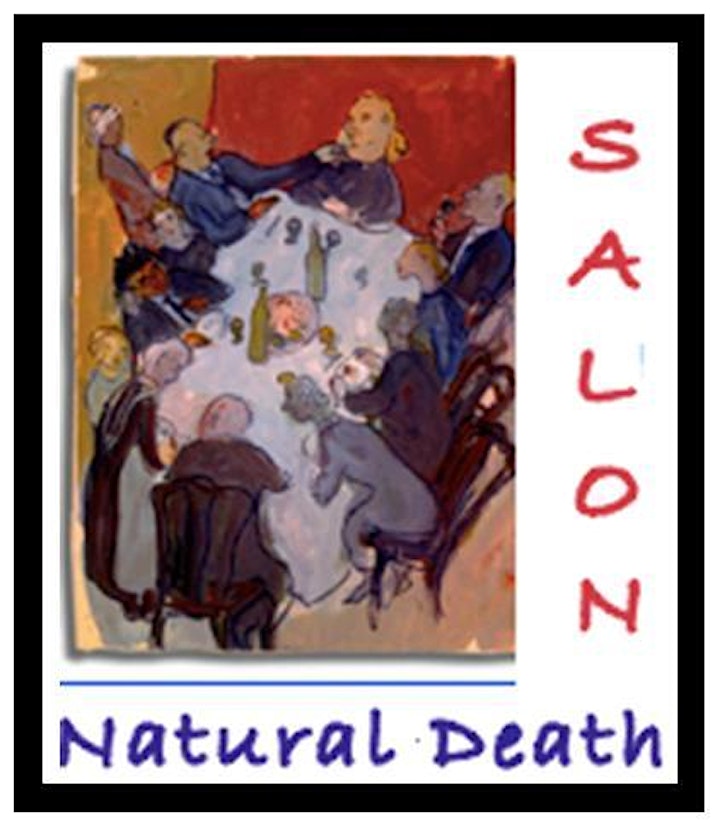 What is a Salon?
Our Natural Death Salon is loosely based on the great tradition of French Literary Salons. The 'Salon' was originally an Italian invention of the 16th century, which famously flourished in France throughout the 17th and 18th centuries and was part of the Enlightenment movement. Salons were an important place for the exchange of ideas. The salon allowed women to establish a venue in their homes in which men and women could meet in relative equality. Like-minded people would come together to talk about art, literature or philosophy and engage in conversation, accompanied by food, drink and music. At the Natural Death Salon our topic is death. For many years Josefine has hosted these Salons four times a year at her home in London. Since the pandemic they are online.
"A life-affirming, inspiring and uplifting afternoon of conversation."
Date and time
Location
Refund policy
Organiser of Natural Death Salon - On Widowhood
Josefine Speyer is a UKCP registered psychotherapist based in London with a special interest in death education. www.linkedin.com/in/josefine-speyer-18787612
She was a co-founder and co-director of the Natural Death Centre charity1991 - 2001 (www.naturaldeath.org.uk), a co-editor of the Natural Death Handbook (2003) and contributor to the last edition (2012). For over twenty years she has held death education workshops, groups and talks and holds Natural Death Salons at her home in Cricklewood. www.facebook.com/naturaldeathsalon

She has held Death Cafes since 2012 in Cricklewood, Dalston, Oxford, and Lewes and monthly Death Cafes in Hampstead and West Hampstead. She now holds a monthly Death Cafe At Home online via Zoom. www.deathcafe.com/profile/25

With Claudia Nielsen she is the organiser of the Hampstead Psychotherapy Club www.hampsteadpsychotherapyclub.org.uk
She organises the annual London Poetry Challenge 2020 with actor Claudia Boulton and poet Liz Uter .. www.thepoetrychallenge.org.uk