Pre-Recorded Event: Sit back and restore balance, while discovering a variety of effective non-medicative ways to manage stress & anxiety.
About this event
Listen up; isn't it time your wellbeing took centre stage in the story of your life?
You're a hard worker. Always busy giving everyone and everything your all. Purely and simply, you are incredible.
But while you move mountains to keep everyone else's world turning, who's looking after you?
We see your struggle. Cos we've been there too!
We know you have every intention of managing your stress and anxiety. But when it comes down to it, it's all just too overwhelming, isn't it?
When it comes to googling natural stress and anxiety relief solutions, you essentially already have to know who and what you're looking for before you even start. That's a black hole you can get seriously lost in.
And let's not get started on trying to fit all this research in when you have a hectic schedule or generally feel tired, wired, anxious, irritable or low in self-esteem. Especially if every time you remember is just before you go to bed! (we're assuming here you get at least a few hours' sleep!).
Don't worry; we've got your back!
Here at Wellbeing Umbrella, we believe everyone is unique and what might suit one person doesn't suit all when it comes to wellbeing solutions or treatments!
That's why we run regular Wellness Events like these to help offer you insight into the variety of treatments, practices, techniques and solutions (both conventional and non-conventional) available, helping you to get your wellbeing back on track and make positive change in your life where desired.
*** ABOUT THE EVENT ***
Please note: this is a pre-recorded event
This online event is offered ON-DEMAND. As a registrant you get full access to a PRE-RECORDED event video series. Once you have registered for the event, you'll get immediate access to the pre-recorded webinar via Eventbrite's Online Event Page to watch at your leisure.
So, sit back and restore balance. Let's take you on an online journey of natural wellbeing discovery, including Yoga, Access Bars, Singing Therapy and Guided Meditation in a bid to get you back in the driving seat when it comes to manging stress and anxiety.
Our no one-size-fits all wellbeing event features up 8 down to earth, independent wellbeing professionals sharing their expertise and practice on the topic of stress and anxiety.
The bonus is, these qualified wellness folk understand where you are along your stress and anxiety journey, and where you'd like to be, as they were once there too and now have the skills, expertise and credentials to help you get there also.
Watch all the event or just the session(s) that take your interest!
We hope you enjoy!
WELLBEING EVENT LINE UP
The Pre-Recorded event is online and each session is approx. 30mins, here's what you've got to look forward to.
1st - Eileen Burns - Simple & Practical Skills To Manage, Reduce Anxiety and Stress In Your Life
In this session, you will discover simple and practical anxiety and stress-busting skills and tools that will help you become, more physically, mentally, and emotionally resilient to life's challenges and stressors. You will learn simple, fast, and effective ways how to access your own inner calm, how to feel more centred. We will look at some of the biggest causes of anxiety and stress and what you can do today to start minimising or eliminating these stressors and triggers from your life
2nd - Felicity Pryke - The Joy Of Mindful Movement - How Yoga Makes Both Your Mind & Body Healthier
Have you always considered that you "can't do yoga"? Do the dramatic images of Insta-yoga put you off? Felicity Pryke talks about how simple yoga can be and how it's suitable for any body. From the joy of mindful movement, to the power of the breath, and the peace of meditation, yoga has had a profound impact on Felicity's life. She speaks from her own experience of moving from emotional discontent and physical discomfort to a place of deeper joy and ease. In this interactive session, learn how yoga can change your body, your mind and your life.
3rd - Maureen Joy Wycherley - Access Bars And The Way It Deletes Anxiety, Stress and Depression
Maureen shares an introduction to Access Bars. What is it. How does it work. The affect it's having on reducing anxiety, stress and depression. It's ability to empower recipients to make better choices for their lives. The increase in the recipients perception of what is true for them and having the confidence to choose greater in their life.
4th - Diane Brown - How Exercise Reduces Stress and Anxiety, It's Not All About The Endorphins
We all know that exercise is "good for us", but do you know why? And how much do we need to do to feel the benefits? In this talk Diane will be focusing on one of the greatest benefits of physical activity that is so often overlooked - stress and anxiety reduction. From how it works, to how much you really need to do. It's really a lot easier than most people think.
5th - Kari Olsen-Porthouse - Feel Better Singing
Come and experience the joy of singing together. Kari teaches songs you know and love in up to 4 part harmonies, all by ear in a friendly, fun way. No need to have any experience at all. We all feel a bit better when we sing, but singing together enhances this massively.
6th - Mima Cornish - Skills For Life: Meditation and Positive Techniques To Help You Cope With Daily Anxiety
Do you want to regain some control of your mind and emotions? Our thoughts love to deceive us and take us down well worn paths of negative thinking and stressful habits. In this talk Mima will explore simple techniques to help retrain those bad habits and give you the space and strength to control that busy mind. No experience of meditation is required for the simple but effective meditation method that I will guide us through. You will leave this talk with straightforward skills that you can use every day.
7th - Annie Wright - How Stress and Anxiety Causes Pain. 3 Practical Ways To Stop Stress and Anxiety Causing Joint Pain.
Understanding what changes stress and anxiety create in the body empowers us to be able to reduce their effect on our joint health and pain. Annie covers what we eat, how we move and think can create joint pain and degeneration. She will show you how using simple methods you can reduce the effects that stress and anxiety have on the joints to enable you to move freely again without pain.
8th - Claire Occardi - Your Stress Bucket And How To Manage It
We're taught as children how to look after our bodies but often we're not taught how to look after our minds. Understanding more about how our minds work is the first step to better mental health, happiness and resilience. Knowing about our own internal stress bucket, recognising the impact of a full bucket and learning how to empty it immediately puts us more in control of our own ability to cope when life throws us a challenge or two.
Once you have registered for the event, you'll receive access to the pre-recorded webinar via Eventbrite's Online Event Page to watch at your leisure.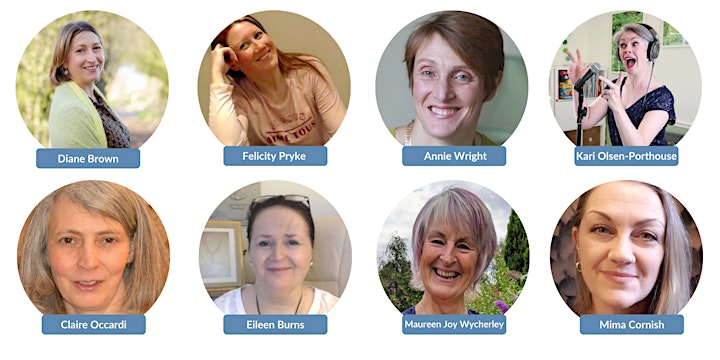 Diane Brown - FitBee - Active Welbeing
Exercise Psychology Coach. Helping women increase their physical and mental health by following an active wellbeing plan that fits into life. Follow the link to download my free beginner's workbook.
FREE Download: Active wellbeing beginners workbook
Felicity Pryke - Finding Felicity
I am the Yoga & Happiness teacher, on a mission to empower people to take ownership of their happiness and build a life they don't need to escape from. Click on the link for a free guide to learn how your energy level and emotional state affect what you should be doing to be happier right now.
FREE Download: Energy level and emotional state guide
Annie Wright - @Annie Wright
Living with pain is hard and seeps into every part of your life both physical and the mental. Annie teaches people to switch off the body so you can "turn yourself from being the biggest handbrake on your achievement whether at work, in your business, or sport, into your greatest.
Learn more: https://www.linkedin.com/in/dranniewright/
Kari Olsen-Porthouse - Liberty Singer
Kari is a community and workplace choir director spreading joy and happiness through singing together.
Learn more: www.libertysinger.com
Claire Occardi - Implicity Hypnotherapy
Claire is a Solution Focused Therapist working one-to-one with clients across the UK as well as offering a range of talks and workshops for businesses and other groups. Her approach is in helping people to understand the human mind and how to work with it for mental health, happiness and success.
Learn more: www.implicityhypnotherapy.co.uk
Eileen Burns - Stress Coach Training
Eileen is a highly experienced and qualified Stress Management Trainer, Coach, Therapist who provides online stress management training and courses for organizations, clients and therapists. Access Eileen's Free 5 Day of Calm Course or other free resources on her training school website link.
Learn more and access free resources: www.stresscoachtraining.co
Maureen Joy Wycherley - Joyous Living
An inquisitive traveller through life. I search, I ask lots of questions, I'm forever unfolding and growing. Committed to helping others find their 'happy' and really create their life. My friends describe me as inspirational, loving, potent and nurturing and that's what I bring to all my work.
Learn more: https://wellbeingumbrella.co.uk/store/joyous-living/
Mima Cornish - HedgeRose Healing
Mima is an experienced Meditation Teacher, Shamballa Multi Dimensional Healing MasterTeacher and Integrative Counsellor. She opened HedgeRose Healing in 2012 with a view to providing methods and resources to support folks in their own personal healing journey. She lives and works in Cheshire, UK.
Learn more: www.hedgerosehealing.com
OUR PAY IT FORWARD WELLBEING MISSION
We not only connect health and wellness seekers to a world-full of choice and variety, but through our Wellness Events and collaboration, we support people-centred folk to work together to increase the awareness of the varied wellbeing treatments and solutions on offer, whilst raising funds for those less able to access them. Learn more: https://wellbeingumbrella.co.uk/about-us/
WELLBEING MARKETPLACE
We are launching our Wellbeing Marketplace later this year featuring a selection of UK independent wellbeing professionals and small businesses.
Sign up to our mailing list here to be one of the first to know about it and be kept up to date with other upcoming events: http://bit.ly/WUwellNewsletter
WELLBEING BUSINESSES
If you would like to present at one of our Wellbeing Events, you can learn more and register your interest here:
https://wellbeingumbrella.co.uk/wellness-event-opportunities/
IMPORTANT NOTE
18's and over
Disclaimer: The information shared during the event will be provided for general educational purposes only and is not intended to diagnose, treat, cure, or prevent any disease or health condition. Please consult a qualified health care professional to diagnose your health condition and prevent self-diagnosis. We do not dispense medical advice or prescribe or diagnose illness.
ABOUT US