NaturAlly Fed Nutrition & Detox Course
Event Information
Refund Policy
Contact the organiser to request a refund.
Eventbrite's fee is nonrefundable.
This Natural Naturopathic nutrition and detoxification techniques course will help you create a balanced diet and a healthier lifestyle.
About this Event
Natural Nutrition and Detox Course
A healthy, well-balanced and nutritious diet is essential for good physical health and positive mental wellbeing. In order to maintain a healthy lifestyle, our bodies require a variety of vitamins and minerals which we must obtain from the food that we eat or sometimes from supplements.
As well as diet, we need to develop a greater understanding of our body and mind's detox cycles, as well as how the environment around us, chemicals, medication, and feelings impacts on our health and wellbeing.
This course aims to provide learners with an introduction to Naturopathic nutrition and detoxification techniques, so that they know more about which foods make up a nutritious menu, understand the link between diet and health, and can effectively use the information provided to create a balanced diet and a healthier lifestyle.
Who Should Take This Nutrition and Healthy Eating Course?
This course has been designed to provide people with a basic understanding of naturopathic nutrition and so is suitable for learners of all levels. No pre-requisite knowledge or training is required.
Course Structure
The course is divided into 6 sessions over 6 months. Each session contains: a main topic, knowledge about selected vitamins and minerals, and detoxing techniques.
1. Introduction to Naturopathic nutrition, hydration and essential fatty acids – what is Naturopathic nutrition? The structure of the course, keeping hydrated, dehydrating factors, what to drink, good and bad fats, malnutrition, energy and your responsibilities.
Vitamins - B1, B2, B3, B6, folate, and B12
Techniques - showers and skin brushing
Detoxing cycles - the year cycles, the moon cycles, and our body. How hormones and body chemistry changes and how we can support our body deal with the changing environment around us.
Vitamins - A, C
Techniques - fasting and juicing
How Diet Affects Health - how does different food affect different people? Why people neglect a healthy diet, dietary targets, reducing inflammation, cutting down on meat and dairy, cutting down on sugar, cutting down on saturated fat and salt, heart disease, obesity, diabetes, food allergies and intolerances.
Vitamins - D, K, E
Techniques - Epsom salt baths
How Food Processing Affects Nutrition – what is processed food? High and low temperatures, the effects of cooking, raw food, drying, organic, seasonal food, chemical preservatives, food additives, irradiation and fortification.
Minerals - magnesium
Techniques - hydrotherapy and enemas
Probiotics and fermented foods - looking after our gut is part of looking after our mental health. What role does our intestinal flora play in helping our health and how can we look after it to look after our physical and emotional wellbeing.
Minerals - Zinc
Techniques - cleanses
Emotional wellbeing - how emotions can impact on our diet and how good can impact of our emotions. Essential oils, herbs, flower remedies, and CBD. Colour therapy, meditation, EFT, and yoga.
Minerals - Iron, iodine and calcium
Techniques - castor oil and other packs
Cost
The course costs £450 in total. The cost can be split into 3 monthly payments of £150 each, payable in at the beginning of month 1, 2, and 3. Concessions are available for people on a low income, please contact to discuss your needs.
Outcomes and benefits
Understand which foods make up a healthy, well-balanced diet.
Understand the roles that essential fatty acids, vitamins, and minerals play in the diet, plus the best foods to eat in order to obtain these nutrients.
Understand the importance of reducing inflammation and the intake of challenging food groups.
Have an awareness of how a poor diet can negatively impact health and wellbeing.
Understand the different nutritional requirements that people may have and know how to cater for them.
Understand how processing, including cooking and preservation, affects the nutrient content of food.
Know how to interpret the moon, seasonal changes and the environment around us to work in our favour
How to help our body detox effectively and safely
How to look after our emotional wellbeing and how to use other techniques to aid our mind and soul
Tasty treats at each session
New friends and social events!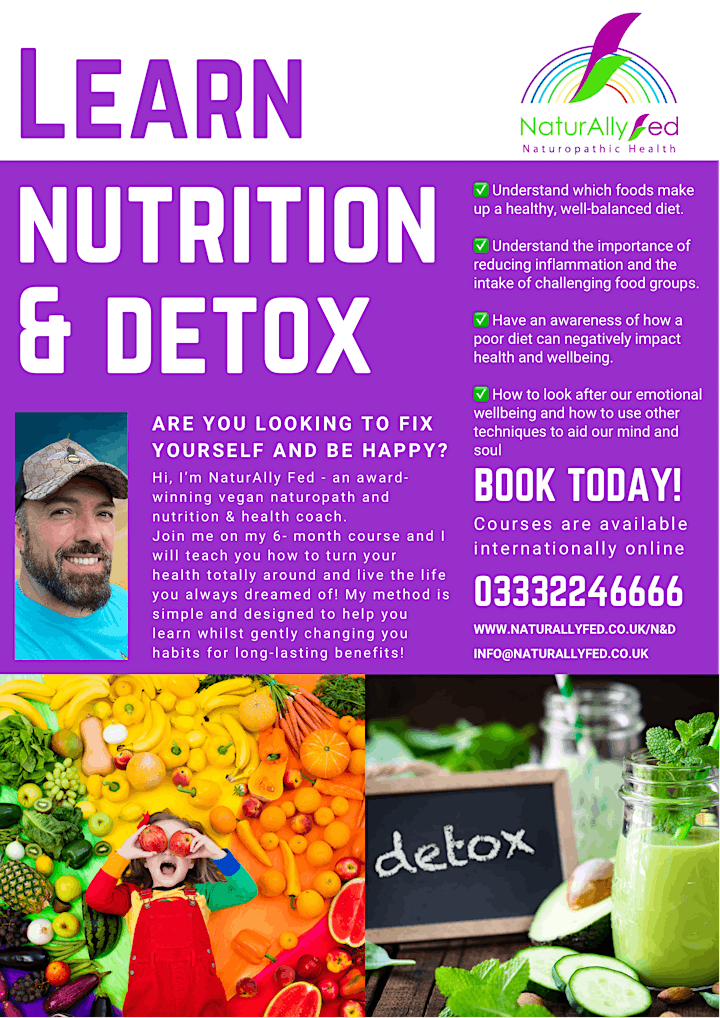 Date and Time
Location
Refund Policy
Contact the organiser to request a refund.
Eventbrite's fee is nonrefundable.