Event Information
Refund policy
Refunds up to 7 days before event
Eventbrite's fee is nonrefundable.
Join us for this online evening event to discuss this key COP26 theme, learning how businesses can engage with nature based solutions.
About this event
Why should business adopt nature-based solutions for climate and nature?
What steps can a company take to achieve a nature positive future?
Nature loss and climate change are inextricably linked. We will not achieve the Paris climate goals without nature-based solutions. Addressing the climate emergency and nature loss need to be key parts of the future strategy to build back better.
Join us in the run up to COP26 to discuss one of their key themes: nature-based solutions.
We are welcoming Network members Regenerative Partners, Nature Connection/Natural Spark and Wanderlands to speak at this event.
Expect informative talks, valuable networking opportunities and inspiring discussions to further support your ability to discover, collaborate and innovate.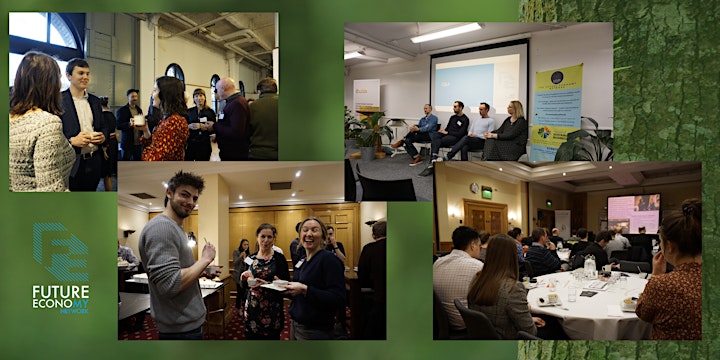 Tom Walmsley, Nature Connection CIC/Natural Sparks
Building on previous careers, Tom knows that facts themselves don't create change. Plus the facts around NbS are not always clear cut, or proven at scale, for traditional economists to feel comfortable. The woke economists are realizing ecologists can make more sense of the world at this point. If you study the systems maintaining the natural world over millennia it becomes obvious what we need to do. The need for change is now clear to all leaders so it is a good time to step off the path, immerse in nature, and work back to your business's bottom line from there. See you soon in your local green space!
Tim Oliver, Co Founder, Wanderlands, will be talking about native broadleaf trees and biodiversity as a nature-based solution to address our carbon footprints and climate crisis. Tim will look at the UN's Sustainable Development Goals and the importance of biodiversity, before talking about the rise of carbon reduction targets and how Wanderlands work as a natural solutions consultancy. He will also cover what net-zero outcomes look like, and the commercial benefits to businesses.
Paul Pivcevic, Regenerative Practitioner, Regenerative Partners
The shifting context of 'value creation':
• Walmart announced last autumn it is becoming a "regenerative company".
• Microsoft has introducing regenerative leadership to support customer focused innovation and operational agility.
• The Capitals Coalition, a global collaboration, wants to transform business decision making by 2030 to take account of multiple capitals: natural, financial, social, human and made.
How will your business keep creating value?
• What value creation paradigm are we operating in? What are the choices?
• What does business look like from a regenerative paradigm? Practical case studies.
• How do Circular Economy, ESG, Net Zero fit within this?
• How could I start? Questions to ask of yourself and your business.
Agenda
18:00 - 18:20 - Registration and Networking
18:20 - 18:30 - Introduction from The Future Economy Network
18:30 - 18:45 - Tom Walmsley, Nature Connection
18:45 - 18:55 - Q&A
18:55 - 19:10 – Tim Oliver, Wanderlands
19:10 - 19:20 - Q&A
19:20 - 19:35 – Paul Pivcevic, Regenerative Partners
19:35 - 19:45 – Q&A
19:45 – 19:50 - 60 Second Pitches
19:50 – 19:55 – Close
19:55 – 20:15 - Optional Networking Session
Meet the Speakers!
Tom Walmsley, Nature Connection CIC/Natural Sparks
Natural Sparks engages with business leaders to promote Nature-based Solutions to a strategic level in their organisation. The aim is to impart skills, confidence and literacy around sustainability, biodiversity and eco-empathy. They usually start in a local green space in order to facilitate all of the above.
Tim Oliver, Co Founder, Wanderlands
Tim is a seasoned international brand, marketing and communications executive. In 2019, Tim led a small team to the North Pole for a charity marathon, all of which was carbon neutral. This powerful experience ultimately led him to co-found Wanderlands. Wanderlands is a natural solutions consultancy that works with businesses and individuals across the UK to reduce their carbon footprint and create sustainable offset solutions. Their thoughtful, scientific approach to biodiversity enhancement and tree planting is what sets them apart, and it runs through the core of the net-zero outcomes they deliver to clients.
Paul Pivcevic, Regenerative Practitioner, Regenerative Partners
Paul Pivcevic has supported large-scale change projects across Europe and the US for more than 20 years. Clients have included RWE, Pacific Gas and Electric, Marks & Spencer & Rolls Royce. Since training with Regenesis in the US, pioneers of 30 years work in regeneration, Paul now combines all he has learned about successful change across a variety of new and challenging regenerative projects.
Regenerative Partners offer the latest regenerative thinking drawn from 30 years of successful implementation to ensure you are future-fit and support your potential for innovation - to do things that are good for both customers and Nature to flourish.
----------------------------
Want to Know More?
If you would like to join our sustainable business community please get in touch via info@futureleap.co.uk or sign up easily here.
Follow the Future Economy Network on Facebook, Twitter, Instagram & Linkedin
Never miss what's next in sustainability by signing up to our monthly newsletter HERE
Opportunities, Suggestions and Conditions
You can get 20% off your next online event with us by choosing the add on option during booking.
Most of our events are available on demand here, however this does not include opportunities to network, take part in the discussions or do a 60 second pitch!
We will share your name, job title & company with the other event attendees for this event only. If you don't want this information to be shared please let us know when you have purchased your ticket.
We take photos at our events for marketing purposes, if you don't want your picture taken please let us know in advance.
We record some of our events for marketing purposes, if you don't want to be in the recording please let us know in advance.
We have included a £1 carbon offsetting fee to all event tickets in our commitment to being carbon neutral in our operations. You can find out about our chosen charity here.
Please let us know at least one week in advance if you require closed captions or have any other accessibility needs.
If you require a complimentary carers/assistant ticket, please email events@futureleap.co.uk at least one week in advance and we will be happy to support you!
#wegrowthhub #business #seminar #sustainable #sme #bristol #businesswithpurpose #naturebasedsolutions #nbs #naturalcapital #ecologicalemergency #climateemergency #betterbusiness #sustainablebusiness
Date and time
Location
Refund policy
Refunds up to 7 days before event
Eventbrite's fee is nonrefundable.
Organiser of Nature-based Solutions and Business