Online creative workshops - connect with nature, creativity and others! With Kathryn Parsons, mixed media artist & nature-lover.
About this event
Gentle get-togethers with a different theme each week, for...
- the fun of creating and trying something new
- the pleasure of connecting with nature
- enjoying the company of others who love making and nature too
- a little bit of space in your week just for you
... and because many people find that these things benefit wellbeing, as well as being fun!
Follow simple instructions to make a nature-inspired craft / artwork using natural objects that you have collected.
Most of what we make won't last long - it's great to take photos of your work to have a lasting memory.
These workshops are live via Zoom. It's for adults only, and it's a small group so we can easily chat about what we're doing.
Tickets are by donation. If most people donate £4 - £8 that should cover running costs. If that's more than you can currently afford simply pay what you can… and if you'd like to donate a bit more that's really great, thank you!
If you have any questions please email Kathryn.
Nature Craft sessions coming up next....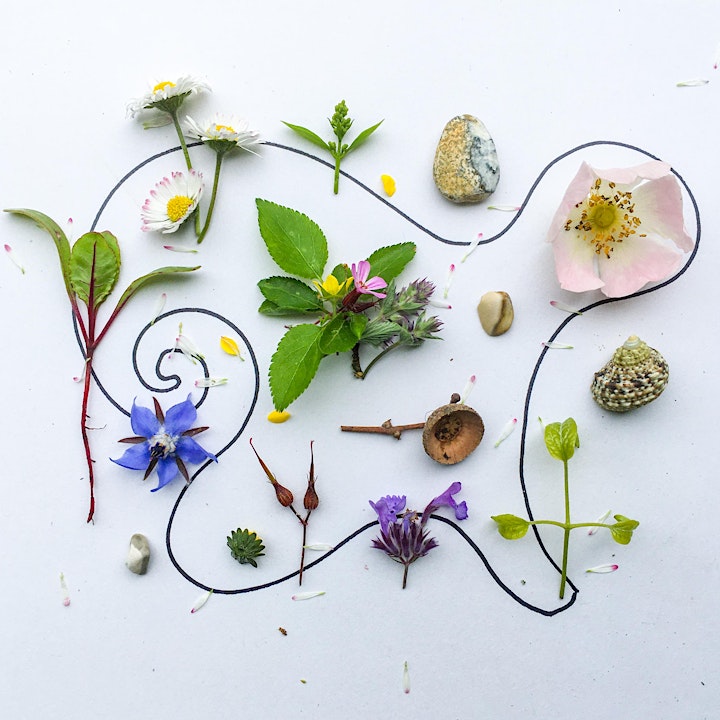 Tuesday 5th July 2022, 7:30pm - 8:30pm (UK)
Garden Map! - go treasure-hunting for flowers, leaves and twigs, and gather together other treasures you already have. Then grab a pen and paper. We'll be making 'maps' of real or imaginary gardens, filled with treasures we'd like to see (real or imagined)! A hedge of seashells, and a wild rose pond maybe? Just let your imagination fly!
Before each session...
You'll receive an email with a list of things you'll need to bring. It often includes a leaves, flowers, shells or whatever you have available.
For every workshop you will also need...
- a laptop or tablet connected to the internet, suitable for using Zoom ( it is possible to use a phone, but it will be a far better experience if you have a bigger screen)
- somewhere safe to put your laptop / tablet where you can see it but it's away from the glue & leaves and so on
- a firm flat place to work on, where you don't mind putting your (possibly muddy?) natural objects
No experience necessary, though it's best suited to people that enjoy making.
Please contact Kathryn if you have any questions about accessibility.
Kathryn is an artist and nature-lover. Her work often includes natural found objects, and tells stories about places and wildlife www.kathrynparsons.co.uk