Refund policy
Contact the organiser to request a refund.
Eventbrite's fee is nonrefundable.
Sales Have Ended
Ticket sales have ended
Thank you for your registration. We will be in touch with you asap about the programme.
Inspiring, evidence-based practice for positive dementia care and meaningful interactions by author and tutor Karrie Marshall
About this event
An updated course for people interested in positive dementia care through creative and natural resources. The programme explores helpful responses to different symptoms of dementia, and is highly focused on recognising people's intelligence, sensitivity, humour and delight in feeling connected, with and without words.
This programme runs over the whole 3 sessions.. Fri, Sat, Sun 10am-1pm each day, plus a recorded webinar session. There is ONE payment of £225. (£75 per day... all days needed for receiving the programme materials)
The course content has been developed over several years practice-research, working alongside people living with different forms of dementia to find joyful and creative ways of connecting. This supports meaningful interactions, identity, and inclusion for better quality experiences, through to end of life care. Karrie Marshall
The facilitator is author and tutor Karrie Marshall (director and founder of the social arts company Creativity In Care CIC.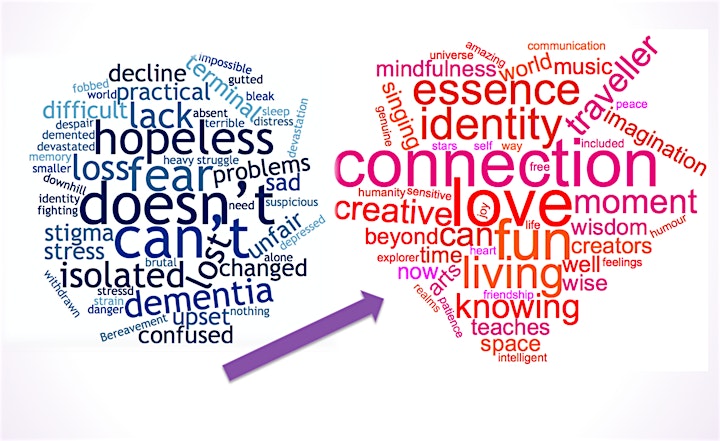 Who is the course for?
People interested in engaging positively with people living with dementia through their work or personal caring role. This programme offers an opportunity for care home staff, social crofters and family carers to meet and learn together online. The sessions are also open to people living with dementia interested in sharing ideas.
This programme was developed in response to questions from care managers and practitioners, about how to engage with people whose memory, concentration, communication or ability to make sense of things is affected by different forms of dementia (and other long-term conditions).BenefitsNature, Meaning and Creativity is an updated version of the popular Positive Dementia Care programme.
• Deepen knowledge and understanding about the importance of stimulation and learning opportunities in dementia care
• Improve person-centred and equalities awareness
• Learn the basics of the six-step B.I.C.E.P.S model* for strengthening connections
• Better understand the benefits gained from engaging with nature
• Create your own toolkit of skills and ideas for meaningful interactions
• Increase knowledge and understanding about the brain
• Learn how to do risk assessments related to activities and public health measures (indoors and outdoors)
Course feedback:'I always find your courses give me another level of understanding that helps us push boundaries and see more things are possible than we thought.' (AH Care Manager)'Uplifting and practical. Packed with ideas. Feel more confident about what I can do.' (DD Carer)'One of the best courses I've been on. Fun, informative and totally inspiring.' (JM Care staff)'I feel that I now have a deeper knowledge of dementia, and have a better understanding of how it affects people. I found the discussions about the brain particularly helpful and enjoyed the creative learning.' (JF carer and artist)'It was good to meet like-minded people and to learn about different approaches in communication. I found the course uplifting and inspiring.' (FD community coordinator)'I gained confidence in the work that I do and have increased compassion and understanding when I work with people with dementia. I enjoyed thinking outside the box' (CG care staff)'I've been on other dementia care courses, but this one goes deeper and wider and is more fun!' (Dr RS)
Programme Information
• The live online course is supplemented by online video and materials.
• You will also be sent a materials pack to put the programme learning into practice. Payment is required in advance of the course so we can prepare and post the kits to you.
• The online programme runs for 3 days from 10am-1pm (UK) with comfort / stretch breaks.
• Please bring water/refreshments with you to the online sessions.
• There will be opportunities to share knowledge and experiences, so we ask that you agree to maintain confidentiality of any sensitive information.
• You will receive secure log-in details
• You will also be invited to join a new closed Facebook group set up for people interested in positive dementia care.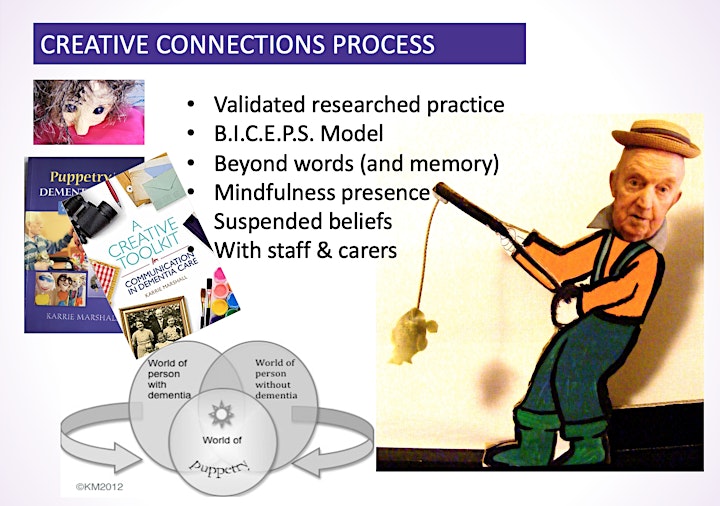 Books by Karrie Marshall1. Marshall K. A Creative Toolkit for Communication in Dementia Care Jessica Kingsley Publishers, London 2016 ISBN 978-1-84905-694-6'As a person with dementia I know many of my peers will lose the ability to verbally communicate, but that does not mean we lose our intelligence. It is pleasing to know that the importance of non-verbal language is highlighted in this book. Ignorance, social isolation and boredom are issues we face. But by following the great advice in this book you will have the necessary toolkit to give people every opportunity to communicate and take part in worthwhile physical and mental activities that will bring hours of enjoyment for the person with dementia and, just as importantly, you the carer.'Tommy Dunne, person living with dementia
'A Creative Toolkit for Communication in Dementia Care is a valuable resource for caregivers. You'll learn important tips for connecting and better communication with someone who has dementia. The book is inspirational, practical, and educational. It demonstrates how creative communications in caregiving can support the well-being of people with dementia.'Berna Huebner, Founder and Director, Hilgos Foundation
2. Marshall K. Puppetry in Dementia Care: Connecting Through Creativity and Joy Jessica Kingsley Publishers 2013 ISBN 978-1-84905-392-1
'This book provides an excellent justification for the use of art, and more specifically puppetry, as a way of connecting with people with dementia who might otherwise have difficulties maintaining social interaction. Karrie Marshall has obviously researched her subject thoroughly and this book will be of use to anyone who has contact with people with dementia whether they are activity coordinators in care homes, formal carers or relatives. It seeks to introduce novel ways of enhancing the quality of life for people with dementia, at whatever stage they are in the condition.' Dr Samantha Murphy, lecturer and Chair of the Open University module on Death and Dying, and module author on Dementia Care
'Everyone in any way involved in caring for a person with dementia should use this book to stimulate the quiescent creativity in the person with dementia.'Margot Lindsay, Research Department of Mental Health SciencesEuropean Journal for Person Cantered Healthcare
'Calmly and lucidly, Karrie Marshall tells extraordinary stories of the positive impact which just one art form - puppetry - can have in one crucial and highly emotive field of healthcare: dementia. In doing so she also reminds us that we've not yet grasped the full power of the arts to change lives.'Robert Livingstone, Director of HI~Arts, promoting the arts in the Highlands and Islands of Scotland
3. Love, Hope and Empowerment in Caring Services: The B.I.C.E.P.S. model in action due out in 2022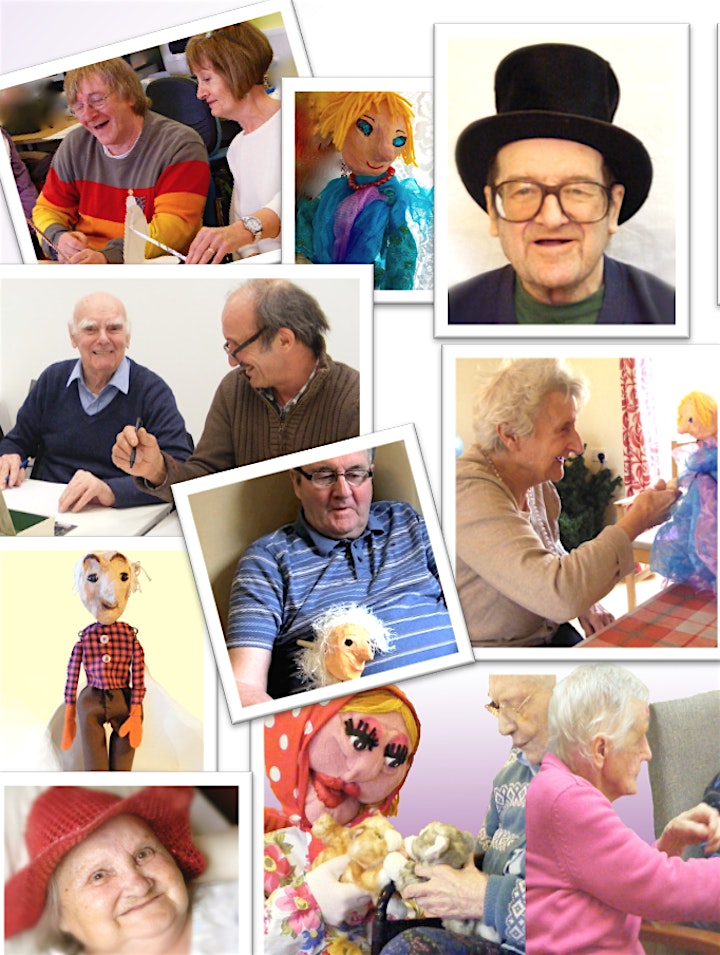 Places are limited so please book early.
Bookings are for the whole event which is Friday 9th, Saturday 10th and Sunday 11th July (UK) from 10am-1pm There is one payment due of £225 (GP) which works out as £75 per day to receive the programme materials.
Payment is required in advance so materials can be sent to you.
Contact karrie@laughinggeese.com for further onformation or queries