Description


Description
On International Women's Day 2019 Alison Rose, Deputy CEO, NatWest Holdings, published the Alison Rose Review of Female Entrepreneurship, at the request of the UK Government. One of the findings is that women are less likely to believe they possess entrepreneurial skills. Only 39% of women are confident in their capabilities to start a business, compared to 55% of men. This is a perceived gap in ability, rather than an actual gap in skill sets.
That's why we've joined forces with Funny Women to present HERlarious. This special event - It's About Time - will show you how to express your ideas more confidently using some of the tried and tested tricks of the comedy trade.
This workshop will be run by two experienced facilitators who reflect the ideals of Funny Women, helping women to perform, write and do business with humour. Recognised comedy experts, we deploy some of the tried and tested tricks of the comedy trade to provide insights and inspiration for your business.
Our workshop will cover:
Advice on how to 'perform', write great copy and bring your ideas to life

Techniques to communicate more effectively

Know your worth – tell your own story, create your own material, interpret body language, and become more confident and memorable

Attract your ideal clients - how to connect with them, virtually and in person, and how humour can help you keep them without being annoying.

De-stress in an instant by having some fun!
Agenda:
9:30 arrival and registration.
10:00 - 11:00 workshop: HERlarious - Stop Selling Yourself Short.
11:00 – 1200: Q&A - networking.
What people say about Funny Women's HERlarious events:
It was just the warmest, most welcoming experience. I also had no idea just how much we'd get from the workshops, they were truly spectacular. The whole event exceeded all my expectations. I knew it would be great but I was utterly blown away by just HOW amazing EVERY aspect was.'
'The structure was seamless and worked really well to connect the attendees and open up networking confidence by uniting them through shared experiences of the workshops, which were brilliant: the chemistry between the women hosting these was infectious - they were really fun and insightful sessions.'
'An amazing and really cleverly structured event which built immediate rapport amongst the attendees. Exercises were engaging but succinct and left you wanting more whilst still giving you time to learn and try out some tricks of the trade.'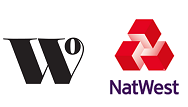 About this event

Whilst we feel this topic is beneficial to business owners, the views expressed are not intended to be and should not be viewed as individual advice or as a recommendation by RBS, NatWest or any third party. You should seek independent advice in respect of issues that are of concern to you.
To the maximum extent permitted by law we expressly disclaim all representations, warranties, or assurance of any kind, expressed or implied, that are made to the accuracy or completeness of the information contained in this presentation and do not accept any obligation to update or correct any information contained herein.
During the event photographs may be taken on behalf of the host with a view to posting on social media to promote services offered to customers. If you do not wish to be included in the photographs please notify us.
For the avoidance of doubt RBS/NatWest does not produce the materials for all presentations. This disclaimer applies equally to any materials or presentations produced by a third party.
By registering for this event you agree that you have read and expressly agree to the use of your personal data submitted as part of your event registration by Eventbrite in accordance with their: