Description

Energy Technologies Research Institute Lecture
NB: The location has changed to room A1, Psychology Building, University Park
Access through Coates Building Reception is closed due to refurbishments.
Navigating a changing Energy Landscape (and trying to chart the right course…)
In this talk Craig Edgar will discuss how Atkins Energy approaches energy threats and opportunities while looking at the impacts of digitalisation on the energy landscape.
The Energy market is changing faster and more profoundly than in any time in history. Some of this change is technology driven such as the rise of solar and wind, some of it is driven by political goals such as the diminishing role of coal fired generation and, increasingly, we are seeing change driven by consumer behaviours and expectations such as the increasing role of the so-called 'prosumer'.
As someone responsible for helping one of the UK's largest design and engineering firms navigate this emerging energy landscape, Craig will present some thoughts on how Atkins are approaching the threats, challenges and opportunities this presents. He will consider emerging power generation technologies, the challenges around decarbonisation of heat, the ever more interconnected nature of energy, infrastructure and transportation and also look at the potential impacts of digitalisation on the energy market.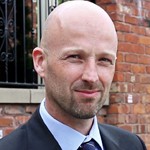 Dr Craig Edgar, Associate Director, Power Generation and Emerging Technologies, Atkins Energy
Craig graduated from Strathclyde University with a BEng (Hons) in Chemical Engineering and then proceeded to complete a PhD in the research area of Fuzzy Logic process control. He joined ScottishPower's Technology division in 1999 where he worked on various projects in the power generation and nuclear decommissioning sectors.
In 2006, he got the opportunity to move to Perth, Australia with Sinclair Knight Merz where he led engineering teams delivering a number of new build gas fired power generation projects in Western Australia and the Northern Territories. After two great years in Australia, he returned to the UK joining the Engineering group of RWE Npower leading their Process Engineering team supporting both operating assets as well as new build projects.
In 2011, he joined Atkins and has since continued to deliver projects within the power industry but also increasingly operating in management positions in the business. In 2013, he joined the lead team of the Atkins Power business with responsibility for growth and strategy. Since then, he has run the Atkins Renewables business and established the Future Energies group including the creation of a decentralised energy team. He is now responsible for Emerging Technologies and Power Generation within the Strategy and Business Development function for Atkins Energy and retains a keen interest across the technical, commercial and political aspects of the power sector.
Craig is married with 4 young children and with what little spare time he does have, is a keen runner and cyclist.
Directions:
The Psychology building is number 29 on our University Park map.
Parking is free after 4pm.