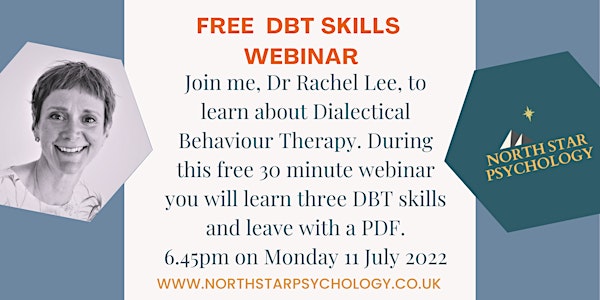 Navigating Emotions with Dialectical Behaviour Therapy (DBT) Skills
Are you interested to learn DBT skills? Join me for this free webinar. You'll leave with three skills that you can use immediately.
About this event
Are intense emotions getting in the way of good things in your life?
Do you have times when you feel overwhelmed by your thoughts and feelings?
Do you find yourself acting in ways you later regret?
If the answer is yes, then this webinar is for you. I will teach you some scientifically proven strategies to help you cope with strong emotions, so you can feel more in control of how you respond to challenging or upsetting situations.
I'm Dr Rachel Lee and I'm a Consultant Clinical Psychologist. I was previously the clinical lead for an outpatient Dialectical Behaviour Therapy service. DBT is a treatment that was designed for people with intense emotions and difficulties in their relationships. DBT involves lots of great skills and ideas, which we can all use to understand our reactions and handle situations more effectively.
I enjoy sharing my knowledge of DBT skills, because I know that they work. I use them myself and I've seen others use them to make big changes in their life.
I'd love you to join me for this free introductory webinar, where I'll share three skills that you can use immediately to gain more control over your emotional responses. The webinar will be held on Zoom.
If you want to hear other DBT-informed options that will be starting soon, then you can subscribe to my newsletter via my website at https://www.northstarpsychology.co.uk/dbt
I hope to see you at the webinar!
Best wishes,
Rachel