Sales Have Ended
Ticket sales have ended
Sales have ended for this event, but be sure to check this space for upcoming events.
This is a 2-part webinar on Navigating Family Relationships within Muslim Communities. This series takes place for 4 hours across 2 days.
About this event
"The person who perfectly maintains the ties of kinship is not the one who does it because he gets recompensed by his relatives (for being kind and good to them), but the one who truly maintains the bonds of kinship is the one who persists in doing so even though the latter has severed the ties of kinship with him." [Al-Bukhari]
Family relationships are at the heart of Islam and maintaining ties is a central theme in the life of a Muslim. However, it may not always be easy to maintain a relationship with a family member or relative, especially if the relationship is unhealthy, unsupportive or abusive. Identifying such a relationship is not often the hard part, but rather how to resolve the issues and conflicts arising can have a huge impact on mental health and wellbeing for the entire family.
Islam is a collectivist religion and we should pride ourselves on how we, as an Ummah (community), are like one body. It is therefore our collective social responsibility to understand how to help ourselves and those around us when navigating difficult family relationships.
By attending this webinar, you will be contributing towards the mission of improving the mental health and wellbeing of the Ummah, In Shaa Allah! You will also receive a certificate of attendance.
Dates and Times:
Part 1: Saturday, 18th June, 11am-1pm
Part 2: Sunday, 19th June, 11am-1pm
By attending Part 1 and Part 2 of this webinar, you will learn about:
The concept of family dynamics and how to identify familial difficulties and unhealthy relationships
Understanding what Islam says about how to maintain healthy relationships and resolve conflicts
What the Prophets of Islam have done before us to cope with such difficulties and resolve familial conflicts
Some key characteristics to implement Islamic teachings into practice when it comes to family relationships
Practical and spiritual advice on how to better mental health and wellbeing, and where to obtain additional support or information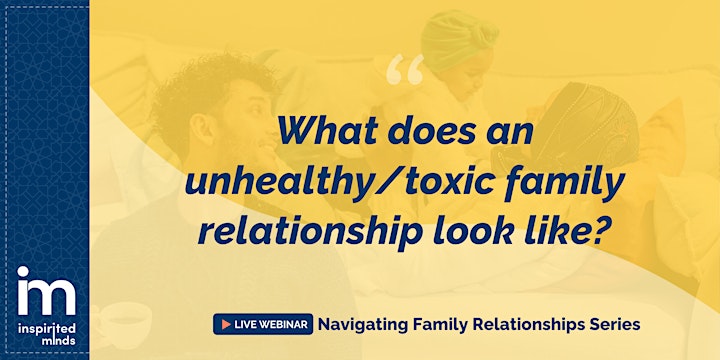 Disclaimer:
Due to the sensitive nature of the topic and the discussion of potentially triggering topics, we recommend individuals to only attend if they feel safe and well enough. Please note that we aim to have a member of our qualified support team present whom you will be able to contact via the chat box should you need any support during the webinars, however this is subject to their availability.
Important things to note before the sessions:
Please arrive at least 5 minutes prior to 11am GMT as we aim to have a prompt start.
This webinar has 2 parts and places are non-refundable, so please check that you can attend both sessions in advance of booking.
We highly encourage participants to attend both sessions and participate in as many discussions as possible in order to reap the full benefits of the webinar.
We are unfortunately **unable to provide partial refunds** in the event of participants missing one of the two sessions.
If you cannot afford a place on the webinar but would like to attend, please email outreach@inspiritedminds.org.uk so that we can offer a concession rate. Please be assured that this will remain anonymous to the workshop facilitator and will be handled with privacy.
The webinar sessions will take place via Zoom. Some interactions will be required via Slido so please have a smart phone or device handy, and Zoom chat box, should you wish to participate.
The Zoom link will be sent both 1 hour before and 10 minutes before each session. Please ensure you check your junk mail to ensure you do not miss this.
The training will be recorded for internal training purposes only and will not be made available to attendees.
We require the feedback form to be completed by all participants on both days in order to receive the slides and your respective certificate of attendance.
For any further questions or information, please email outreach@inspiritedminds.org.uk.