Sales Have Ended
Registrations are closed
Tickets have sold out.
Sales Have Ended
Registrations are closed
Tickets have sold out.
Flexible working has always been a double-edged sword: what can we learn from the lessons of the past to help navigate an uncertain future?
About this Event
Flexible working has always been a double-edged sword: bringing greater freedom for employees and employers, but also unexpected negative consequences for both. As organisations continue to oscillate between returning to work, working from home and new hybrid patterns of working, what can we learn from the lessons of the past to help navigate an uncertain future?
Join Professor Jill Rubery, Director of the AMBS Work and Equalities Institute, as she draws upon her work on flexible working and flexible labour, highlighting some of the hidden costs and pitfalls of greater flexibility. Together with her colleague, Professor Emma Banister, Jill introduces some of the pitfalls of flexibility, highlighting the implications of COVID19 to start a conversation about flexible working, with senior HR professionals in the North West.
Following a short presentation, Jill and Emma will reflect in conversation on some key contemporary issues around flexible working. Participants will have the opportunity to discuss these, and other challenges, in small group sessions to develop understanding and take learning back to their workplaces.
Speakers
Jill Rubery is the Director of the Work and Equalities Institute at Alliance Manchester Business School. She was previously Deputy Director of Alliance Manchester Business School and head of the People, Management and Organisation Division (2004- 2009). In 2006 she was elected a fellow of the British Academy and an emeritus fellow of Murray Edwards College, University of Cambridge
Emma Banister joined Manchester Business School in November 2010 from Lancaster University Management School where she worked for seven years. Prior to this, she was a consumer behaviour lecturer in the Textiles Department, UMIST for three years. She has an MSc and PhD from UMIST (Manchester School of Management) where she was also a Research Assistant.
This event is open to all senior HR professionals; no CIPD Membership required!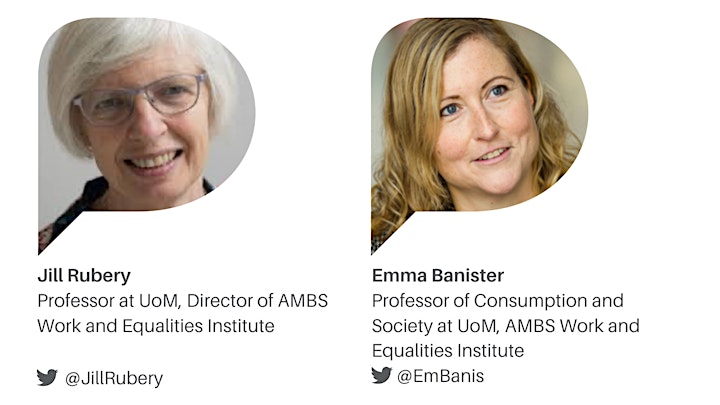 Joining instructions
You'll be invited to log in to your Eventbrite account before accessing our Online Event Page (that's where the event takes place). If you don't have an Eventbrite account you'll be invited to create one (it's free). We will send you email reminders 48 hours prior to the event and again 2 hours and then 10 minutes before the event.
Cancellation policy
If you find you are unable to attend the event, please give at least 7 working days notice so we can release your ticket to someone on our waiting list. You can cancel your ticket via the Eventbrite desktop site or send us an email at manchester-events@cipdbranch.co.uk and we will cancel your ticket
Video & photography
By registering for our event you are giving your consent to our using any material that may be captured or recorded during the event, in future promotional material. Chat conversations will not be recorded.
Connect with us
Follow us on Twitter, Facebook and Linkedin. Visit our website and subscribe to our newsletter.