Join us for the latest session of our new Wellness Series
About this event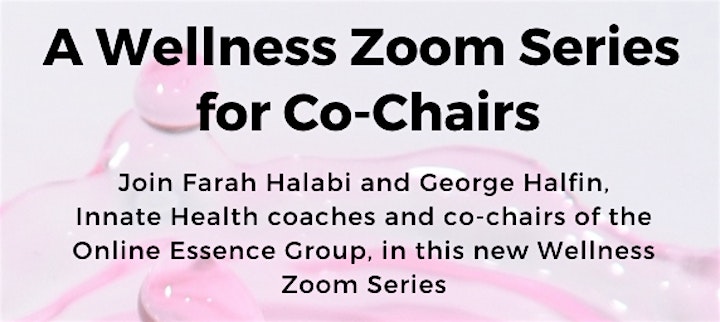 However you are feeling, join us for a chance to have some quality time and an opportunity to gain some perspective on whatever is going on for you in a supportive environment.
During each session George and Farah, health coaches and co-chairs of our Online Essence Group, can help you navigate through the noise of your thinking to your innate sense of peace.
Each session is stand alone and will be based on what people want to discuss.
Farah's Bio
Farah Halabi is a certified Transformational coach, Mumming Mastery and Soulcare Specialist, International speaker, Islam Channel Women's AM Panelist, Youth Innate Health Mentor, published author, Madrassa teacher, mum of 4 and TOWIE enthusiast.
Farah helps stressed out, overwhelmed and overstretched mums discover their own unique awesomeness to lead them to parent in peace, not in pieces and supports them to uncover their innate God given gifts to lead a life of insightful wisdom and peace. Working with her, helps you to understand how you can transform and enhance your life in ways you never imagined and more, creating the life you want, to live a life you love
George's Bio
George Halfin is Co-chair of Nisa Nashim Essence. She is a wellbeing coach, project manager at a national charity and mum to young boys. She is passionate about helping people see beyond their habits of thinking that hold them back and live a life with greater spontaneity, resilience, peace of mind, love and laughter. She is author of the blog 'Confessions of an Overthinker and is currently putting a book of women's voices together to help women see beyond their serious, self-limiting thinking so that the light they are shines brighter in the world.
Organiser of Navigating our way with certainty through uncertain times