Unlocking better financial and risk management through Young Trustees.
About this event
- Why is board age diversity a priority for foundations & funding organisations in 2021?
- How do Young Trustees enable organisations to remain relevant, make future-proofed decisions and reflect their communities?
- What is the risk of nothing changing?
In this one hour webinar you will:
Hear first hand from Young Trustees, how older board members have welcomed their contributions and how the organisation they serve have benefited from them.
Have the opportunity to ask questions (including anonymous questions) to people leading change in this space.
Explore how you can take practical action to create meaningful change in your boardroom and lead change across the sector.
Speakers: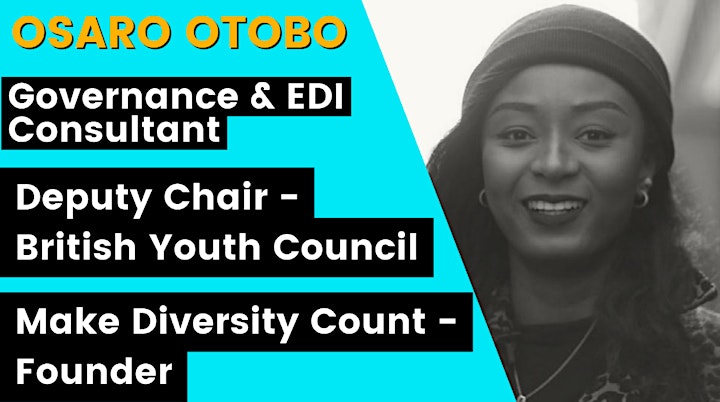 Osaro is a young Deputy Chair of the British Youth Council, former Trustee of The Ferens Education Trust and a two-term President of Hull University Students' Union. She created the Make Diversity Count campaign, calling all UK organisations to have a robust discrimination policy that sets out how they deal with complaints of discrimination in a more effective and transparent way. She currently works as a consultant, specialising in governance and EDI.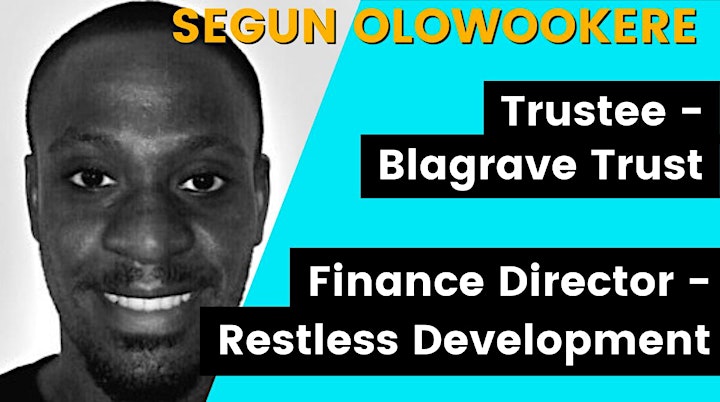 Segun worked for the global youth-led development charity Restless Development, providing financial support and capacity building as their International Finance Manager aged 25. He is committed to diversity and equal opportunity and has written a motivational book for young people "You Might As Well'. As a Trustee for the Blagrave Trust, he has first hand experience and insights of a foundation board that has had young trustees for over 3 years. The Blagrave Trust is also the founding funder of the Young Trustees Movement.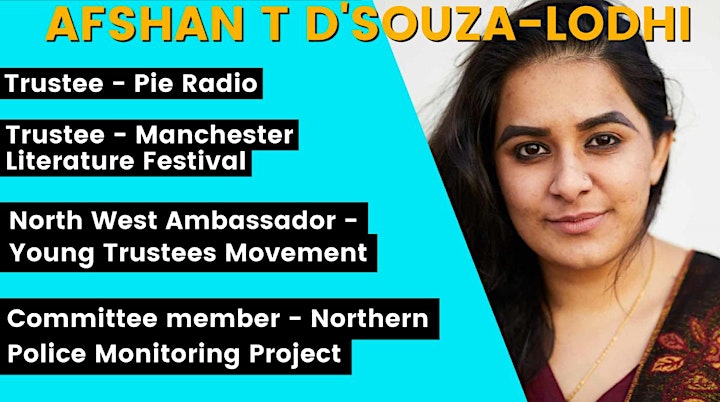 Born in Dubai to Indian and Pakistani parents and was lost in Manchester. Alongside her multiple volunteer roles she is a writer of plays, prose and performance pieces. Afshan holds a degree in Philosophy and a Masters in Post-Colonial Literature and Culture. In her role as Ambassador for the Young Trustees Movement, she is focusing on exploring power and the role of funding organisations in leading the charity sector to better, more innovative governance.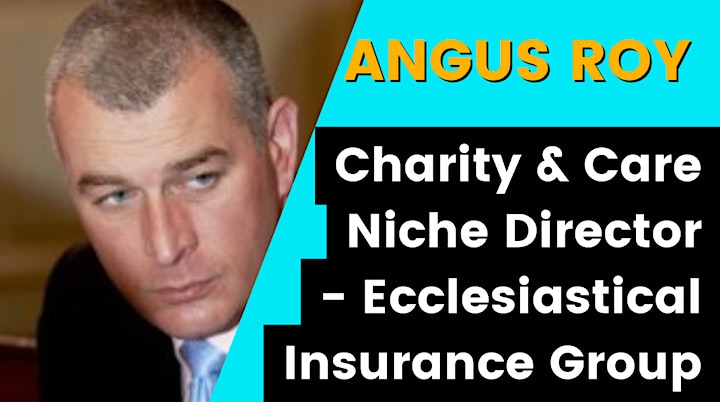 Angus is responsible for the development of Charity niche across Ecclesiastical, a specialist Insurance & Financial Service. In this role he manages the continuous improvement of products, pricing and proposition, and supports internal teams with guidance and training. As part of ecclesiastical work in understanding the problems faced by charities and what was needed, it led them to commission research on Young Trustees. Angus has also previously spoken on the connection between board diversity and its ability to navigate uncertainty and risk.
If you have any questions please email Mita Desai (mita@thesocialchangeagency.org).
Organiser of Navigating Risk, Financial Management & Young Trustees