In this webinar, we'll look at the changing landscape of a new onboarding journey for a hybrid, more fluid workforce.
About this event
When you think of onboarding in a traditional sense, it's getting a new hire to fill out their paperwork before the first day to "hit the ground" running. World-class onboarding, especially in today's online environment, is different. It's bigger. It's more intentional. While it includes all of the elements of a traditional onboarding experience, it places a higher emphasis on deliberate, personal touch-points and connections that significantly impacts confidence, engagement and ultimately productivity.
Whether working remotely or in the office, organisations need to engage, align and empower employees to be successful today and in the future with experiences for every inflection point in the employee journey, including transfers or promotions, leaves of absence, mergers and acquisitions, offboarding and rehired employees.
Join this webinar where we'll look at the changing landscape of a new onboarding journey for a hybrid, more fluid workforce.
What's being discussed
Survey results reveal and understanding that the data means
Delivering the right experiences to the right people at the right time
How to foster interpersonal connections and cultural awareness
Sustaining engagement throughout the employee lifecycle
Understanding the complexities of designing a simple process
How employees might be looking to move around an organisation and what this means to "reboard"
Understanding the legal implications of onboarding a homebased workforce
…and much more!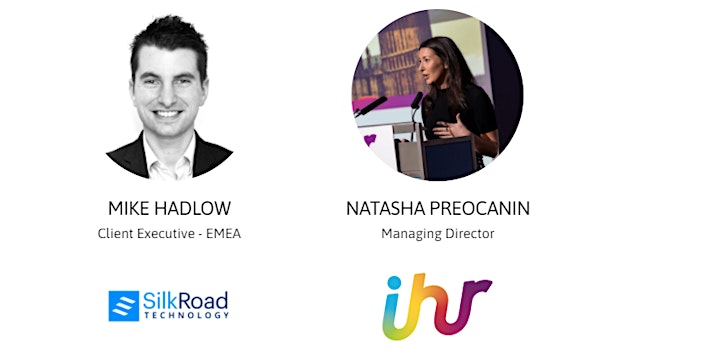 Webinar agenda
10:00 – Opening announcements
10:05 – Guest speaker presentation
10:45 – Live Q&A session
10:55 – Closing comments
11:00 – Event close
Total duration: 1 hour

SilkRoad Technology's software and services platform helps clients attract, retain and align people to their business. Their solutions start with Global Client Services to provide strategic HR and business expertise. SilkRoad Technology then designs secure solutions tailored to business requirements at scale for global companies. They deliver personalized experiences for employees to drive engagement across the employment lifecycle and enable measurable and better business outcomes.
Organiser of Navigating the New Onboarding Landscape with a Hybrid Workforce
IHR is the largest and most engaged community for In-house Recruiters. Our 20,000+ community benefit from over 70 live and virtual events each year ranging from our 1000-strong exhibitions and high profile awards to exclusive half-day breakfasts and targeted dinners for Recruitment Leaders. We also produce industry leading digital whitepapers, webinars and leadership videos alongside high value community forums and an all-inclusive supplier directory. Membership is free, why not join today? https://inhouserecruitment.co.uk/join