NCLF ROADSHOW - REVIEW OF CITIES AND COMMUNITIES IN MANCHESTER

Saturday, 15 July 2017 from 14:00 to 16:00 (BST)
Event Details
An Open Invitation is extended to Church Leaders, Community and Civic Activists  to attend the National Church Leaders Roadshow taking place in Manchester on Saturday 15th July 2017 from 14:00 - 16:00hrs Top House, Shawheath Close, Manchester M15 4BQ. Its the second in a series of planned events at which Black Church Leaders are leading in a Review of UK Cities & Communities seeking relevant response and action of the current and critical issues effecting us on a local, national and international level.
NCLF - National Church Leader Forum  is an organisation commited to facilitating a Black Christian Voice in the UK. In 2015 more than 200 Church leaders were involved in the reflection, research, collation, publication and final launch of the first ever Black Church Political Mobilisation Manifesto. Its publication coincided then with the National Election and was widely commended by the hundreds of members within the both House of Lords, Parliaments and well as government leaders, political and civic individuals and organisations of every type.
The Roadshow was planned and commenced with the first event held in Bristol on Saturday May 6th, ahead of the sudden 'Snap General Election' announced by PM Teresa May, 
Now this event held in Manchester is at a time when recent tragedies express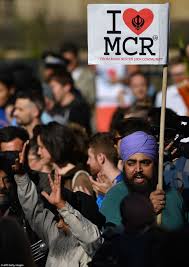 the Church needs to rise even higher in its role as a force for good in our nation, particularly as the additional impact of weighted matters like Brexit demand societal changes we know not where they will lead. In a quest to respond instead of react to outcomes there are many questions: What is our responsibility to the state of our cities and communities? What is the view of our next generation leaders? How do we encourage these younger Church leaders who are destined to take the baton from those currently in position?  
Come and give your answers, raise your own questions at NCLF Roadshow - Manchester, Black Church Leaders Review Of Cities & Communities on Saturday 15th July 2017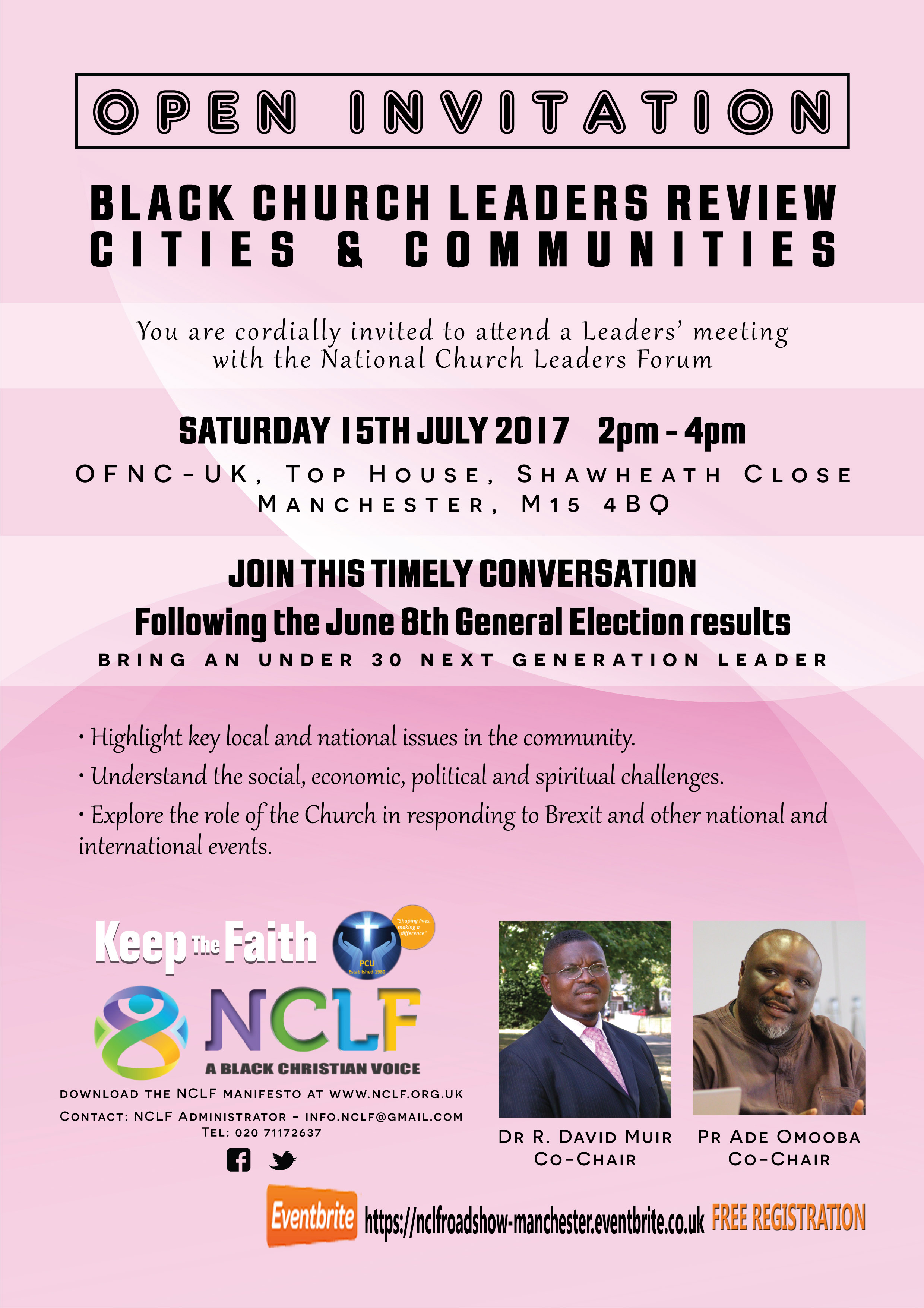 When & Where

OFNC-UK
Top House
Shawheath Close
M15 4BQ Manchester
United Kingdom


Saturday, 15 July 2017 from 14:00 to 16:00 (BST)
Add to my calendar
Organiser
Who are we?
We are the National Chuch Leaders Forum (NCLF).
NCLF consists of key leaders in the African and Caribbean churches in the UK.
What is our purpose? 
NCLF's purpose is two fold:
To bring greater cohesion and unity to African and Caribbean Christians
To give greater visibility and voice to the mission of the Black Church Movement in Britain