Description

Diabetes Clinical Network Workstream Workshop
NDPP
4th May 2018
Time: 13:00-16:30
Venue: Mary Ward House Conference Centre, 5-7 Tavistock Place, WC1H 9SN
You are invited to attend the NDPP Workshop Event. The event is aimed at all project managers, practice nurses, clinical leads, GPs, clinicians and any other colleagues that will be invovled in NDPP moving forwards.
Please see below an agenda for the day: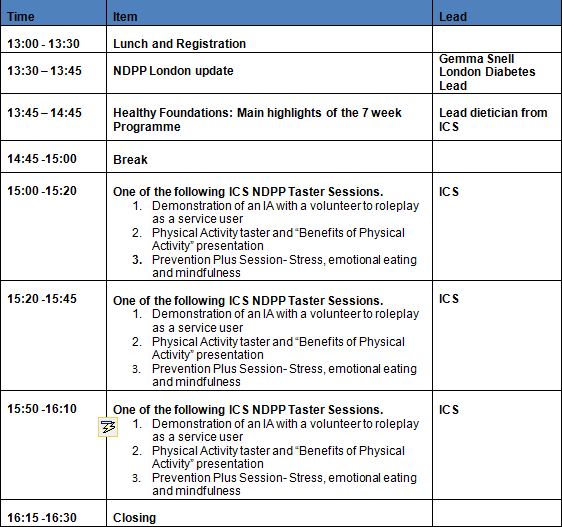 Please share this invitation with all members of your team or Health care Professional that are involved in the NDPP Programme, and circulate to neighbouring London teams, so that we ensure everyone knows about this event.
Lunch and refreshments will be provided. Please state any dietary requirement when registering.
The Agenda will be available nearer to the event.
If you have any questions or concerns, please contact The Diabetes Clincial Network team by email at england.diabetescn@nhs.net.
We hope you can join us for this energising event.