Sales Have Ended
Registrations are closed
Sorry this event has sold out, please check our website for other events coming soon near you - www.foodteacherscentre.co.uk
Sales Have Ended
Registrations are closed
Sorry this event has sold out, please check our website for other events coming soon near you - www.foodteacherscentre.co.uk
Description
Our NEW on-line training room has all the training videos that we used in 2017-19 meetings on how to prepare yourself and candidates for NEA, how to carry it out, and mark and moderate NEA.
This is a LIVE training room, so on 2nd September we have updated with two NEW presentations. Barbara Monks has added a 30 minute training video 2019-20 NEA 1 update, and Julie Messenger has added a 15 minute video presentation with tips from 2019 Examiners reports to improve your results..
There are 8 training units to choose from: all at your own pace, unlimited access
UNITS TO CHOOSE FROM:
2. (NEW) Preparing for NEA 2019 tasks
3. Planning and Preparing for NEA1 (Food Science)
4. Planning and Preparing for NEA 2 (Practical Skills)

5. Giving Generic Feedback

6. Marking and Moderating NEA 1 (Food Science)

7. Marking and Moderating NEA 2 (Practical Skills)

8. Written Paper: Creating a Revision Plan and Revision Strategies
Each Unit has a video presentation, useful handouts to download, hundreds of ideas and activities as if you were in the training room with us, an opportunity to ask questions and links all in one place to everything that we recommend and you will find useful, to make this a lifesaver – all in one place.
To access the training room you will need a Facebook account and access to the internet. The training can be accessed on a mobile device, tablet or computer.
JOIN HERE for £20 donation (plus fees)
REVIEWS OF THIS TRAINING ROOM SO FAR
Jordi Major
I have found some really useful resources - including presentations from Jaqui on things to check when marking the NEAs and the evidence which the moderators want to have clearly marked. If you haven't been to any of the NEA - Together events, then this could be a really good option for you. It's pretty budget friendly at £20 as well.
Ben Taylor

Wonderful resources - the best CPD I have had in 13 years of teaching.
I have been teaching for 13 years and although trained to teach DT would not exactly describe myself as a food specialist. I completed NEA1 and NEA2 (Eduqas) with a small cohort of 11 students at my last school, the process was exciting, and the students did an excellent job, but I often felt confused and unsure of specific details or protocol. Fortunately, my colleague was available to support, but if I had had gone through these training resources before, I would have felt much more confident and would have been able to progress with the group far more independently.
When accessing the training resources a real focus for me was the revision section. I loved watching the high-quality videos and the recommendations, tips and strategies on offer were fantastic. My only problem was scribbling all the info down as the presenter of the video went through it.
It is the first time that anyone has ever deconstructed the act of revision and actually shared an effective way of doing it. It was a total revelation to me - as were some of the very high-tech methods of learning and assessing ie the VR code testing.
From a general food teaching point of view one of the seriously amazing strengths of this training are the food science videos both the links & recommendations and the in-house videos explaining key concepts.
Emma Fenn
I've used the NEA Training and Revision videos over Easter to help with marking and preparing for next term. They have been very helpful to someone who couldn't get to the training. I particularly like the range of revision ideas. I plan to use these with my class in the remaining few weeks before their exam. It is really useful information, especially if it's your first time running one of the GCSE courses.
Louise Glover
I have been using the training room, full of training videos for the last week or so. I have found it really useful as I struggle to get out to training events and there is only me teaching Food in my school, so I don't really have anyone to bounce ideas off or speak to for advice.
The training room has a wealth of different videos, specifically to help NEA 1 and 2, plus exam preparation. There is also a lot of detailed videos to help with the scientific principles of the specification, which is perfect for those who aren't as confident in teaching them.
I have been using the group on my mobile mostly and it is easy to navigate and all videos can be viewed on this platform.
I fully recommend it and I will continue to explore when I am preparing for the next academic year.
Karen Ryder
I have to say it's a brilliant resource. It's very easy to navigate around the site & dip in and out of the sections that you want to use. Lots of excellent resources, especially for NEA 1. Some I've used before, but others were new to me, so will definitely be going back to them. Also, a range of resources for NEA 2 & an interesting video on presentation skills. I'm sure none of us like paying money out, but I think £20 is worth it, especially to have all the resources in one place.
AVAILABLE NOW
We ask for a minimum donation of £20 to help us cover the costs of video production, emailing and setting up the on-line training room and managing the tickets. Please enter £20 when booking and ensure that the attendee details 'named teacher ticket' are for the teacher who wishes to access the on-line training.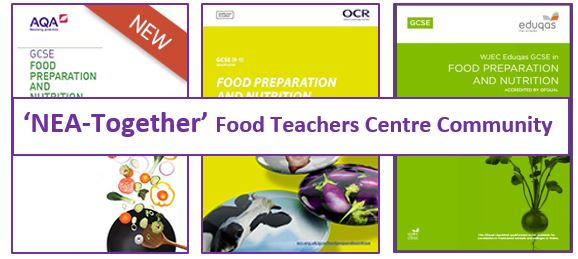 NEA-Together Booking and Costs £20
A minimum donation of £20 (plus Eventbrite booking fee £2.15) will be requested to cover any costs, such as presentation production and managing the booking system.
Organiser of NEA-Together and Revision (On-Line Training Room)
FOOD TEACHERS CENTRE is a uk based self-help group founded by Louise T Davies in 2013 and supported by experienced associates. It provides a platform to exchange best practice, give advice and support to less experienced teachers, answering practical concerns and keeping them abreast of the latest curriculum changes. A one-stop shop for like-minded professionals who seek help and information. It is free to take part and is facilitated through a closed on-line group, safeguarding the conversations of the teaching staff.
The idea of a 'Teacher's Centre' is a response to the lack of local and national specialist support and diminishing Continuing Professional Development with the demise of local authority advisers ASTs, lead practitioners and supporting organisations.
The Centre utilises new technologies, not requiring a physical space in new times, but providing the same high quality service that our traditional teachers centres were recognised for.
 The Food Teachers Centre is a place of
creative, innovative ideas and action
practical solutions
learning and sharing
If you would like to join the closed facebook group (you have to be a secondary food teacher and answer the THREE entry questions full))
But you can also visit our website   and public facebook page
FOOD TEACHER'S CENTRE ASSOCIATES
The centre is supported by a group of very experienced and high quality national and regional consultants/advisers, who offer training, advice and resource writing for food education in primary and secondary schools. Find out more about how Associates can help you.
Food Teacher's Centre Community is a community group set up to:
provide and promote unbiased and accurate information to support curriculum development and innovation.
support food teachers (including student teachers) to exchange best practice nationally and internationally.
support teachers and schools to develop and/or enhance a healthy living whole school community.
Food Teachers Centre Communityis a Community Association suported by donations.  Treasurer Mrs B Rathmill and Seceretary Mrs J Elms.   More information https://foodteacherscentre.co.uk/support-us/