Description
If you dedicate only One morning to your NED career this quarter, then join us for an inspiring series of NED topics at NEDonBoard's conference on 20th March.
Join us for the flagship event for Board members and non-executive directors in the UK. NEDonBoard is the officially approved body for non-executive directors and board members in the UK. From the leading organisation serving the non-executive and board member community: focus on leadership, governance, culture, digital and business in the Boardroom.
Morning Agenda:
08:30-09:30 – NED and Board Networking Breakfast

08:40-09:20 – Complimentary NED CV Workshop (Spaces limited. First Come, First Served pre-registration basis. Please email liv.noble@nedonboard.com in advance.)

09:30-10:00 – Welcome Address

10:00-10:45 – Setting the Scene: The Importance of Effective Corporate Governance and the Role of the NED

10:45-12:30 – NED Panels:

Leadership & Culture: Empowering Women and Diverse Boards

Digital Panel for The Boardroom

12:30-13:00 – The NED Journey – How NEDs Can Make an Impact on the Future of Businesses
Afternoon:
Course workshops by pre-regisration only
NEDonBoard, Guest Speakers
Jeremy Small is an experienced Company Secretary with wide-ranging technical and commercial experience in manufacturing, services and financial services industries, who has extremely good relationships with chairmen, directors and senior executives, and is often used as a sounding board for commercial propositions, strategy and cultural issues. Jeremy led an international team to develop a direct to consumer wealth management product and for several years he has actively sponsored talent and development programmes, providing coaching and mentoring support in the UK, France and Germany. At AXA UK, he introduced board evaluation and instigated several innovations to improve the culture and smooth running of board meetings. In 2010, through CriticalEye, a business networking organisation, Jeremy published an article on directors and decision-making, and in 2011, he published an article on leadership in M&A. He has also published an article about the role of the Chairman, via Fidelio Partners in 2015. In 2017, he published an article on M&A: The Board's Role, in Governance + Compliance, the professional journal of ICSA: The Governance Institute of which he is a Fellow. He acts as an informal advisor on a range of corporate governance matters and was a member of the CBI Companies Committee for 10 years. In 2011, he became a member of the ICSA Company Secretaries' Forum, along with its EU and Professional Development Committees, providing comment and formal responses on various government and EU consultations, as well as helping to update the professional qualifying syllabus for company secretaries. Jeremy's experience at AXA, The BOC Group, Forte and Spear's Games covers the entire range of company secretarial work including board and director succession planning, stock exchange compliance in the UK, US and Japan, contract negotiation, strategy development, corporate administration, company law, share options, insurance, intellectual property, pensions and the establishment of governance and risk frameworks, as well as financial services regulation.
Anna Marks is a senior audit partner at Deloitte with significant experience in the areas of audit, due diligence and stock exchange and other regulatory reporting both in the UK and US. Focused primarily on UK Listed organisations, Anna is currently the audit partner for some of our large FTSE corporate and international clients with responsibility for the leadership and co-ordination of the provision of services globally. She has over 25 years of experience in providing audit and advisory services to global listed clients. The focus of her work is also to interact with the Boards of Directors, Audit Committees and their teams on a variety of corporate development activities including supporting growth through M&A or transaction-related activities; establishment and development of share service centre structures and processes; financial and public reporting reviews; and the development and enhancement of governance and risk management processes. Since 2010, Anna has been a member of the UK Board of Deloitte LLP and the Audit and Risk Committee for the Firm. She is now a member of the North West European Board for the Firm, working closely with the fellow board members across North West Europe. She has also been a member of the Executive team for the Audit practice in the UK, with responsibility for our talent strategy and programmes. Since 2017, Anna has been working on a voluntary basis as a co-opted member of the Royal Hospital for Neuro-disability, a charity meeting the complex needs of people with profound disabilities arising from brain injury, and a member of their Treasury Committee.
Elisabeth Stheeman is an external member of the Bank of England's Financial Policy Committee (FPC). She was appointed by the Chancellor in November 2017 and started her role at the end of February 2018. Elisabeth was a Senior Advisor to the Bank of England's Prudential Regulation Authority (PRA) from September 2015 to early 2018. In this role she focused on governance across the UK's financial services sector. In June 2017, she joined the Board of Korian SA, the largest provider of retirement and nursing homes in France and Germany, as an independent non-executive director and as a member of the audit committee. Since May 2015, she has been a member of the Supervisory Board of Aareal Bank AG, the third largest listed bank in Germany, and the deputy chair of the risk committee, and a member of the technology and innovation committee. She was a member of the supervisory board and audit committee at TLG Immobilien AG in Berlin from 2014 to early 2018. She has been an External Member of the FMI (Financial Market Infrastructure) Board of the Bank of England since July 2017. Before joining the Bank, Elisabeth was Global Chief Operating Officer for LaSalle Investment Management (2013 to 2014), having previously worked at Morgan Stanley for 24 years. Elisabeth is a member of the London School of Economics (LSE) Council and Court of Governors, and the deputy chair of the LSE finance committee.
Gillian Karran-Cumberlege is a Founder of Fidelio Partners and leads the firm's Board Practice, supporting Chairmen and CEOs in building boards 'fit for the future'. Gillian is actively engaged in promoting greater board effectiveness through increased diversity. Fidelio is accredited by the Hampton-Alexander Review for its contribution to increasing gender diversity on boards and leadership teams. Gillian is an Independent Board Director of Jaguar Land Rover India Ltd and sits on the board of the German British Forum and the Harvard Business School Alumni Board. She was recognised as a leading female executive within Germany and from 2000-2007 was the most senior female executive globally within Volkswagen AG as Head of IR reporting directly to the CEO and later to the CFO. Gillian has held senior IR and finance roles within UBS and Dresdner Bank having started her career with the Bank of England. She read History at Cambridge, and attended the Harvard General Management Programme. Gillian, with the 30% Club, actively promotes greater board effectiveness including through increased diversity. She is the founder of Fidelio's acclaimed "A Seat at the Table" programme for senior female executives, which has become an important contribution to establishing a strong pipeline of female Executive and Non-Executive Directors, both in the UK and internationally.
Jemima Coleman is a Non-Executive Board Member of the Legal Services Board, the oversight regulator for England and Wales. She is a Non-Executive Director of Creative Access, a community interest company, which aims to improve diversity in the creative industries. Jemima is an experienced employment lawyer at Herbert Smith Freehills LLP and is on her firm's Corporate Governance Advisory Team. She has chaired various working parties of the Employment Lawyers Association's Legislative and Policy Committee. She is on the Steering Committee of the 30% Club Professional Services Firms Initiative. In 2015 she spent a year on the Solicitors Regulation Authority's Equality, Diversity and Inclusion committee. She is a Trustee and Governor of Highgate School.
Dr Yvonne Thompson CBE is a dynamic and entrepreneurial business leader. She also has over 20 years' experience for which she is well known on public sector boards, which includes, Chairing the London Central Learning and Skills Council, DTI's Ethnic Minority Business Forum, African Caribbean Business Network, and many others where to brings energy, experience, dedication, and change to and for many. Often called upon for media interviews on issues concerning small business, women and minorities; Ms Thompson has engaged with Prime Ministers, Ministers and high profile personalities in the business arena. She was awarded a CBE in 2003 for her services to women, small business and minorities. In 2005 she was awarded an honorary doctorate by London Metropolitan University for services to small business and mass communications. She has been recognised across the UK and Europe as well as internationally, having been acknowledged by the Mayor of Houston Texas, with an Yvonne Thompson Day (4th January) as well as being named in Washington in the Congressional Records. Ms Thompson has been hailed as a role model in the Black community in the UK and Europe and for women in general wanting to start their own business. She has chaired many governmental committees, including the DTI (now BIS), the Learning & Skills Councils and sat on many boards including the first Mayoral advisory board for the LDA (London Development Agency). Her most recent profiled roles include working with a prestigious corporate network, TNON (The Network Of Networks), chairing the events committee for the Women's Diplomatic Service Network, and most recently appointed to the Economics Honours Committee where she is committed to help in their campaign to increase nominations from minorities and women.
Abeed Janmohamed is Founding Partner and CEO at Volandao. Having spent almost all his career in start-ups, turnarounds and high growth businesses across the Martech landscape Startups and Commercial Growth are in his DNA. Abeed has built and developed commercial teams to drive high growth and results – having started his career on the publisher side at Cricinfo.com, which was acquired by ESPN in 2007 – where he built the commercial team and helped launch ESPN Digital Media in Europe. He joined RadiumOne as the 1st commercial hire outside the US and was instrumental in establishing the commercial operation across the agencies and brands. As a key member of the European leadership team his role developed into driving strategic relationships across the publisher and partner landscape as the business looked to develop its SAAS platform proposition. Following 5 successful years at RadiumOne he was headhunted to join retail startup Eagle Eye Solutions as Chief Revenue Officer where he was responsible for Sales, Account Management, Partnerships and Alliances – he achieved 150% year on year revenue growth and grew their partner base significantly. Over the course of his career in startups he has developed several relationships across the Venture Capital and Investment landscapes which played a critical role in his vision to set up Volando. He is married with 2 children and live in Hampshire, which keeps him busy alongside his responsibility as a Governor of Medstead School and Non-Exec to the British Army Initial Training Group (ITG). In addition, he represented Kenya at cricket between 1999 and 2007. He still plays competitive cricket, tennis and hockey and is a member of the MCC and The Berkshire Golf Club.
Neil Sinclair is Chief Operating Officer for the London Digital Security Centre, a joint venture between the Mayor of London, the Metropolitan Police Service and the City of London Police. Its role is to help businesses to grow and innovate through operating in a secure digital environment. The Centre offers tailored staff training and education programmes, security assessment and digital footprint assessments. Neil comes from a Counter Terrorism background, having been a senior accredited financial investigator with the National Terrorist Financial Investigation Unit and the Financial Intelligence Lead for Government Agencies.
Sharon Constanҫon is the CEO of Genius Methods - a company that offers tailored robust, behaviour focused board evaluation services to many industries, listed entities and regulated businesses. Her board work encompasses very disparate sectors and organisational size including: FTSE, SME, Family, Investment Trusts, Insurance, Financial Services, Regulated, Health Services and the Housing Sector. She has a well attested reputation for providing confidential, straightforward, honest and effective board evaluations which have very successfully enabled boards to improve performance. Sharon has extensive experience in director mentoring and is regularly invited to address industry audiences and chair round-table debates or panels, providing governance CPD to those attending. She is a Chartered Director, Chartered Secretary, has an MBA and is Chairman of the South African Chamber of Commerce. Director roles have included Non-Executive Director for Caban Capital plc and Buckinghamshire Building Society. Current roles include Chairman of South African Chamber of Commerce UK and Committee Member for the CISI International Committee. Sharon was awarded the SACC Woman in Business Award in 2013 and in 2015 she was nominated as a finalist for the prestigious 'Dr. Neville Bain Memorial Award' as part of the Institute of Director's Annual Director of the Year Awards.
Previous feedback:
"First class and most useful".
"Excellent. I have a much better idea of how to pursue my NED career"
"Good all-round insight. Steer on CV presentation and the role and approach of headhunters was particularly useful"
"A very useful day. Professional and well run"
"Extremely well structured"
"A well organised and extremely professional day. Fantastic value"
"Excellent day which exceeded my expectations"
NEDonBoard is the officially approved body of non-executive directors and board members in the UK. In practice, we connect, train and inform 20,000 business leaders during their career at Board level.
We operate around three pillars: knowledge, connection, and authority. We provide a clear path for business leaders to the Board and non-exec responsibilities. Our attendees rate our training as good or excellent.
We provide a safe environment for experienced Board members to connect and improve Board best practices. The majority of our community have between 5 to 20 years Board experience. The quality of our events is praised by national media. We ensure companies and organisation get access to our influential community. We publish on average 20 new Board role a week.
NEDonBoard mission for 2018 is to champion the NED role.
The Board is the highest authority in every institution. If you believe the wisdom of exceptional individuals and proper governance can improve organisation for the benefit of their stakeholders and, ultimately, for the benefit of the society as a whole,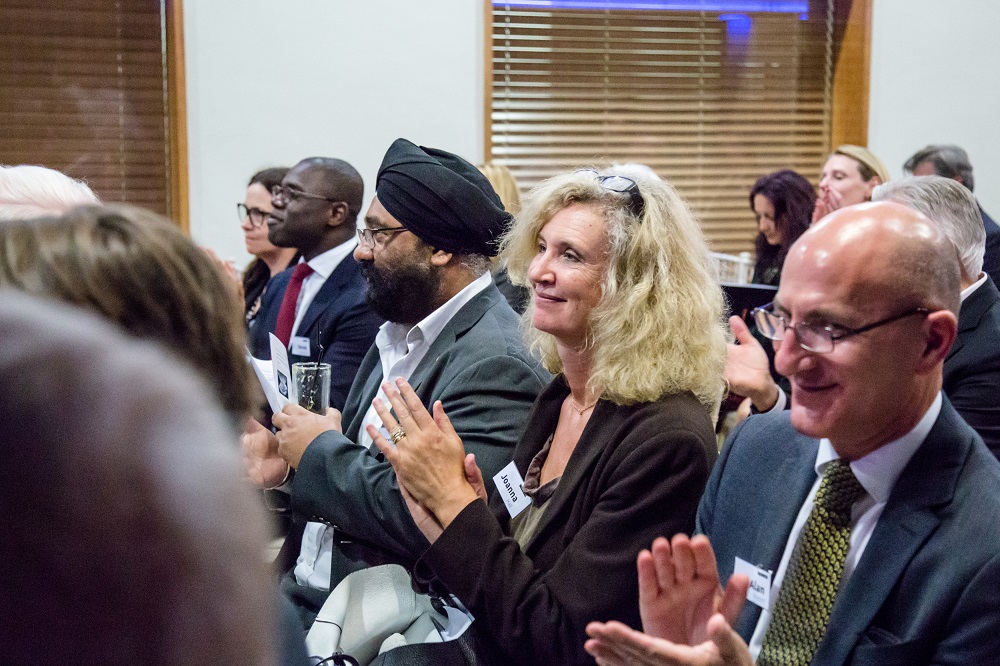 Hear what those who have attended our event previously: NED testimonials
Dress Code: Business Attire.
LONDON MARCH 20th (limited availability)
---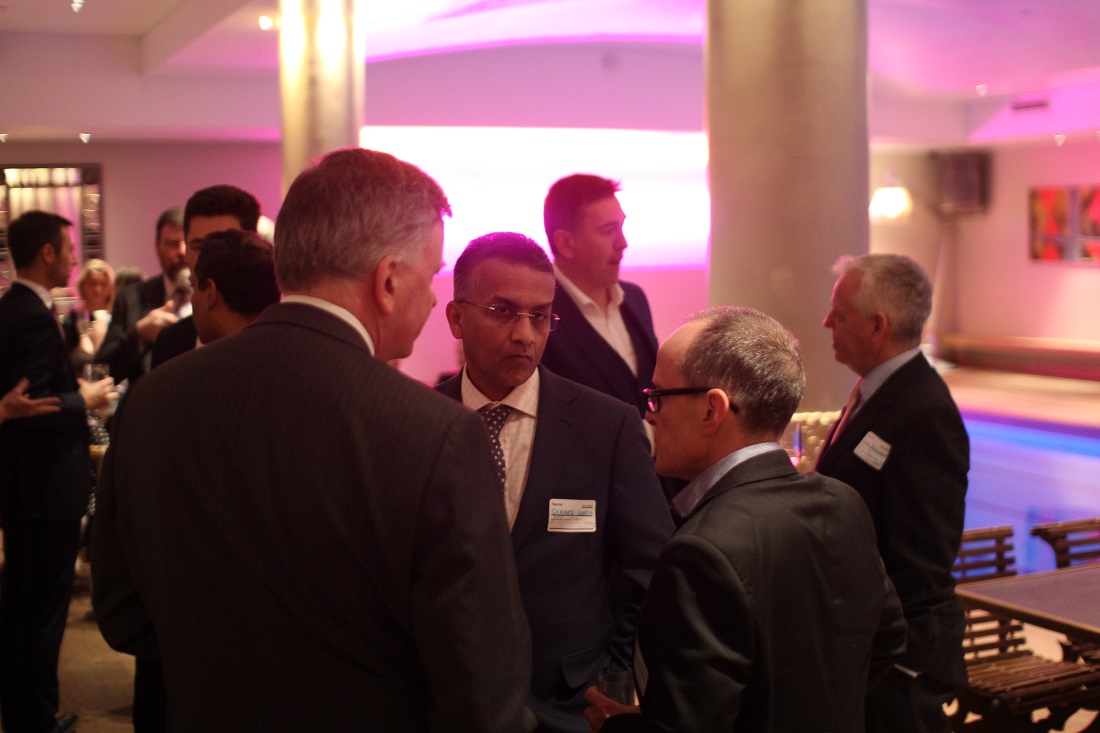 FAQs
Where can I contact the organiser with any questions?
team@nedonboard.com is the easiest way as we love to keep a record.
How do I become a NEDonBoard member?
You need to apply for NEDonBoard Membership. We reviewed each profile individually, the process can take up to 24h.
Is my registration/ticket transferrable?
Yes, as long as you update the details before the event. There is a security check at the entrance of the building.
Can I update my registration information?
Yes, just send us an email: team@nedonboard.com
Do I have to bring my printed ticket to the event?
Yes or your ID.
How many attendees?
For this flagship NEDonBoard conference, we limit the capacity at 120 attendees.
Who should attend?
The conference is aimed at non-executive directors, board directors, committee members, chairs, and trustees. The conference is also aimed at senior directors working within legal, financial, audit, corporate governance and leadership management. The conference is relevant for all FTSE and SME companies, charities and public organisations.
Can I participate if I am not a NEDonBoard member?
Yes, you can attend the conference as a non-member.
Our events are designed for, and will most benefit aspiring and experienced non-executive directors, and board members. If you are serious about your non-exec career then we recommend you join NEDonBoard. Visit our website for more information www.NEDonBoard.com You need to apply here: NEDonBoard Membership Application.
Please note – NEDonBoard events are filmed and photographed. By attending our events you accept that you may appear in future NEDonBoard communications. For any concerns, please raise this with NEDonBoard at your earliest convenience.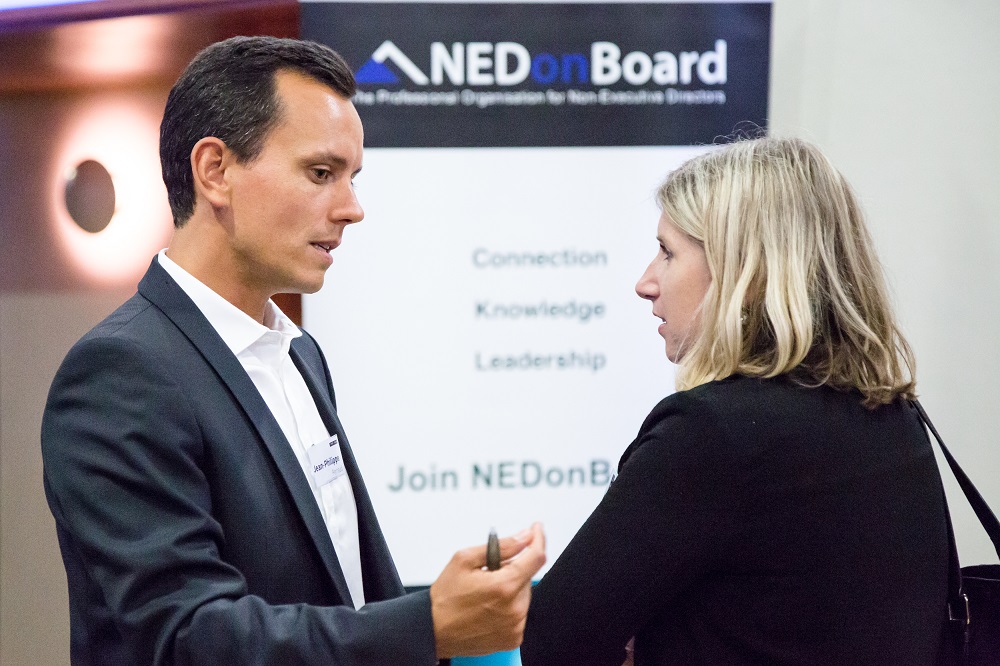 Organiser of NEDonBoard Conference, London March 20th. Tomorrow's Board