Description
For NEDs & Board Members. If you intend to protect your reputation, this event is for you: understanding your NED Legal Duties, Liabilities and Due Diligence.
1) NED legal duties and liabilities: get a deeper understanding of the role, the responsibilities and the exposure you take by accepting an appointment.
2) Due diligence: individual needs to accept roles that fit their aspirations, personality and drive. Their reputation is at risk. The event will cover these important aspects. It is held with our partner host, Clyde & Co.
Speakers:
Francis Kean, Director, Willis Towers Watson. Francis Kean joined Willis as an Executive Director of FINEX Global in 2010. Prior to that Francis was a Partner with the UK law firm Barlow Lyde and Gilbert LLP. He brings to Willis 25 years of experience as a litigation lawyer specialising in professional indemnity, financial institutions and directors and officers liability in the London insurance market. He was responsible for the launch of DARCstar, the first broker derived primary D&O form. It won the Insurance Innovation of the Year Award in 2012. Whilst in private practice, Francis handled a wide variety of claims for both insurers and insureds and has considerable experience of drafting policies and advising all parties in connection with coverage issues. He has handled disputes ranging from the defence of large, international claims against professionals to multi-jurisdictional coverage disputes. He was the editor of a book on D&O liability insurance published by The Insurance Institute of London. Francis regularly writes a D&O blog for WillisWire (http://blog.willis.com/author/franciskean/) and is a frequent speaker at conferences and events.
Laura Cooke, Partner, Clyde & Co.

Laura Cooke is a partner in Clyde & Co's professional and financial disputes team. Laura advises on coverage issues and disputes across all forms of directors and officers liability and financial lines insurance. Laura also undertakes defence work with a particular focus on regulated financial institutions, authorised individuals and directors and officers. Laura has been involved (whether on behalf of insurers or in a defence capacity) in director disqualification proceedings, wrongful trading and other claims under the Insolvency Act, shareholder disputes and FCA and other regulatory action against senior management individuals.
Denise Jagger, porftolio NED, SID and Chair, including FTSE 250 NED role. Denise started her career as a corporate finance lawyer at Slaughter and May before moving in house. She was Company Secretary and General Counsel of Asda Group plc, and, following its acquisition, of Asda Wal Mart. She has held a non executive portfolio for many years, past sectors in which she has operated include Retail, Financial Services, Construction, Health, Education, Museums & Galleries, Sport and the Performing Arts. She is currently Senior Independent Director at housebuilder Bellway plc, Non Executive Director of Pool Reinsurance Limited, the terrorism risk reinsurer; Chairman of the Council of York University; Chairman of the charity St Giles Trust and Senior Independent Director of Y2019 Limited which is delivering the world road cycling championships in Yorkshire later this year. Denise is a partner with international law firm Eversheds Sutherland where she focuses on client services.
Bob Beveridge, portfolio AIM listed SID. A chartered accountant who started his executive career with twelve years at Mars Inc. and five years at United Biscuits plc. The next phase of his career comprised CFO roles in three companies in the technology sector, Cable & Wireless Communications plc (FTSE 100) which was sold for £8bn, Fast Search & Transfer ASA which IPO'd in 2001 and Marlborough Stirling plc which was sold to Vertex plc for £95m. Finally, he was CFO for McBride plc, a European manufacturer of household and personal care products.In 2010, Bob commenced his '20-year project' as a portfolio non-executive director. To date he has served on the board of seven organisations, including four AIM listed plc's, one main market plc, an NHS Foundation Trust and a charity. He is currently senior independent director of Brady plc and Inspiration Healthcare plc and audit committee chair of Finsbury Food Group plc. He enjoys being engaged with a diverse range of interesting and worthwhile businesses and is totally committed to this portfolio work. Bob also provides mentoring services to finance directors, both individually and as part of the Institute of Chartered Accountants senior leadership programmes.
As always, you will have the opportunity to network with your Board peers. The majority of NEDonBoard audience have between 5 to 20 years Board experience. You never know where your next opportunity is coming from.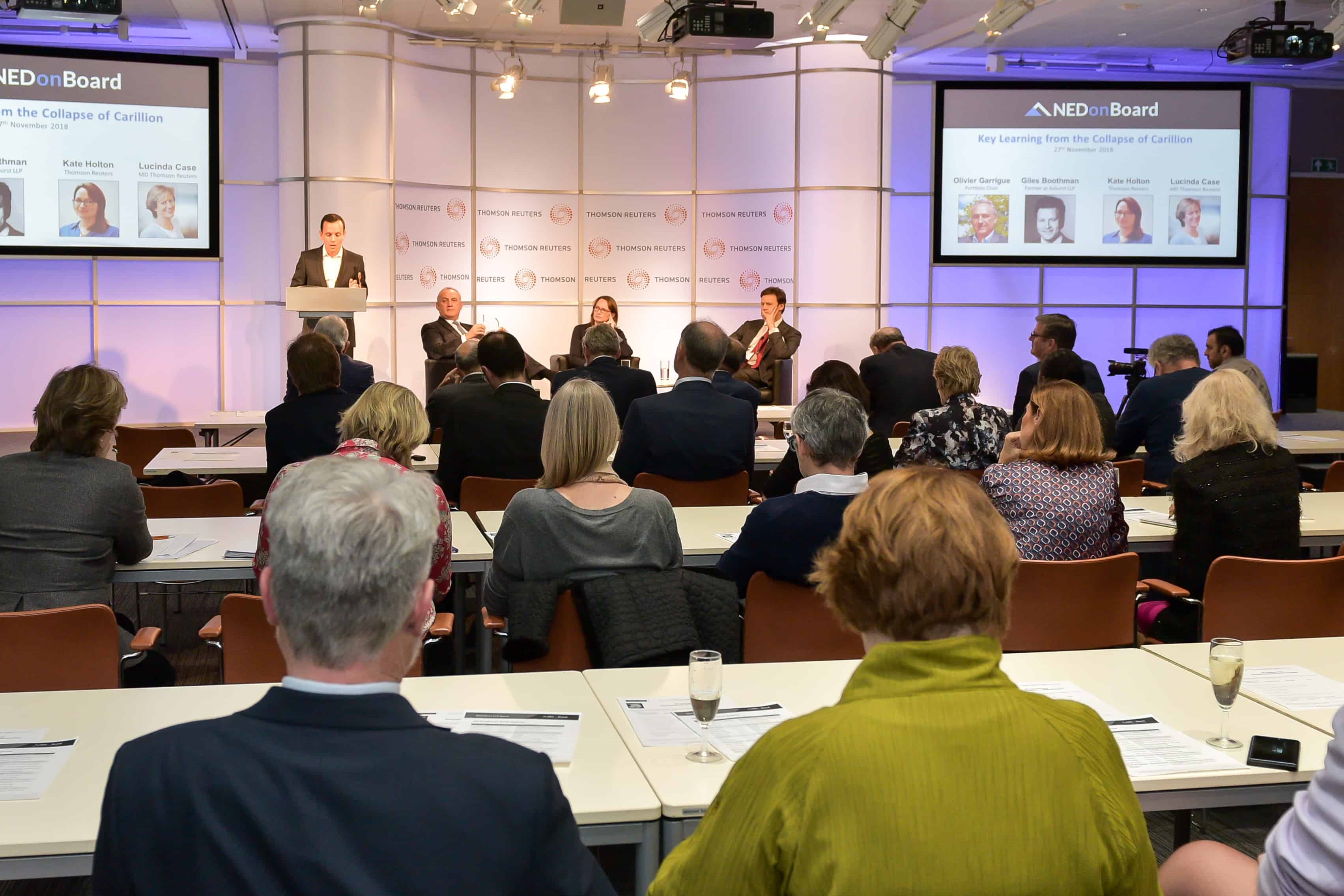 Doors open from 18:45 for networking drinks, with the welcome speech and panel beginning at 19:10.
As a non-executive director, board member and chair, it is important to strive for best practice and continue your learning of the role you are in.
To whom this event is intended:
Our events are designed for, and will most benefit, non-executive directors, board members, business leaders and executives operating at or near board level. Your board level peers are often the first to know of upcoming roles within the organisations they work for – come and meet them as making the most of engaging at our events is an important aspect of developing your board level career.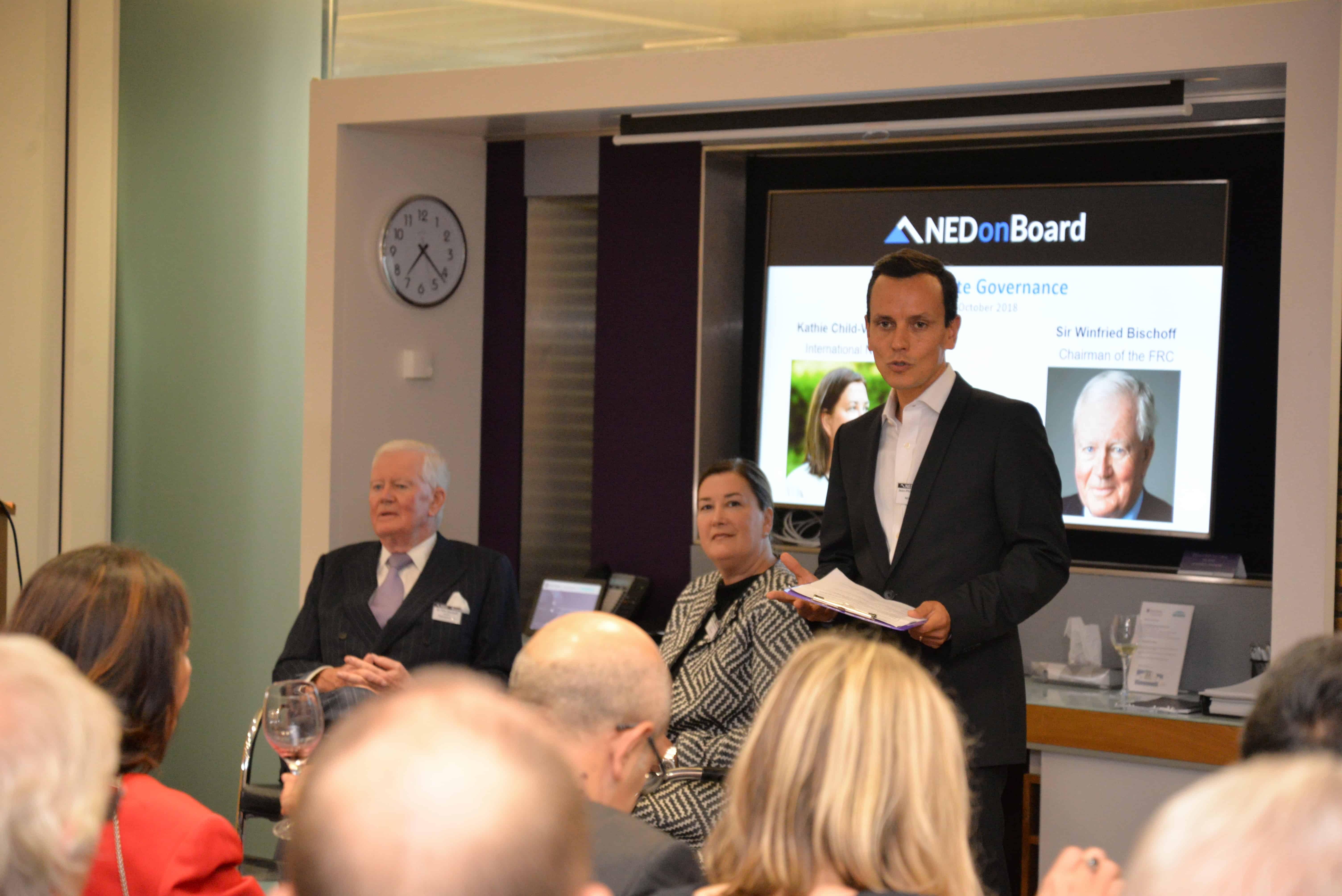 Testimonials:
Hear what those who have attended NEDonBoard events previously have to say:
About NEDonBoard:
NEDonBoard is the Professional Body for non-executive directors – should you have any valuable knowledge to share with your fellow NEDs you can highlight this to Liv Noble (liv.noble@nedonboard.com) in advance of the event.
FAQs:
Where can I contact the organiser with any questions?
team@nedonboard.com is the easiest way as we love to keep a record. Liv Noble is our event manager, Liv.noble@nedonboard.com.
Is my registration/ticket transferrable?
Yes, as long as you update the details before the event. There is a security check at the entrance of the building. We need all names before the event.
Can I update my registration information?
Yes, just send us an email: team@nedonboard.com
Do I have to bring my printed ticket to the event?
Yes or your ID.
How many attendees?
Our events are designed for 40 to 70 attendees.
What will be the format of the evening?
Welcome drinks will be provided at 6:45pm, with the panel discussion commencing at 19:15. Following this there will be opportunity for Q&A and networking with your board level peers.
Can I participate if I am not a NEDonBoard member?
Yes, you can attend events as a non-member. Our events are designed for, and will most benefit experienced non-executive directors, and board members. If you are serious about your non-exec career then we recommend you join NEDonBoard. You need to apply here: https://www.nedonboard.com/
How do I become a NEDonBoard member?
You need to apply at www.NEDonBoard.com. We reviewed each profile individually, the process can take up to 24h.