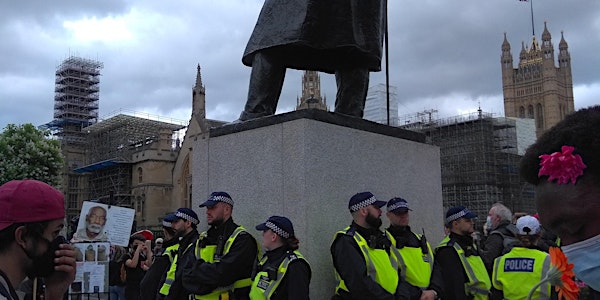 'Neglect, ineptitude and violence - Britain's pandemic nationalism'.
Location
Room 1.01 University Square Stratford Campus, University of East London (UEL)
1 Salway Place
London
E15 1NF
United Kingdom
Politics of Nationalism: 'Neglect, ineptitude and violence - Britain's pandemic nationalism', an event with V.Ware, S.Valluvan and A.Elliott
About this event
An annual public event bringing together civil society, scholars and publishers to safeguard open and critical discussions about the character of nationalist movements in our time.
In this first year, we will reflect on the changing threat of nationalism and the attacks on universities as spaces of open debate for all sections of civil society. This opening event will examine the interconnected politics of racism and of nationalism, both hard and soft, today.
The speakers for the event have been chosen for their expertise and politically astute unpicking of the current state of nationalism in the UK. All four take a critical lens to the apparent slide toward the authoritarian right in English politics particularly, placing this in longer histories of imperial nostalgia. In the face of the proposed Nationality and Borders Bill, we will consider again the intentions of this government when it comes to who it might consider a citizen worthy of basic rights.
As many have forecasted, this post-Brexit era is an opportunity for the nationalist right to assert itself on the cultural and political life of Britain. Although Covid has altered the parameters and arguably restricted the sharpest end of such politics being implemented, we are witnessing a differently articulated popular nationalism, intertwined with conspiracy theory or anti-trans agitation or protests against public health measures. These remain forms of nationalist politics, but not as we have known.
Co-hosted by Manchester University Press and the University of East London, this launch event brings together noted thinkers on nationalism and racism, to talk through where we find ourselves and how we got here, to better equip ourselves for whatever comes next.
Speakers
Professor Vron Ware - Vron is a UK-based writer and photographer with an international reputation for her work on race, gender, peace, militarism and ecology. Her highly acclaimed recent book, Return of a Native: Learning from the Land, is published by Repeater Books (2022).
Dr Sivamohan Valluvan - Valluvan is widely known for this insightful work on contemporary nationalisms, including pieces in Sociology, Ethnic and Racial Studies, Sociological Review and his much-read book The Clamour of Nationalism (MUP, 2019).
Dr Adam Elliott-Cooper - Adam regularly features in the broadcast and print media discussing issues relating to policing and racism in Britain, including Sky News, BBC News, Channel 4, BBC Radio 4 and The Guardian. He is co-author of Empire's Endgame (Pluto, 2021) and author of the highly acclaimed Black Resistance to British Policing (MUP, 2021).
Chaired by Professor Gargi Bhattacharyya, co-author of Go Home? The Politics of Immigration Controversy (MUP, 2016), Empire's Endgame (Pluto, 2021) and author of Dangerous Brown Men (Zed, 2008), Rethinking Racial Capitalism (Rowman and Littlefield, 2018) and We, the Heartbroken (Hajar, forthcoming).
An annual event sponsored by Manchester University Press, co-hosted by the Centre for Migration, Refugees and Belonging and the Institute for Connected Communities, University of East London.
Discussion starts at 5 pm.