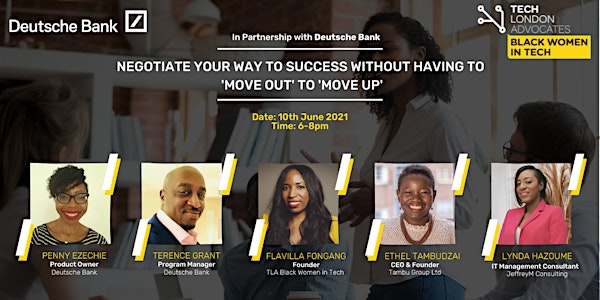 Negotiating your way to success without having to 'move out' to 'move up'
TLA Black Women in tech network event every 2nd Thursday of the month, full of creativity, inspiration, and passionate conversations.
About this event
Join us to learn about:
The career growth and path for a woman in tech
Negotiating your salary
Women in tech in the world of banking
TLA Black Women in Tech hosts monthly events to bring together business professionals, and entrepreneurs and companies. The networking event is a great opportunity to meet other like-minded technology and digital businesses/individuals.
Please save those dates. Our events, virtual or in-house, are on the 2nd Thursday of the month from 18:00 to 20:00. Within our amazing community, we are fortunate to have many professionals willing to speak or host the events.
From 2021, our events will be featured around these 3 pillars, ensuring the subjects are relevant to tech entrepreneurs, tech companies and professionals in tech.
Deutsche Bank: A universal bank with global impact
Deutsche Bank has a wide range of career opportunities under its sleeves. Register your interest in a career with them here, and become part of a global team that is transforming the banking world.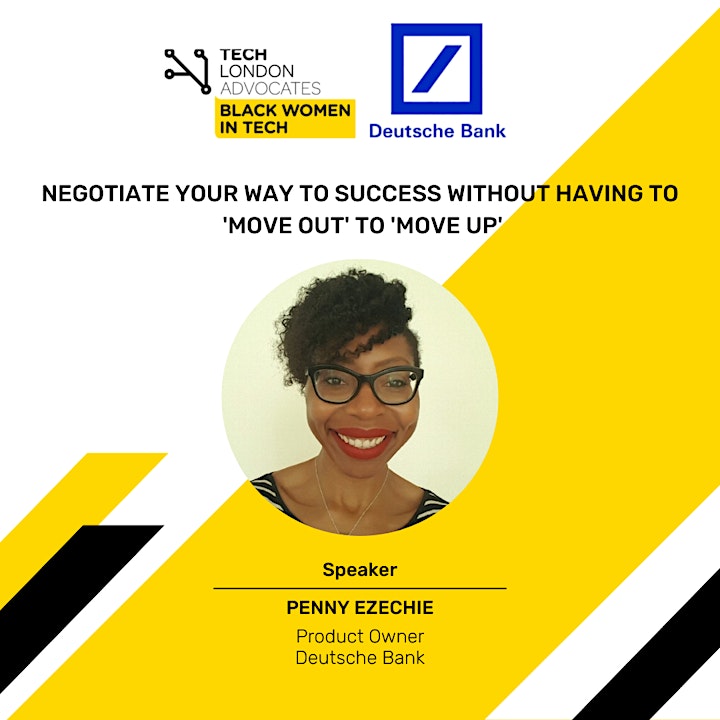 Penny has over 20 years of experience of working in Technology in Banking and Finance, with expertise in Service Delivery, Programme Management and IT Transformation. She is a champion for Black representation and Women and is committed to creating work environments where people can be themselves and feel like they belong, wherever they may be.
During the session with Penny you will learn about:
Getting a promotion and salary negotiation
PIE – Performance, Image and Exposure
Recognising opportunities for growth and going for them
Being visible and owning your success ( not being shy about sharing your achievements)
The importance of internal networks for internal mobility opportunities
Negotiating your salary (from the outset, more difficult once in the role, know market value and your own value, get your number out there, not a range, consider the whole package etc.)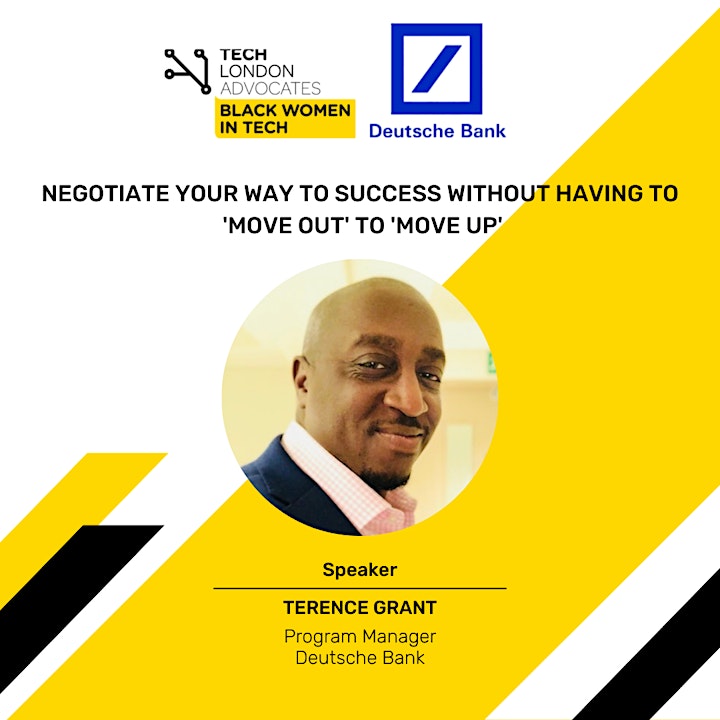 Terence is a Program Manager in the Group CIO area of Deutsche Bank. He has been at the bank for almost 4 years.
Currently delivering an overall program looks at Digital Compliance Archiving, Data Analytics, Automation and the adoption of cloud technology in this actual space.
Terence has a technical background as an engineer and architect in large corporate messaging systems, instant messaging, eDiscovery, compliance and surveillance technologies.
Terence has a wide and varied experience working for a number of banks before joining DB including RBS, HSBC, Barclays, Nomura, Bank of Tokyo Mitsubishi and Credit Suisse.
Outside work Terence loves to travel, loves music, football and food (a bit too much in lockdown!) and spending time with family and friends.
My mission statement and what I have learned in all the organisations and in the past 20 years or so .... "Feel the fear and do it anyway....."
During the session with Terence you will learn about:
Women in tech in the world of banking
Tech in a banking world (Analytics, AI and Big Data)
Women in tech leadership and my experience
Morning Prayers (an amusing anecdote on what women bring to tech)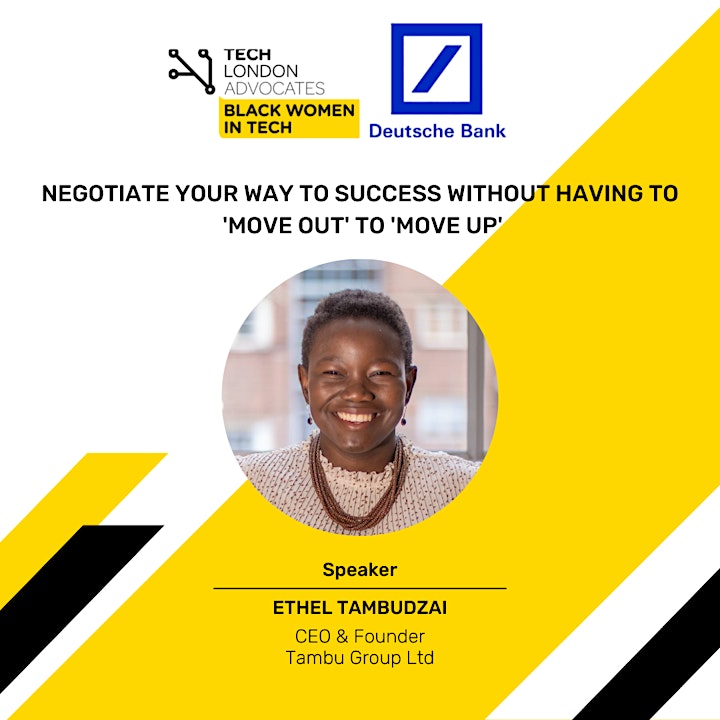 Ethel is an award-winning entrepreneur, strategist, and advocate for growing inclusive and sustainable organizations through good governance.
With a background introducing investments in renewable energy and infrastructure across emerging markets; she brings strong experience in embedding strategic operations, governance support, and business development in a variety of organizations.
In 2019, Ethel co-founded Sonaaar, a platform connecting black communities around the world. Under her leadership, the platform had 3,000 members across 12 countries up till her resignation in September 2020.
Ethel is the Founder & CEO of Tambu Group, a boutique consulting firm that works with startups, charities, members clubs, and social enterprises. Launched in 2018, she has worked with clients across the UK, Europe and Africa
Ethel is pursuing her MSc in Corporate Governance & Business Ethics at Birkbeck College, University of London (2021), and holds a BA (Hons.) in International Relations & Development Studies from the University of Westminster (2018).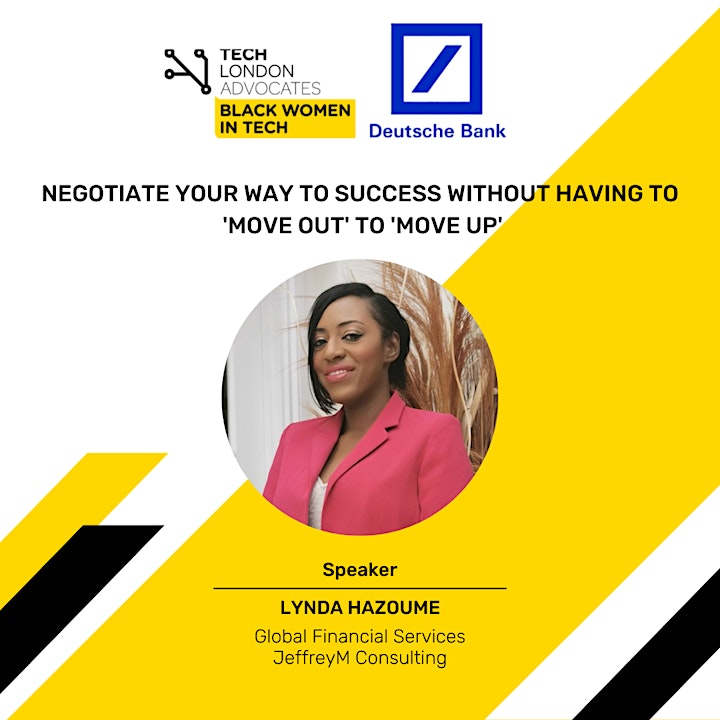 Lynda Hazoume is a technology leader with years of digital transformation experience that cuts across multiple industries. She currently manages a portfolio of global fin-tech startups at Microsoft, through JeffreyM Consulting, where she helps them to accelerate their success with their go-to-market and industry strategy through the Microsoft Co-Sell Program. The Microsoft's Co-Sell Program is a unique opportunity to gain access to technology, sales, marketing, and growth partnerships through the Microsoft Global Marketplace.
In the midst of the first wave of the COVID 19 pandemic, she set up the Makeda Foundation, a non-profit organization that enables rising and aspiring entrepreneurs to develop and / or enhance online solutions that empower disadvantaged women in Sub-Saharan Africa. It achieves this by creatively connecting them to foreign markets to expand their value chain. The ultimate goal is to give them a global reach to sell locally made products to unleash new sources of revenue for the women founders that can in turn, drive access to education, healthcare, financial resources, and employment to help improve their livelihood and wellbeing. Now in its second cohort, Makeda has impacted 23 entrepreneurs so far across the African continent and continues to champion the improvement of lives for women through digital transformation.
Organiser of Negotiating your way to success without having to 'move out' to 'move up'