Description
THIS COURSE IS OPEN TO MEMBERS OF THE NORTH EAST LEARNING COLLABORATIVE ONLY.
IF YOU ARE UNSURE IF YOU ARE A MEMBER, CLICK HERE AND CONTACT YOUR REPRESENTATIVE ORGANISATION.
Progamme Title: Stepping into Management Programme
Programme Duration: 3 Consecutive Days
---
Monday 9, Tuesday 10 & Wednesday 11 September 2019 - Food Standards Scotland, Pilgrim House
Wednesday 4, Thursday 5 & Friday 6 December 2019 - Food Standards Scotland, Pilgrim House
CAR PARKING INFORMATION:
Attendees are advised to take public transport – Food Standards Scotland are right in the centre of town and although have a small car park it is normally full by around 7 a.m. Should you wish to take your car the nearest parking would be Union Square, which would incur personal costs.
---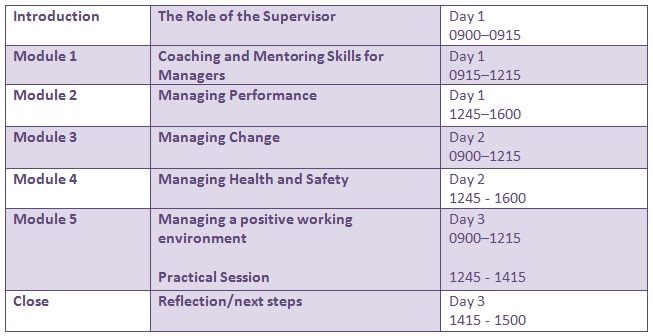 What is it?
A programme to assist first line managers from across public and third sectors in the North East of Scotland to help deliver even better services to local people through the way they manage people.
This modular programme is set against the backdrop of public sector reforms and challenges.
What are the objectives?
The programme aims to:
Help participants develop their supervisory knowledge, skills and behaviours and
Create sustainable networks of learning and support across public and third sectors.
Who should attend?
The programme will benefit those who are new to supervision and management or first line managers who want to refresh their skills and techniques in a collaborative environment. The programme is for first line managers in the public and third sectors in the North East.
What does it involve?
The programme consists of 5 modules delivered over 3 consecutive days. These modules cover the essentials of effective people management and are designed to provide a sound foundation for first line managers as well as an understanding of the shared challenges across sectors.
How much will it cost?
The 5 statutory organisations co-ordinating this programme have provided the funding so there is no direct cost to individuals. Any associated expenses incurred by participants, eg travel, overnight accommodation etc, require to be paid by the participant's organisation.