Description
EPG Media in association with The Bingham Hotel present the Nelson Mandela Charity Centennial Dinner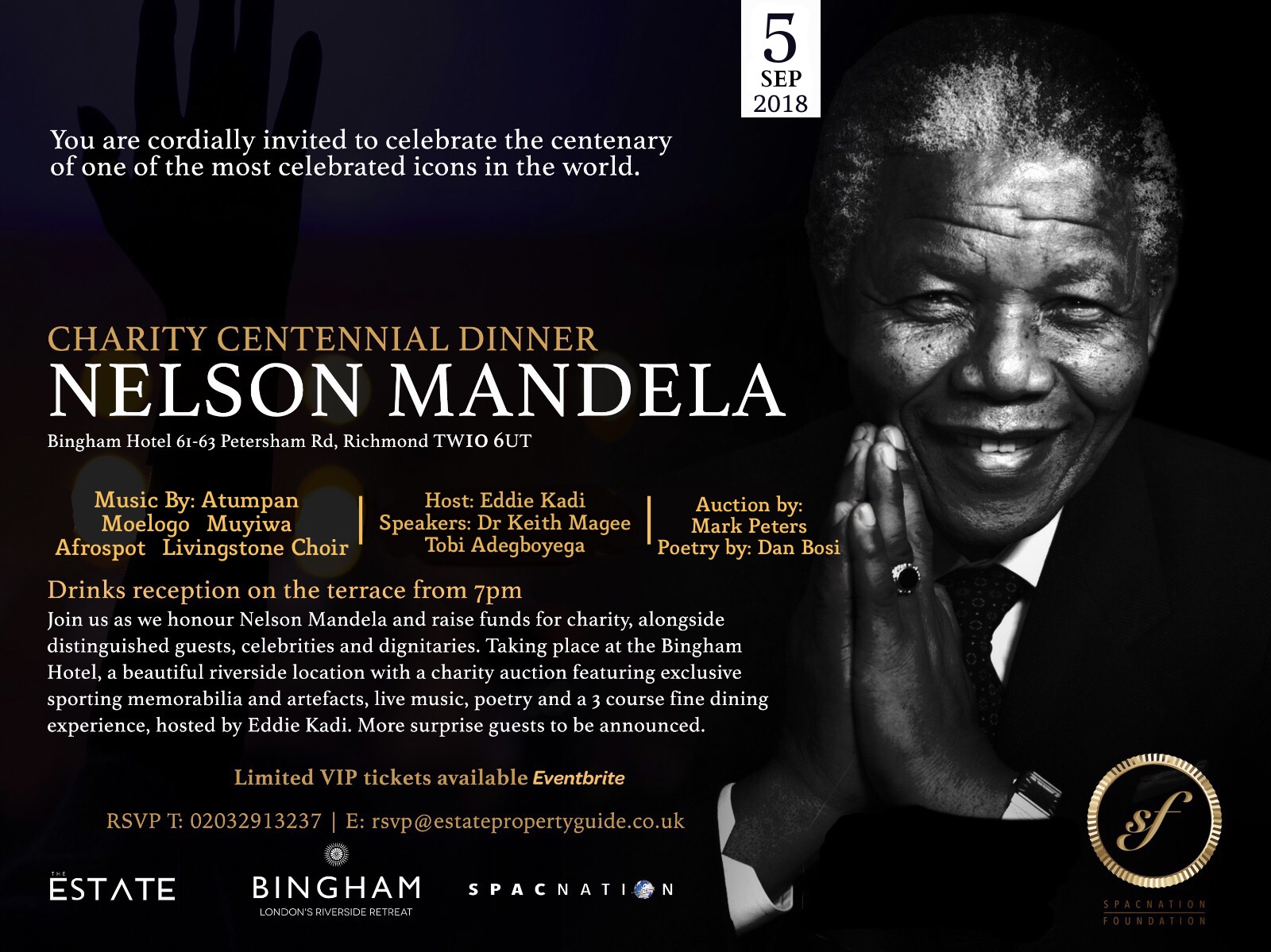 EPG Media we would be honored to extend a special invitation to you as a way of acknowledging one of the most iconic figures in the world.
This event will consist of a VIP drinks reception, three course dinner,

hosted by Eddie Kadi

.
Invited guests Nigel Benn, Rene Byrd, Chi Chi Nwamoku and more.
VIP auction with authentic signed memorabilia from the likes of award winning film director Steve McQueen, Pele, Muhammad Ali, Idris Elba, Samuel L Jackson and more, culminating in cocktails, canapés and live music. The audience is an elite and accomplished selection of people including celebrities, politicians and people of notoriety from the UK and overseas.
The evening aims to encourage a sense of belonging, cultural adhesiveness and legacy building that will leave a positive footprint for generations to come. Proceeds from this event will be donated to the following charities: Nelson Mandela Children's Fund and SPAC Nation Foundation.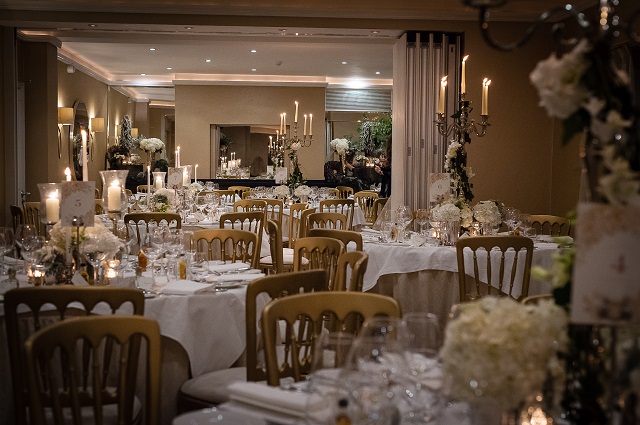 Hosted by
Eddie Kadi (Multi Award Winner)


Guest Speakers Include
Live Music from Muyiwa from Riversongs | Afrospot | Livingstone Choir | Dan Bosi Plus More


Live Charity Auction hosted by award winning auctioneer Mark Peters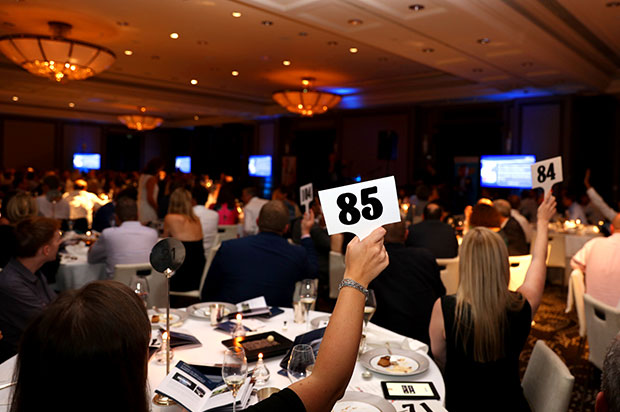 Date: Wednesday 5th September 2018 | Drinks reception from 7pm



Address: Bingham Hotel | 61-63 Petersham Rd, Richmond TW10 6UT


Dress code: Formal Wear | Native


Nelson Mandela lived his life by 3 principles: Free yourself, free others, serve everyday. As we host this charity event in partnership with SPAC Foundation, we invite you to dine with us to commemorate, honour and continue his legacy as we build a better future. Proceeds from the night will be going to charity.





Please RSVP Uyai Akpan | Carmen Rose | Kechi Chinda or The Bingham Hotel
Tickets are limited and will be allocated on a first come first serve basis.
Contact: The Bingham 020 8940 0902 or EPG Media 02032913237
This event is supported by The Estate No.1 magazine for African Luxury The Estate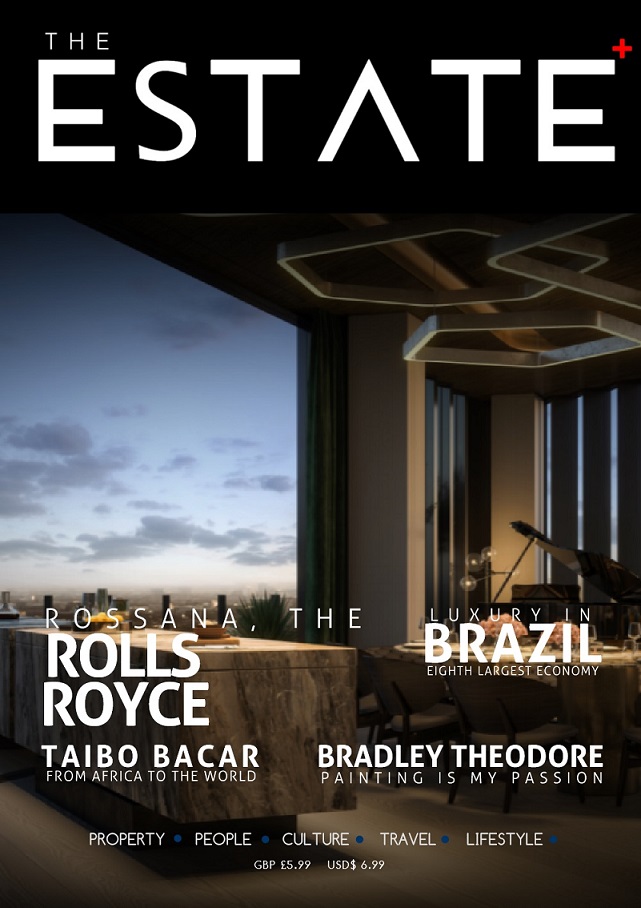 Highlights from this event will be fetured in the lifestyle segment of the Estate Magazine


---


Designated Charities Information


We are proud to announce that 70% of all profit generated on the night will be donated to the following Charities:


Nelson Mandela Childrens Fund



The Nelson Mandela Children's Fund is a charitable organisation founded by Nelson Mandela, based in South Africa. Its mission is to help individuals from birth to age 22, particularly orphans of the AIDS crisis. One of Nelson Mandela's first actions on becoming President of the newly democratic South Africa in 1994 was to establish the Nelson Mandela Children's Fund. He committed one third of his Presidential salary for five years to ensure the continuation of the Fund- as his charitable legacy for children.


SPAC Nation Foundation

The SPAC Nation Foundation believe that a world of opportunities must be opened up to young people in order to secure their future- not only by engaging them and nurturing their creativity; but above all creating a platform which helps them drive and sustain the society-changing initiatives they have given birth to.
Due to their disadvantaged backgrounds many of these young people (especially those with challenging pasts) will not have these opportunities given to them, hence offering "a positive alternative" is the quickest way a young person can stay away from a life of crime and mediocrity.


#Mandela100 #BeTheLegacy #Serveothers #epg #theestate #spacnation #thebinghamhotel