Description
Alcibiades, ward of Pericles and a friend of Socrates, was spectacularly rich, bewitchingly handsome and charismatic, a skilled general, and a ruthless politician. He was also a serial traitor, infamous for his dizzying changes of loyalty in the Peloponnesian War. Nemesis tells the story of this extraordinary life and the turbulent world that Alcibiades set out to conquer.
At 6.30pm on 25th April, join author, lecturer and classical theatre director David Stuttard at Heffers as he discusses his new book Nemesis: Alcibiades and the Fall of Athens. In conversation with Paul Cartledge of Cambridge University Classics department, David will shed new light on one of the most dazzling figures of the Golden Age of Athens, navigating often contradictory evidence to weave together the threads of Alcibiades' adventures.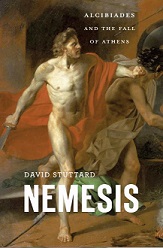 Tickets for the event are priced at £5 in advance (£6 on the door) and can be purchased through this page, by calling 01223 463200 or in person at Heffers bookshop. Please note tickets are transferable but not refundable.
If you are unable to attend but would like to request a signed copy of the book, please send an email via the 'contact' button on this page.
Like this? See a full list of our events here.