DRAW IN NEON, IMMERSED IN ULTRA-VIOLET LIGHT, AT OLD QUEENS HEAD!
About this Event
The Old Queens Head is opening its doors to our amazing neon workshop for a special event of neon life drawing!
At this point tier, restrictions are unknown for the time of the events, therefore, we will sell by the tier 2 restriction guidelines which are at the bottom of the page. Changes to the workshop will be a smaller capacity, social distancing within the class, and hand sanitizer provided. If a lockdown is extended and the events are cancelled all tickets will be refunded.
Join us at the Old Queens Head for an evening of vibrant artistic fun. Come to a life drawing class like no other using neon reactive arts materials to draw inspiringly colourful life models.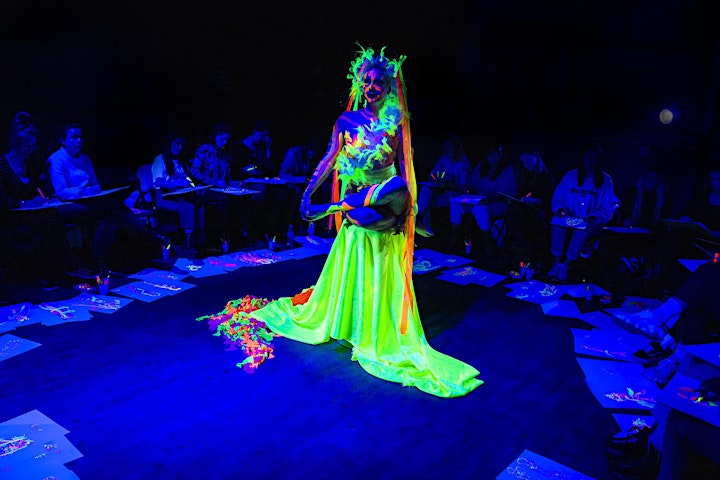 This class explores creative drawing, moving away from the perfectionist traditional teachings of life drawing. By trying out several different image-making techniques from continuous line drawing to pointillism the artists are encouraged to think outside the box and create more unusual imagery. 
As described in TimeOut Magazine as 'It might look like a Full Moon party, but this evening of sketching is an experiment in light, colour, and texture. The models become 'living sculptures' covered in UV lights and reactive body paints. Trippy.'
Neon Naked is a new and unique life drawing experience that specializes in creating unusual and creative designs by using vibrant and bold living sculptures. By combining an industrial UV light and reactive body paints with hand-crafted flamboyant accessories it's easy to get the creative juices flowing.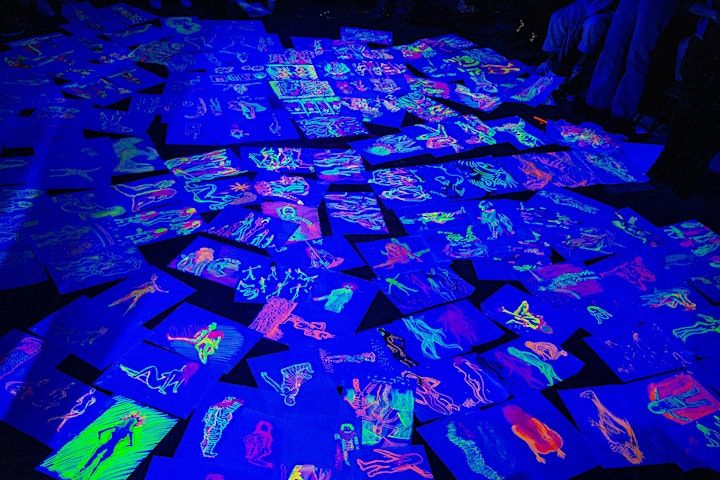 The class starts with some quick and fun drawing exercises to get you warmed up. Then goes into longer drawing times with more exciting life images, experimenting with colour, light, and texture. 
Art supplies are provided however please feel free to bring your own. With essentials such as pencil, paper and drawing boards but also you can use the fluorescent glowing neon pastels and highlighters to make your art pop!
No experience needed what so ever, it's not like most people have done it before either. Help is always available if you get a challenging pose. 
It's fun and friendly with a chilled out atmosphere. A great affordable evening out if you want to try something new.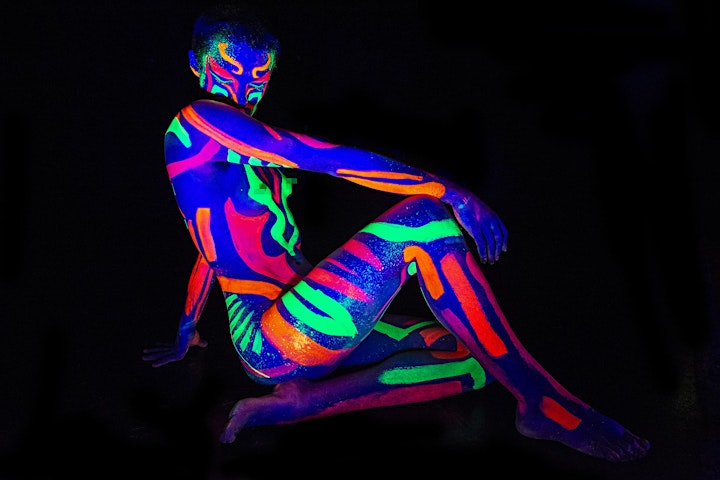 All designs and accessories are created by Jylle Navarro who has been specializing in UV reactive materials and performance art for many years. 
The Old Queens Head is described by Time Out as 'The latest addition to Essex Road's burgeoning bar scene was a popular, flamboyantly historic, big corner pub that was ripe for a revamp. Step forward Steve Blonde and the Medicine Bar's Rob Wheeler and the place works a treat; they're going large on 'proper drinks', fine food and lotsa leather sofas to kick back in.'
For more information on the venue go to - www.theoldqueenshead.com
Follow on Facebook and check out more images of past events or look on our Instagram to see all the images and quotes that other people have posted about their experience. 
No none lockdown related refunds are available however you can gift / exchange tickets to any future events at the same location. For large group bookings please get in touch.
FAQ - Tier Two Restrictions
Are classes still going ahead during Tier Two Restrictions? YES
What has changed? Classes will be spaced out more so the majority of people attending aren't mixing.
You can mix (sit together) if you are in the same household or within the same support bubble of up to six people.
You will need to sit separately if you are from a different household.
You can mix together outside the venue before or after the class with up to six people from a different household.
It is your responsibility to make sure you are sitting in the correct place.
Other restrictions are :
- Always wear a mask when moving around the venue.
- Do not attend the class if have any symptoms related to COVID
- Do not attend the class if you have been in contact with anyone who has any symptoms related to COVID.
- Use hand sanitizer provided.
- Sign up to Track and Trace.
- Try to stay seated for the duration of the class.
More information on Local Covid Alert Guidance go to -