DRAW IN NEON, IMMERSED IN ULTRA-VIOLET LIGHT, AT THE PRINCE OF PECKHAM!
About this event
The Prince of Peckham is opening its doors to our amazing neon workshop for a special event of neon life drawing!
Join us in Peckham for an evening of vibrant artistic fun. Come to a life drawing class like no other using neon reactive arts materials to draw inspiringly colourful life models.
Neon Naked will continue Covid protection actions. Changes to the workshop will be a smaller capacity, social distancing within the class, and hand sanitiser provided. If a lockdown is extended and the events are cancelled all tickets will be refunded.
Classes are once a month on a Thursday from 6 PM to 7:30 PM and 8 PM to 9:30 PM.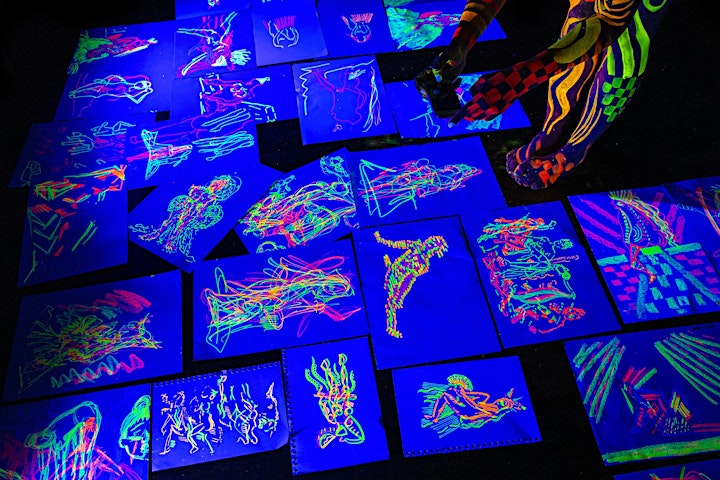 This class explores creative drawing, moving away from the perfectionist traditional teachings of life drawing. By trying out several different image-making techniques from continuous line drawing to pointillism the artists are encouraged to think outside the box and create more unusual imagery.
As described in TimeOut Magazine as 'It might look like a Full Moon party, but this evening of sketching is an experiment in light, colour, and texture. The models become 'living sculptures' covered in UV lights and reactive body paints. Trippy.'
Neon Naked is a unique life drawing experience that specializes in creating unusual and creative designs by using vibrant and bold living sculptures. By combining UV light and reactive body paints with hand-crafted flamboyant accessories it's easy to get the creative juices flowing.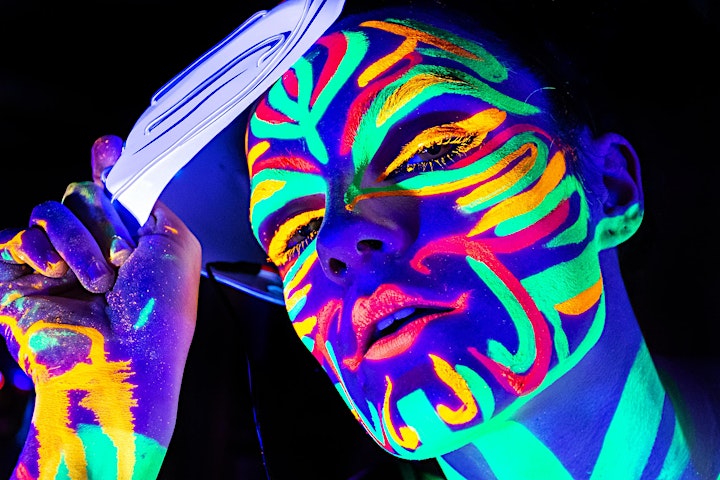 The class starts with some quick and fun drawing exercises to get you warmed up. Then goes into longer drawing times with more exciting life images, experimenting with colour, light, and texture.
Art supplies are provided however please feel free to bring your own. With essentials such as pencil, paper, and drawing boards but also you can use fluorescent glowing neon pastels and highlighters to make your art pop!
No experience needed. Help is always available if you get a challenging pose.
It's fun and friendly with a chilled-out atmosphere. A great affordable evening out if you want to try something new.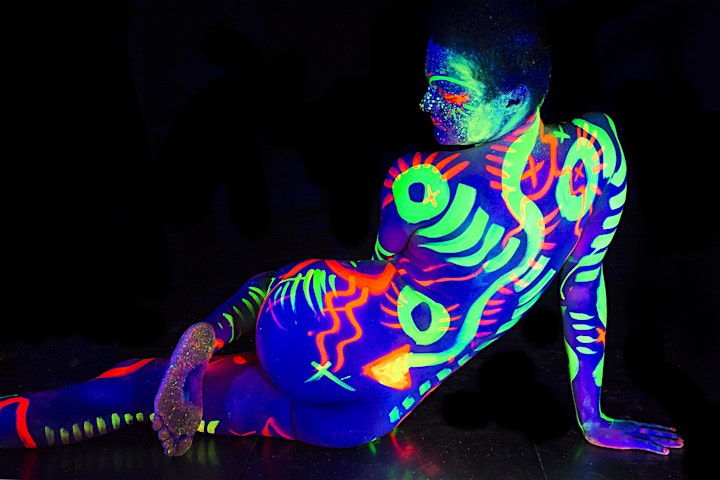 All designs and accessories are created by Jylle Navarro who has been specialising in UV reactive materials and performance art for many years.
For more information on the Prince of Peckham - www.princeofpeckham.co.uk
Time Out says 'From the outside, the Prince of Peckham comes across a bit shouty. 'WELCOME TO PECKHAM' is written in ginormous, spotlit letters above the entrance, announcing to passers-by that this pub has arrived in London's trendiest neighbourhood. Inside, things are more understated, a dim chandelier over the bar and a couple of plump sofas just inside the door giving the place a comfortable, lived-in feel that other boozers spend years trying to create.'
Follow on Facebook and check out more images of past events or look on our Instagram to see all the images and quotes that other people have posted about their experience.
No none lockdown-related refunds are available however you can gift / exchange tickets to any future events. For large group bookings please get in touch.
Date and time
Location
Refund policy
Organiser of NEON NAKED LIFE DRAWING | PRINCE OF PECKHAM | PECKHAM
Neon Naked is an immersive UV life drawing experience creating a colourful twist on a traditional idea. It has developed over 5 years, with hundreds of classes completed, and is now happening continuously every week in multiple locations in London.
This workshop explores creative drawing, moving away from the perfectionist traditional teachings of life drawing. By trying out a number of different image-making techniques from continuous line to pointillism the artists are encouraged to think outside the box and create more unusual imagery.
So far Neon Naked has been a part of a number of great events at The V&A, Youtube Space, Great Art, Samsung KX, Dulwich Picture Gallery, Brit School, Craven College, Time Outs Nescafe 'Get Curious', Cass Art, Port Eliot Festival, Old Oak Collective, The Stephen Lawrence Trust, Royal British Society of Sculptors, BSMT Gallery, Gunnersbury House, Tate Modern, Wandsworth Fringe Festival, Central Saint Martins University and many more.
BRINGING THE RAVE TO THE ARTIST STUDIO, THIS LIFE DRAWING CLASS CHANNELS A FULL MOON PARTY THROUGH ITS PAINTBRUSHES. MODELS POSE IN A PITCH BLACK ROOM, BUT BLACK LIGHTS REVEAL THEY ARE CLAD IN NEON PAINT. FOR ACCOMPLISHED DRAUGHTSMEN, THIS IS ONE FOR PUSHING THE BOUNDARIES OF YOUR DRAWING SKILLS – BUT FOR COLOUR FANATICS THIS CAN ALSO BE A PRIME EXCUSE TO GET OUT THOSE NEON CRAYONS.
EVENING STANDARD
IT MIGHT LOOK LIKE A FULL MOON PARTY, BUT THIS AFTERNOON OF SKETCHING IS AN EXPERIMENT IN LIGHT, COLOUR AND TEXTURE. INSTEAD OF BEING STATIC FIGURES, THE MODELS BECOME 'LIVING SCULPTURES' COVERED IN REACTIVE BODY PAINTS AND UNDER UV LIGHTS. GET SOME ARTFUL CLUB VIBES WITHOUT LEAVING YOUR SEAT.
TIMEOUT MAGAZINE

Jylle Navarro is the founder and tutor for Neon Naked Life Drawing. The idea developed from a background in fashion specialising in alternative knitwear. She then created work in other areas such as performance, installation, and film. She has recently graduated with an MA in Art and Science from Central Saint Martins.
www.jylle-navarro.co.uk