Neon Nightmares Halloween Paint Party At The Jago!
About this event
JOIN US in the dark at the Jago for a Spooktacular Night of Neon!
Venue opens at 6 PM/ doors open at 8 PM/ live DJ and MC/ disturbed dancers and neon paint party/ live music!
LIVE ACT!
The DnB Workout with Rachel D'Arcy & Septabeat! Live drum and bass with a neon paint party twist featuring vocals from the legendary Rachel D'Arcy and incredible beats from drummer/producer Sam Gardner AKA Septabeat. Sizzling hot energy to get your body moving. They will shake you to the ground with their fast pace live set, an ocean of melodies, heavy bass lines and vocals to get you dancing on your feet. It's going to get sweaty! And neon!
...plus DJs and MC before and after!
We want to celebrate! It's been a while since we've been allowed to cover people in paint and dance. Come to an event where you can move, get messy, ...maybe talk to a stranger. Dress up and paint yourself into something different. ...And what night? Has to be Halloween.
We are also hosting a pre-party Halloween Special life drawing class before from 5.30 PM - 7 PM. Get your Double Ticket for a discounted rate to both events here.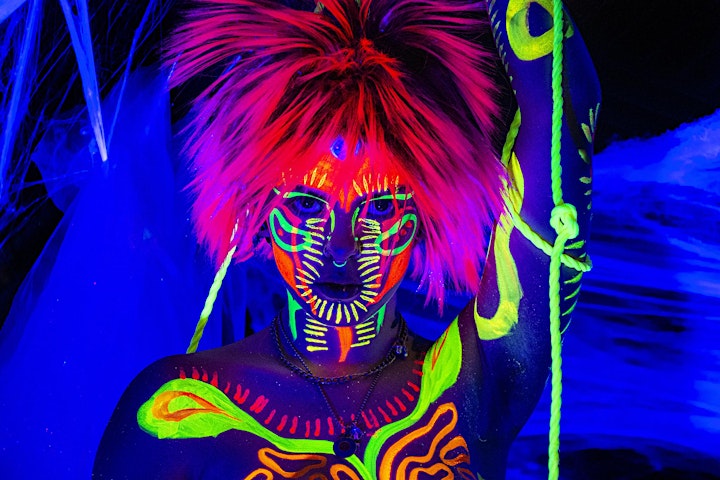 WHAT TO EXPECT?!
LIVE DJ! A mix of all sorts from Dance / Drum and Bass / Jungle.
PAINT! All the body paint! It all glows! Want something a little more specialized? We have face painters ready.
DANCERS! ...well I say dancers... they might be acting a bit freaky on this night.
UV! Be immersed in ultra-violet light!
FUN DECOR! On noooo! We forgot to dust away the cobwebs....it's everywhere!
SURPRISES! BOO! ... hope you don't scare easily.
WHAT TO WEAR?!
Dress to impress!... or undress to distress and get covered in paint. Get use out of that neon bikini/ anything white (which won't stay like that for long) ... or just nick the local builders hi-vis. Make something new! Lots of things glow in UV including your G n' T!
WHAT NOT ... You can't be fully nude, but that just means you can get very creative.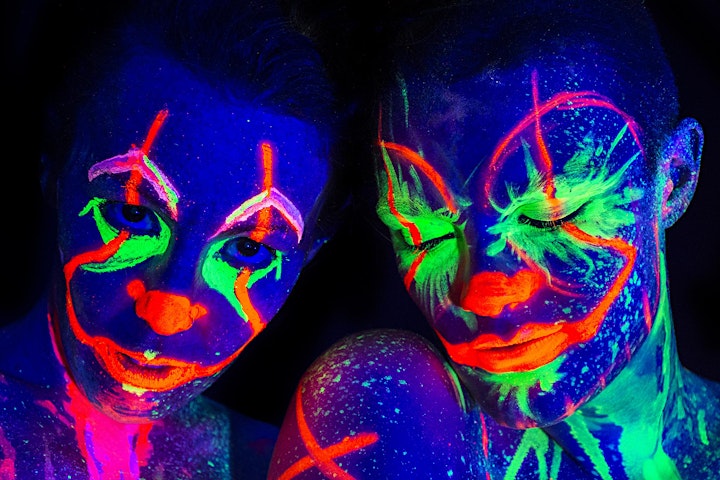 All designs and accessories are created by Jylle Navarro who has been specialising in UV reactive materials and performance art for many years.
For more information on the Jago - www.thejagodalston.com
The Jago says 'Bringing you the very best talent that East London has to offer, combined with awesome vibes and amazing people, all under one roof.'
Follow on Facebook and check out more images of past events or look on our Instagram to see all the images and quotes that other people have posted about their experience.
No none lockdown related refunds are available however you can gift / exchange tickets to any future events. For large group bookings please get in touch.
Organiser of NEON NIGHTMARES PAINT PARTY | HALLOWEEN SPECIAL | THE JAGO
Neon Naked is an immersive UV life drawing experience creating a colourful twist on a traditional idea. It has developed over 5 years, with hundreds of classes completed, and is now happening continuously every week in multiple locations in London.
This workshop explores creative drawing, moving away from the perfectionist traditional teachings of life drawing. By trying out a number of different image-making techniques from continuous line to pointillism the artists are encouraged to think outside the box and create more unusual imagery.
So far Neon Naked has been a part of a number of great events at The V&A, Youtube Space, Great Art, Samsung KX, Dulwich Picture Gallery, Brit School, Craven College, Time Outs Nescafe 'Get Curious', Cass Art, Port Eliot Festival, Old Oak Collective, The Stephen Lawrence Trust, Royal British Society of Sculptors, BSMT Gallery, Gunnersbury House, Tate Modern, Wandsworth Fringe Festival, Central Saint Martins University and many more.
BRINGING THE RAVE TO THE ARTIST STUDIO, THIS LIFE DRAWING CLASS CHANNELS A FULL MOON PARTY THROUGH ITS PAINTBRUSHES. MODELS POSE IN A PITCH BLACK ROOM, BUT BLACK LIGHTS REVEAL THEY ARE CLAD IN NEON PAINT. FOR ACCOMPLISHED DRAUGHTSMEN, THIS IS ONE FOR PUSHING THE BOUNDARIES OF YOUR DRAWING SKILLS – BUT FOR COLOUR FANATICS THIS CAN ALSO BE A PRIME EXCUSE TO GET OUT THOSE NEON CRAYONS.
EVENING STANDARD
IT MIGHT LOOK LIKE A FULL MOON PARTY, BUT THIS AFTERNOON OF SKETCHING IS AN EXPERIMENT IN LIGHT, COLOUR AND TEXTURE. INSTEAD OF BEING STATIC FIGURES, THE MODELS BECOME 'LIVING SCULPTURES' COVERED IN REACTIVE BODY PAINTS AND UNDER UV LIGHTS. GET SOME ARTFUL CLUB VIBES WITHOUT LEAVING YOUR SEAT.
TIMEOUT MAGAZINE

Jylle Navarro is the founder and tutor for Neon Naked Life Drawing. The idea developed from a background in fashion specialising in alternative knitwear. She then created work in other areas such as performance, installation, and film. She has recently graduated with an MA in Art and Science from Central Saint Martins.
www.jylle-navarro.co.uk