Location
David Game College
31 Jewry Street
London
EC3N 2ET
United Kingdom
Join us again for another groundbreaking experience continuing our discussions on Nephilim and Giants worldwide.
About this event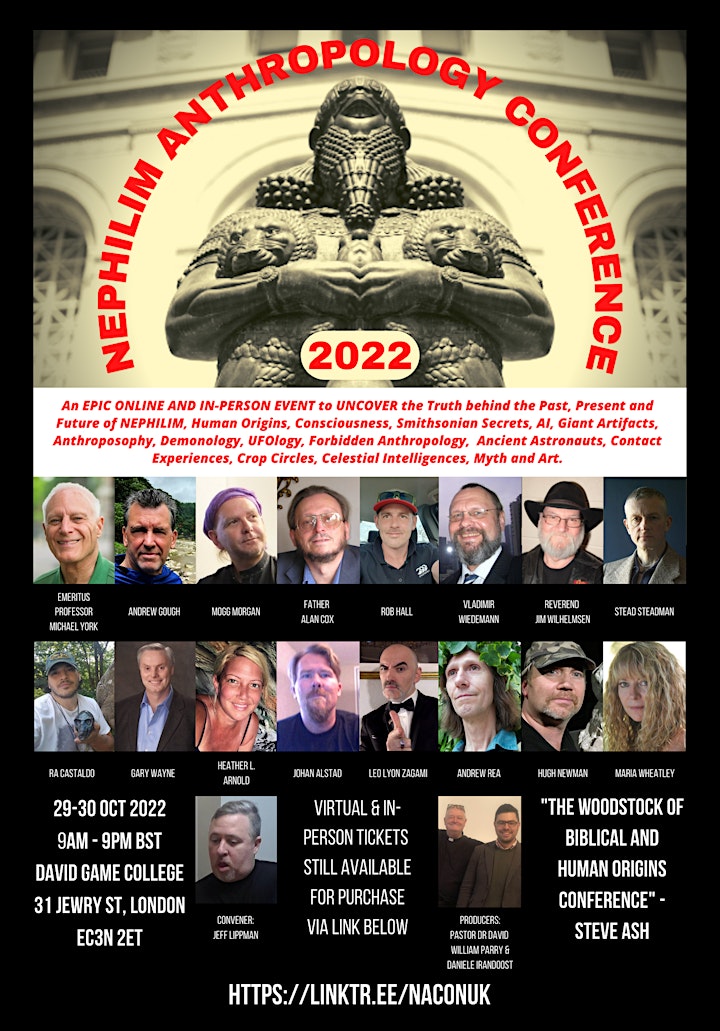 Our panelists return to the platform after the second leg of our investigations into Biblical Nephilim and the past, present and future of giants worldwide at the Royal Asiatic Society last year. We are an interactive forum of cutting-edge researchers, clerics, rogue academics, anthroposophists, investigative journalists, cultural anthropologists, explorers, mystics, artists, and exorcists from churches, universities, and alternative professions to share our newest findings and results. As such, our Nephilim Anthropology Conference is the planet's only groundbreaking experimental gathering to openly include the great religions alongside the sciences and arts in order to unravel one of the great mysteries known to humanity.
MARK THIS DOWN AND DON'T MISS OUT
Insights into giants, Lemuria, demonology, ufology, Atlantis, arcane anthropology and myth, trailed by truth-seekers into ancient texts since the days of Noah, dark esotericists, wicked jötunns, enchanted megalithic stones, satanic artificial intelligence and cyber robots, the return of the much-feared Nazi supermen, end-time prophecies, ancient myths and much more.
With these elements in mind, our visionary keynote speakers will continue to examine Divine Scripture, long-lost legends, objet d'art, ageless occult languages, hidden monuments, predictions and revelations, genuinely inconvenient skeletons and the folk memories from Egypt, Babylon, Easter Island, and the Norse Sagas, surrounding the possible survival of the original tribes of Nephilim, and Rephaim into our own era.
WHAT MAKES US UNIQUE?
Our project was developed from its original inception in 2013. Inspired by the incredible research of numerous authors, the team felt that the academic world and a majority of its papers remained limited and deliberately blind to religious perspectives and holy artefacts, which did not fit the prevailing paradigm. Evidences in the fields of sacred geometry, art, new anthropology, astro-theology, paleo-archeology, geomancy and other avant-garde disciplines, were far too often overlooked by the official academy, even though these topics are re-writing our history. Either way, a growing number of enthusiasts want real answers to the genuine origins of humankind, which is why we hope this undertaking can connect them to the higher insights of perennial traditions and their experiential roots.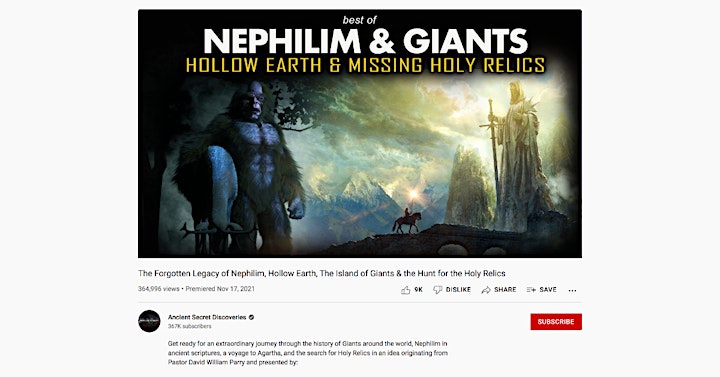 PREVIOUS CONFERENCES
This is a link to our most recent compilation of synergistic talks presented during our April 2021 event to view for free, that you can watch at leisure.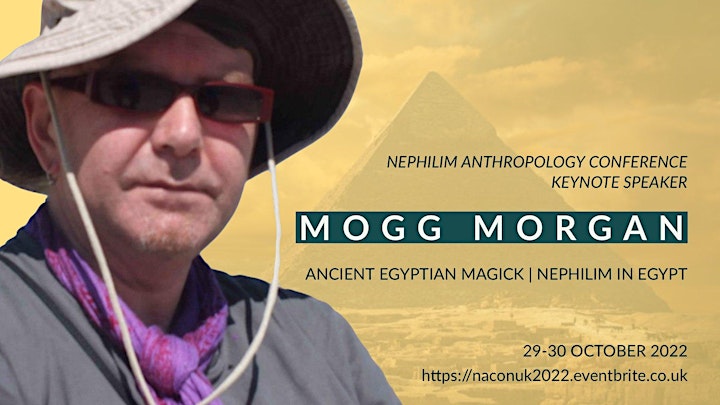 Mogg Morgan — CEO of an innovative "new edge" publishing house, Mandrake of Oxford — recently described as a "respected literary catalyst" and is responsible for the discovery of many new authors, including his friend and one-time mentor Jan Fries. He regards himself as a practitioner-cum-scholar of all aspects of occultism. He was a Wellcome research student at Oxford, where his teacher was the late Professor B.K. Matilal, a widely respected expert on South Asian thought. Over the years he has been exploring the connections between the popular magick of ancient Egypt and its continuation/crossover with the living magical traditions of the Middle East, and the Kaula/witchcraft of South Asia and beyond. He has experimented widely in using some ancient oracles to address modern queries. Consequently, he sometimes prepares "horoscopes" in the original and authentic Egyptian manner. He also throws divinatory dice along with casting oracles based on Greco-Egyptian and Tantrik sources. He is an expert on the writings of Aleister Crowley and is an infrequent media celebrity on all matters esoteric.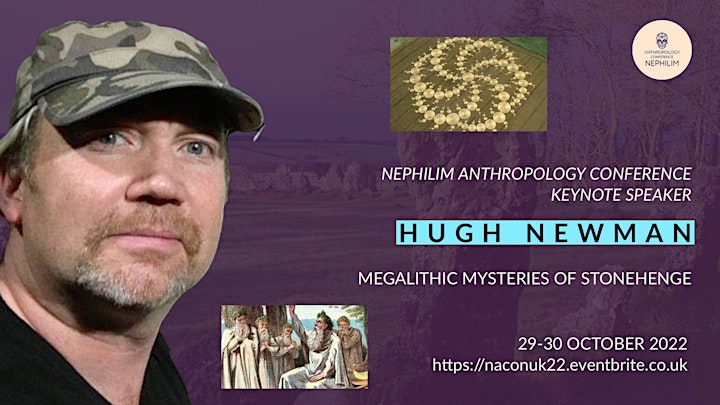 Hugh Newman — an author, conference organiser, world explorer, tour host, and Megalithomaniac — is the founder of the Megalithomania conferences, and organises the Origins Conference in London with Andrew Collins every November. He has spoken at events in the UK, Malta, France, Peru, Egypt, Bosnia and North America. He has appeared on BBC TV, Sky Channel 200, Bosnian TV and the History Channel in the last five seasons of "Ancient Aliens", and "Search for the Lost Giants". He is author of Earth Grids (Wooden Books 2008), Stone Circles (Wooden Books 2017) and co-author of Giants On Record with Jim Vieira (Avalon Rising 2015) and Megalith: Studies in Stone (2018) and has published numerous articles.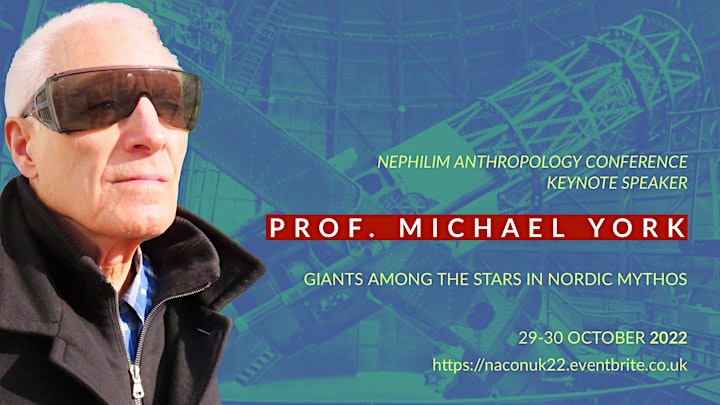 Emeritus Prof. Michael York — a UK-based American Religious Studies scholar who specialises in the study of pre-Christian European religion and its relation to contemporary Paganism — published Pagan Theology (2003), in which he put forward the idea that the ancient pre-Christian and pre-Islamic religions of Eurasia, indigenous religions from across the globe, and contemporary Pagan faiths could all be constituted as forms of paganism.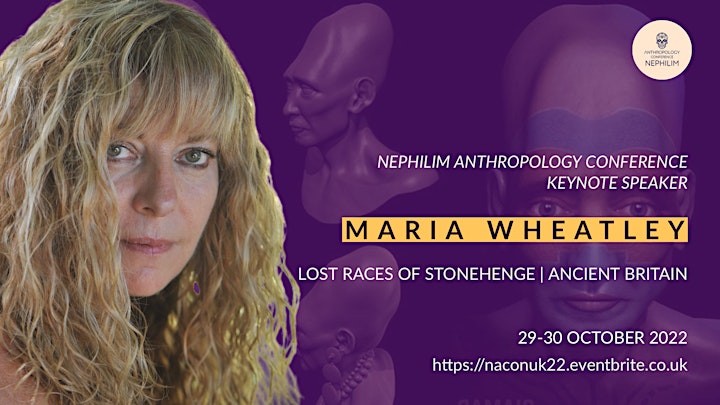 Maria Wheatley — a second-generation dowser taught by European Master Dowsers, her late father and Chinese geomants — lives close to the largest stone circle in the world and is a leading authority on geodetic earth energies, ley lines and ancient megalithic sites. Maria is the UK's foremost dowser of the geodetic system of earth energies and runs tours to sacred sites worldwide. Maria is an accomplished author of many books on sacred sites and dowsing. She discovered the Neolithic longheaded long-lost civilisation of Stonehenge and has studied Neolithic Britain and Bronze Age prehistory at Bath and Oxford University. Alongside other professionals, Maria combines her knowledge of archaeology, and earth energies with state-of-the-art equipment to detect and interpret the hidden frequencies that the Earth emits. Maria has also written diploma courses and runs EsotericCollege.com which offers certificated courses on holistic subjects including past life regression, Druid astrology, tarot and dowsing. Maria teaches advance dowsing techniques which are not taught anywhere else in the world.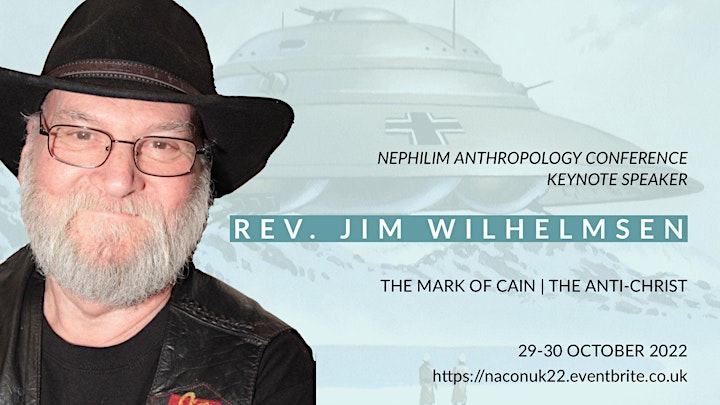 Rev. Jim Wilhelmsen — a family man, an unorthodox maverick from a suburb of Detroit — joined U.S. Army Special Forces during the Vietnam era. He has a degree in Welding Engineering and is an alumnus from Central Bible College where he became an ordained minister in 1980. Jim also pioneered one of the first Evangelical Christian Motorcycle clubs in 1977 having had that "outlaw biker" background in his early life. Furthermore, he had a lifetime interest in the sciences with a fascination for UFOs and Aliens. He is the author of "Beyond Science Fiction", while his first museum is located across the street from the International UFO museum. He is a member of MUFON as an investigator/researcher. Jim broadcasts his own radio program to this day. Currently, he works with the inner city homeless, several rehabilitation ministries dealing with addictions as well as having his own Museum with a compilation of all he has experienced in the paranormal and supernatural for the last 46 years.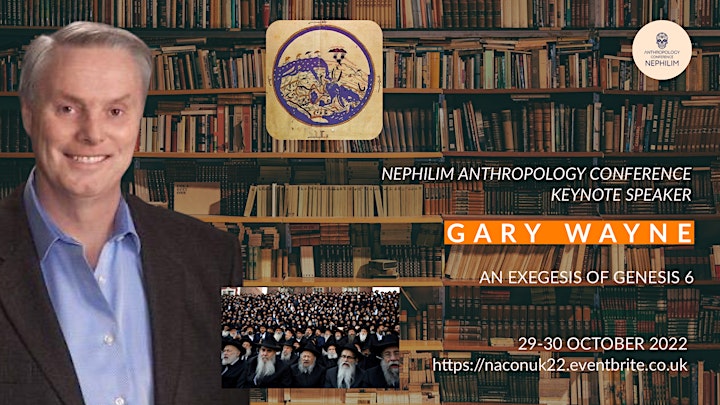 Gary Wayne — a Christian contrarian — has maintained a lifelong love affair with Biblical prophecy, history, and mythology. His extensive studies has encompassed the Holy Bible and Gnostic scriptures, The Qur'an, the Bhagavad Gita, Gilgamesh and other ancient epics, language etymology, and secret society publications. Gary is the author of The Genesis 6 Conspiracy: How Secret Societies and the Descendants of Giants Plan to Enslave Mankind, wherein he details the role of modern-day Nephilim in Satan's plan to install the Antichrist at the End of Days.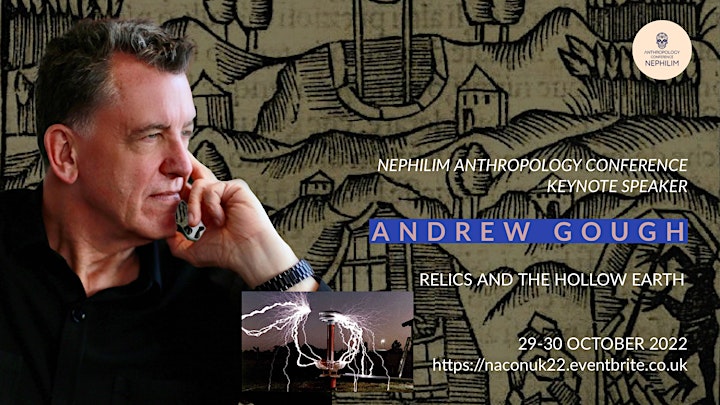 Andrew Gough — a prolific contributor to history and mystery shows, such as Forbidden History, NASA's Unexplained Mysteries, What on Earth, Mysteries of the Abandoned, Conspiracies Decoded and many others — has published over 40 articles on his website and is the Editor-in-Chief of The Heretic Magazine. Andrew hails from Chicago and has lived and worked in London for over 20 years. For Andrew, accounts of the Inner Earth, the civilisations that allegedly reside there, and the chambers of ancient relics that are purported to be preserved in their kingdoms, are subjects that have been relegated to folklore, fantasy and fiction. But what if these stories are true? Also, what do the Nephilim, Knights Templar, Lost Knowledge, UFOs and The Hollow Earth have in common? Andrew examines the ancient tales along with the findings of modern science in an attempt to reveal the truth. Andrew's research is based on first-hand excavations and will be sure to challenge conventional beliefs about what is real and what is not — and what exists beneath our world.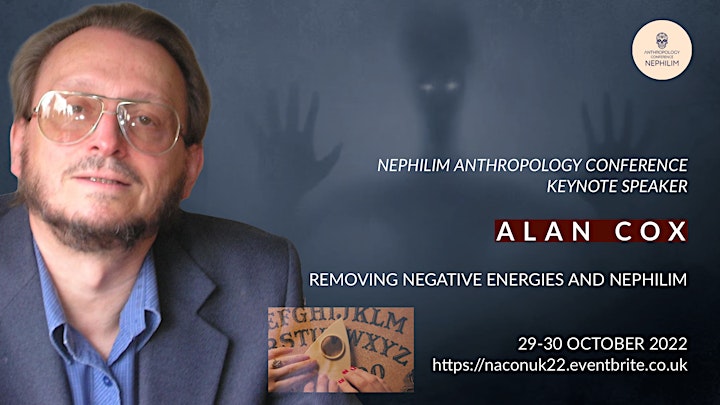 Father Alan Cox — a radio broadcaster, host and producer of three weekly shows "Understanding Spirit", "Musical Memories" and "Sunday Valentines Service" on Paramania Radio — is renowned as a consultant who exorcised reptilian influences from around David Icke alongside people from every walk of life from all over the world for over 20 years. His published book is called The Life of a Psychic Broadcaster.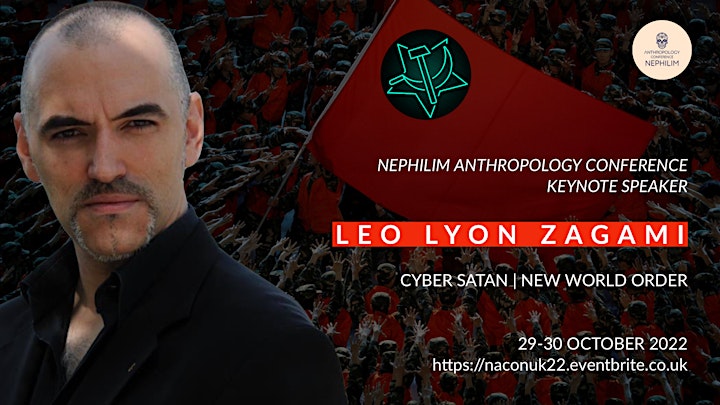 Leo Lyon Zagami — known for a brilliant career as Leo Young in the media and music industry as a Record Producer — became quickly popular on the web in 2006, because of his direct involvement in the New World Order and Secret Societies known to the majority of us as the "Illuminati". His blog rose quickly and gained attention from people such as David Icke, for its accurate fully-documented ground-breaking insider information. Indeed, Zagami who has collaborated in the last few years with a series of articles and scoops for InfoWars, has been the protagonist of a highly-successful documentary made by Alex Jones in Rome, called "Demonic Possession of the Vatican Exposed" launched in 2015 during the 24-hour InfoWars special called "Operation Money Bomb" and later broke a scoop on InfoWars in 2017 on a Gay Vatican Drug/Orgy, that forced the mainstream media to cover the story. Leo is the author of more than a dozen books. He is also publicly known for being one of the founders of Italians4Trump and Trumpiani d'Italia, the first Trumpian organisation out of the U.S. created to support the election and later the work of Donald J. Trump.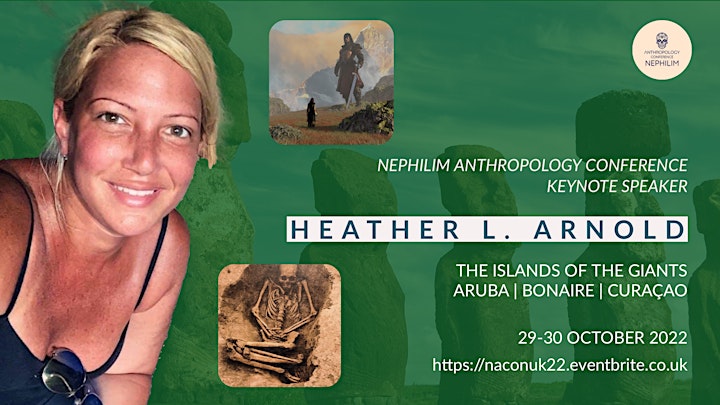 Heather L. Arnold — a graduate of Syracuse University's Newhouse School — moved from New York to the Caribbean island of Aruba in the early 2000s to start her own tour company, where her quest for historically-accurate tours led her to the discovery of the Giants. After success with her company, Heather returned to New York where she continues to pursue the history of the Giants of the Caribbean, and began detailing 10 years of research in her book, The Islands of the Giants: The Lost Race of Giants of Aruba, Bonaire, and Curaçao. Heather has been a speaker at several conferences, and has been interviewed on many podcasts. She is the administrator of the Facebook group "Stones, Bones, and the Paranormal" and the page "The Islands of the Giants". She currently lives on Long Island, New York, joyfully raising her amazing daughter, who is of Aruban descent.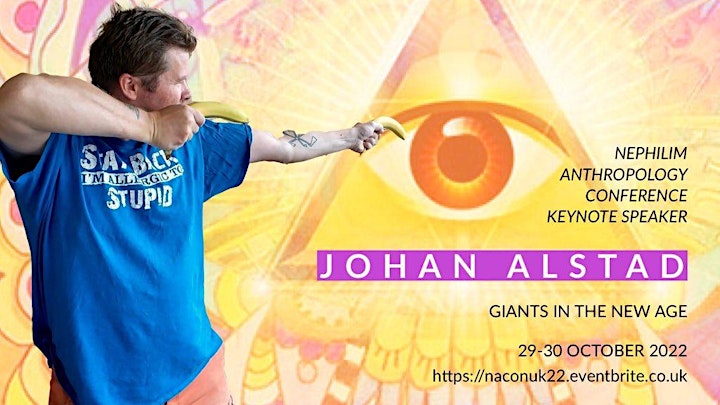 Johan Alstad — born in 1980 in Norway — is a independent researcher, comedian and author. One of his main works revolves around the topic of New Age, while his work dwells on humanity and society, with a focus on making humans coexist with their neighbours and nature. Johan wants to re-imagine a new way of understanding Giants.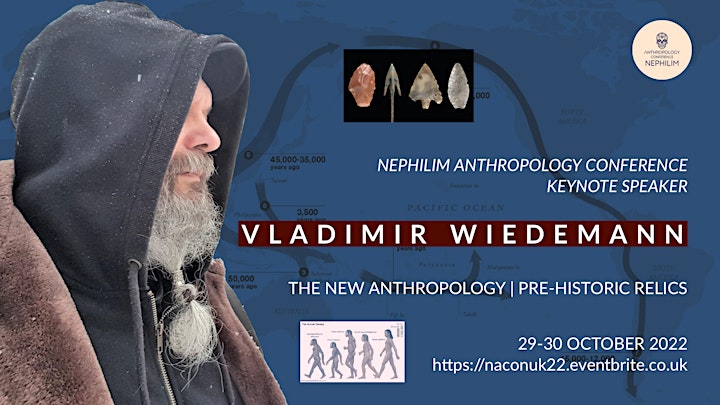 Vladimir Wiedemann — a radical philosopher, writer, and journalist — is passionate about fighting institutional prejudices. As such, he sets the theme of our Nephilim Anthropology Conference! As a student of philology, Wiedemann attended the Tartu-Moscow School of Semiotics where he completed a thesis: "Leonid Andreev and Arthur Schopenhauer: Motives of Schopenhauer's Philosophy in the Russian Culture of the Silver Age". He also worked as a correspondent for the Russian Service of the BBC in Germany for 20 years, while being the author of more than 20 books.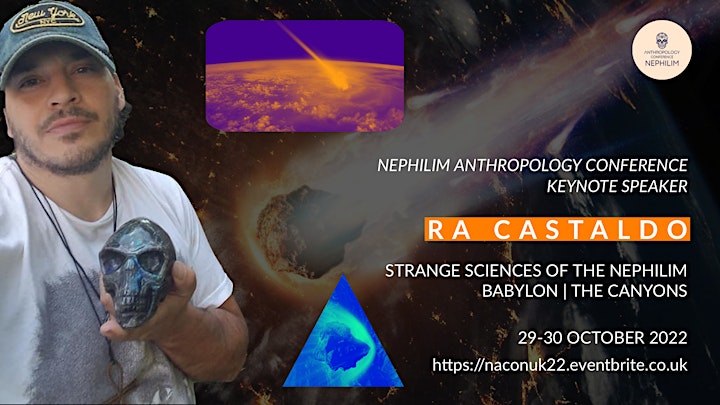 Ralph-Anthony "Ra" Castaldo — a renowned researcher, psychic, author, artist, radio host, an all-round creator and renaissance man — comes from a hereditary Italian mystic lineage known as the Tanar'ri Mystics , the ones who hold the stellar mysteries encoded within their DNA. RA is a creative soul and born artist. He writes his own music, hosts and produces his own radio shows, a published poet/author, and a lifelong martial artist and coach. Ra is a hereditary Dream-seer , and his family line has been called the Benandanti or "good walkers". He does oracle psychic readings, dream interpretation and helps others activate their dormant DNA and true abilities. He also has a wide variety of healing tools like crystals, tensor rings,and amulets available on his website. Ra can also be considered an expert on Etruscan occult history. Raised in the old ways as a hereditary strega and shaman, his lineage has been protecting ancient secrets regarding the sacred Lake Nemi and various other sacred sites in Italy for thousands of years. He is a gifted intuitive, and has been communicating with other planes of existence since his near death experience at the age of 9. Since this awakening in 1987, Ra has reactivated dormant particles inside his DNA and has found access to our planet's holographic library or akashic records. Since birth he has been hunted down for his abilities and family genetics/bloodline and is ready to discuss his paranormal journey and the secrets his lineage have been protecting. Join Ra every Saturday at 7 to 9 pm EST on his show "Eye of Ra" on Truth Frequency Radio Network as he brings us down the mystical spiral of life. Ra's website is www.themysticalspiral.com.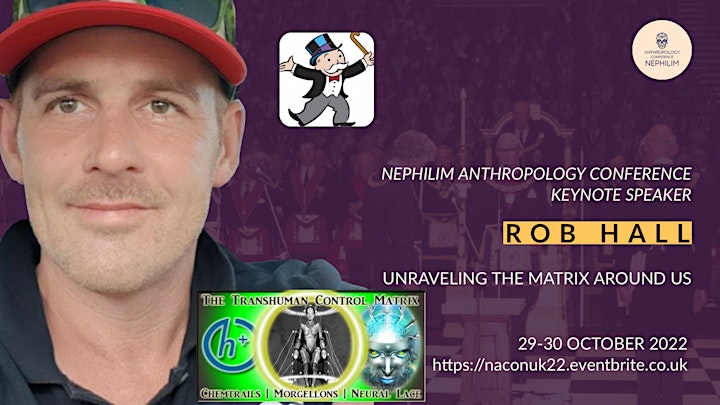 Rob Hall — founder of Esoteric Knight of Malta on YouTube — is an adventurer, intuitive, researcher, skier, scuba-diver, sailor and an all-round adrenaline junkie. You can usually find Rob broadcasting from an undisclosed location in his (appropriated) World War II boat.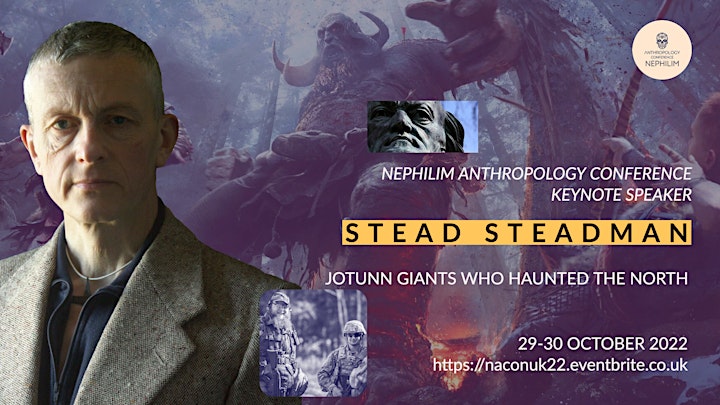 Stead Steadman — acting goði at The London Blót — is trained as an artist at the Royal Academy Schools, Piccadilly. Since 2017, he has been acting as the goði (priest) at monthly blóts, held in London near the Thames; and as the þulr (host) at monthly and now bimonthly moots (that is, occurring twice a month). The first are acts of worship according to Northern European precedents, which may be styled Ásatrú or Odinist; and the second are meetings to which guests are invited to speak on a matter of spiritual, cultural or ethical import. Both of these events have transferred to the online form since Lockdown. He is also chairman of the UK Sibelius Society, which aims to sustain interest in the music of the great Finnish composer. And he is co-organiser of Soteria, a monthly literary circle.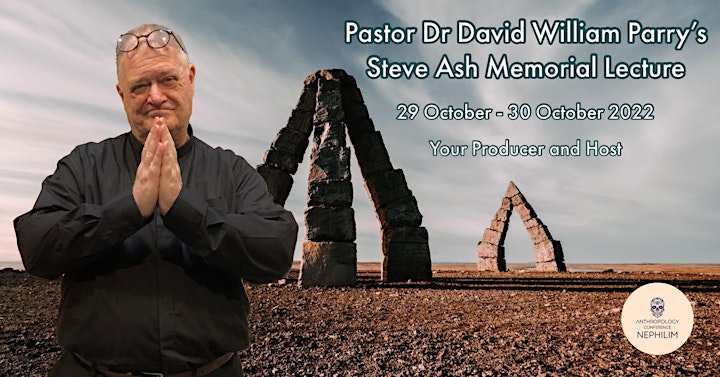 Pastor Dr David William Parry — an acclaimed poet, dramatist, and queer minister of religion at St. Valentine's Hall, an MCC Spiritual Community in South London, UK — is not only organising and curating this revolutionary conference, he was previously creative director at Gruntlers Cabaret, co-host of THA Talks, first chairperson of Eurasian Creative Guild, co-founder with Jeremy Bedford (Jez) Turner of Extremists Club, and Free Speech Club, as well as founder of the world's first metaverse esoteric shop, known as Abrahamic Botanica. His works in theatre and literature have involved a passionate interaction with both Rudolf Steiner and life-long obsession for anthroposophy. Among other things, he offers lectures, regular broadcasts and sermons on perennial philosophy, LGTBQIA+ theology, alongside left-learning libertarianism, perhaps notably as a speaker in TEDxLambeth. He is a Fellow in the Royal Asiatic Society and the Royal Society of Arts, a Member of the Society of Authors, whereas his personal motto is "honi soit qui mal y pense".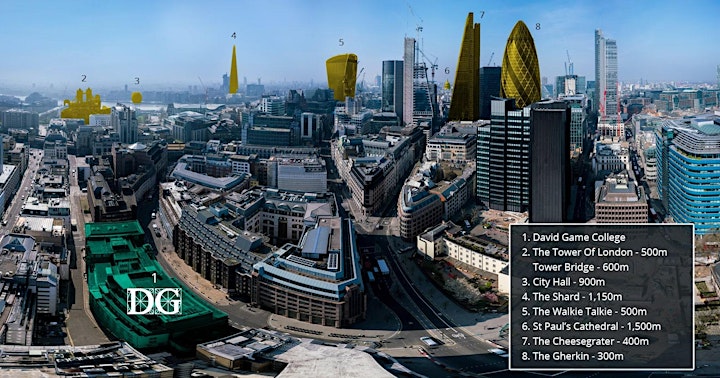 VENUE LOCATION
Our event on Saturday 29 October 2022 takes place in The Keynote Lecture Theatre — which is in David Game College, 31 Jewry Street, London, EC3N 2ET.
See map above. Parking is next door in the Abbey Car Park.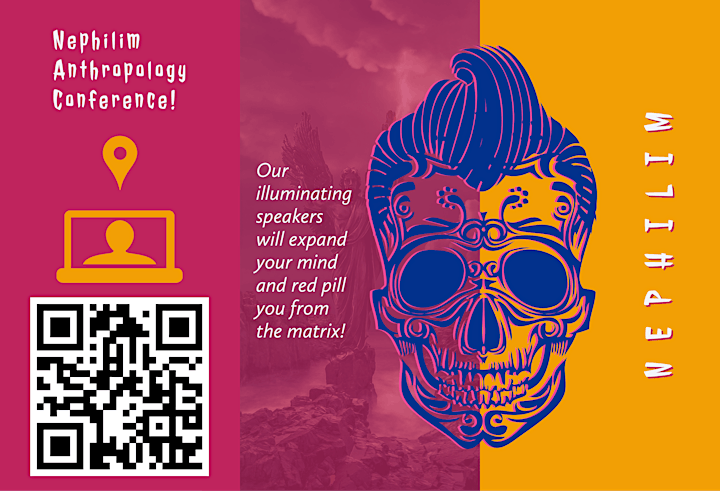 VIRTUAL TICKETS
We are delighted to announce that this Conference is also taking place online (via Zoom). We will live-stream to our virtual attendees from David Game College in London, U.K. on Saturday. Our Sunday gathering will be via Zoom only.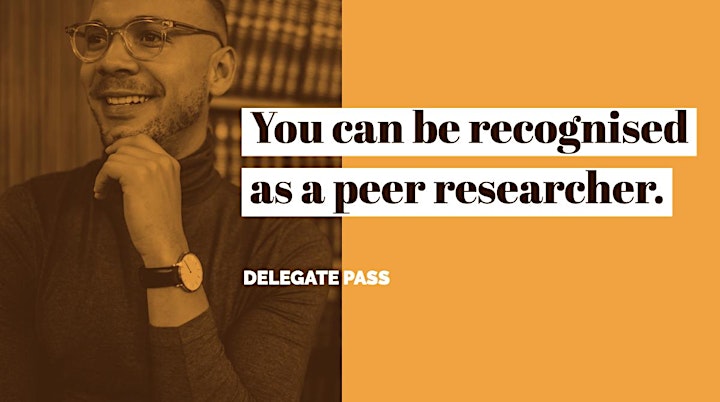 DELEGATE PASS FOR NEW INDEPENDENT ANALYSTS
Are you an undiscovered researcher trying to be heard? If yes, this Pass allows you to interact with established names in the field on an equal footing.
This is the ultimate avant-garde experience. You will network with all the speakers directly. You will submit a paper of no longer than 1000-words, a short film or a collage of pictures. Your piece will be featured on our social media and e-magazine. You will present your paper thesis on Sunday to our assembled audience. You will take afternoon tea with the organisers. You will have free photo opportunities and autographs with all keynote speakers (subject to availability). You will contribute to ongoing research on giants, gigantism and the debates surrounding Biblical Nephilim. You will enter current public discourse about these topics. You will be mentioned across our social media platforms and introduced to collaborating podcast outlets. This is your chance to be an internationally recognised and respected contributor to continuing research in these fields.
If interested, get in touch via the contact form below.