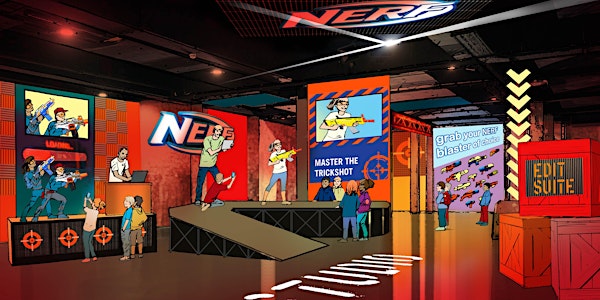 NERF Upload: A YouTuber Masterclass - 26th October 2021, London
Location
Studio Spaces
110 Pennington Street
London
E1W 2BB
United Kingdom
NERF Upload is the must-attend online event this half term, filled with NERF-blasting fun whilst learning what it takes to be a YouTuber!
About this event
Does your child want to be a YouTuber when they grow up?
Have you ever wondered what this entails?
Does your family love getting active with NERF battles in and outside of the home?
With over 64 million pieces of content featuring its iconic blasters and super soakers on YouTube alone, the kids action brand is bringing you NERF Upload.
NERF Upload: A YouTuber Masterclass is an official NERF event that will give your child the exciting opportunity to learn the very basics of what it takes to become a content creator - from YouTubers themselves - whilst giving parents an insight into the creative skills (not just screentime!) that this involves.
NERF Upload: A YouTuber Masterclass - 26th October 2021, London
Where: Studio Spaces, Unit 2, 110 Pennington Street, Wapping, London, E1W 2BB
When: Tuesday 26th October 2021 (pick morning or afternoon session)
Class one: 9.30am – 1pm (arrivals from 9.15am)
Class two: 2pm – 5.30pm (arrivals from 1.45pm)
What:
NERF Upload: A YouTuber Masterclass will be hosted by some of the most popular YouTubers in the UK including Morgz, AJ, and Sharky alongside kid's filmmaking experts Cinemavericks.
Set in an incredible warehouse studio space, kids will spend 3.5 hours learning the creative and practical skills that go into content creation, with plenty of NERF blasting fun on top!
Far from sitting in front of a screen, they'll learn everything from how to set up the perfect shot, basic editing skills, how to unbox (with their own NERF boxes to give it a go themselves) and the art of mastering a NERF trickshot.
They'll work in groups to create their very own piece of content, which they'll upload to an exclusive NERF Upload content channel on the day.
Each masterclass culminates in a screening where parents will be able to marvel at the creative skill that goes into piecing together entertaining, fun and active content for YouTube, TikTok and beyond!
Can't make the event in real life? Fear not, as there'll also be a chance for you and your NERF-mad kids to take part in a special, digitally-adapted version of NERF Upload's YouTuber Masterclass on Saturday 30th October.
To find out more, and secure your place, head to: https://www.eventbrite.co.uk/e/190916415137
The fine print
This event is suitable for children aged 8-12 only
Tickets are free, but spaces are limited. They will be available on a first-come first-served basis
1 ticket = 1x entry per child (plus a parent / guardian) if you wish two or three siblings or friends to attend together, please ensure you have the respective number of tickets
All equipment for filming will be provided on the day and each child will be gifted with a NERF blaster
Parents will be required to stay at the venue for the duration of the event
Any content from the workshop uploaded to the NERF Upload channel will not be made public. This will be available to view only by those who receive a private link, and will not be shared beyond those attending
Please ensure children dress appropriately i.e. long sleeves and soft trainers
Lunch will not be provided, but there will be tea, coffee and snacks on site for parents and children
Covid guidelines will be issued to all ticket holders in advance of the event