Five webinars on Climate Science and Policy to empower Generation Net Zero with an understanding of Net Zero and how to achieve it.
About this Event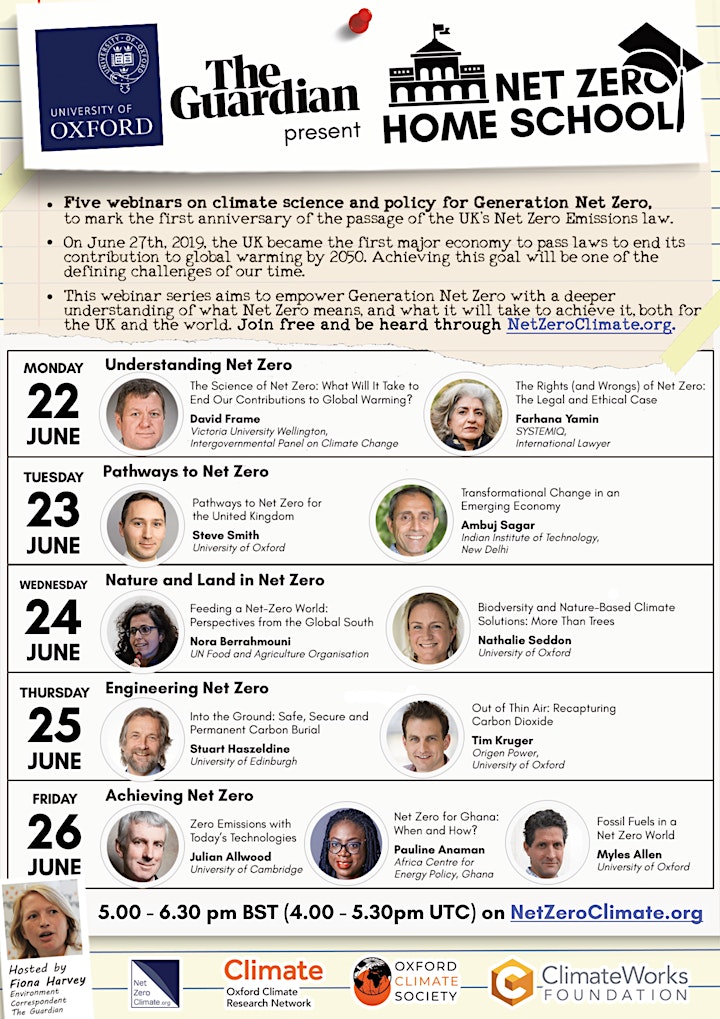 We are excited to announce our Net-Zero Home School in partnership with The Guardian! Five webinars on climate science and policy for Generation Net Zero, to mark the first anniversary of the passage of the UK's Net Zero Emissions law. All events are hosted by Fiona Harvey, Environment Correspondent at The Guardian.
Monday 22nd to Friday 26th June daily from 5:00 - 6:30pm livestreamed here:
https://www.youtube.com/channel/UCOoksFYBCHqZWwVBU9qewZg
On June 27th, 2019, the UK became the first major economy to pass laws to end its contribution to global warming by 2050. Achieving Net Zero will be one of the defining challenges of our time. This webinar series, delivered by world leading climate experts, aims to empower Generation Net Zero with a deeper understanding of what Net Zero means, and what it will take to achieve it, both for the UK and the world.
For more info on the series and to submit questions for our speakers click here: NetZeroClimate.org
For more details on each event and the speakers click on the relevant event below:
Understanding Net Zero, Monday, June 22nd
David Frame, Victoria University Wellington & Intergovernmental Panel on Climate Change: "The Science of Net Zero: what it will take to end our contributions to global warming?"
Farhana Yamin, Systemiq & International Lawyer: "The Rights (and Wrongs) of Net Zero: the legal and ethical case"
Pathways to Net Zero, Tuesday, June 23rd
Steve Smith, University of Oxford: "Pathways to Net Zero for the UK"
Ambuj Sagar, Indian Institute of Technology, New Delhi: "Transformational change in an emerging economy"
Nature and land in Net Zero, Wednesday, June 24th
Nora Berrahmouni, FAO: "Feeding a net-zero world: perspectives from the Global South"
Nathalie Seddon, University of Oxford: "Biodiversity and nature-based Climate solutions: more than trees"
Engineering Net Zero, Thursday, June 25th
Stuart Haszeldine, University of Edinburgh: "Into the ground: safe, secure and permanent carbon burial"
Tim Kruger, Origen Power and University of Oxford: "Out of thin air: recapturing carbon dioxide"
Achieving Net Zero, Friday, June 26th
Julian Allwood, University of Cambridge: "Zero emissions with today's technologies"
Myles Allen, University of Oxford: "Fossil fuels in a Net Zero world"
Convened by the Oxford Climate Society, the Oxford Climate Research Network, and NetZeroClimate.org, supported by the ClimateWorks Foundation.