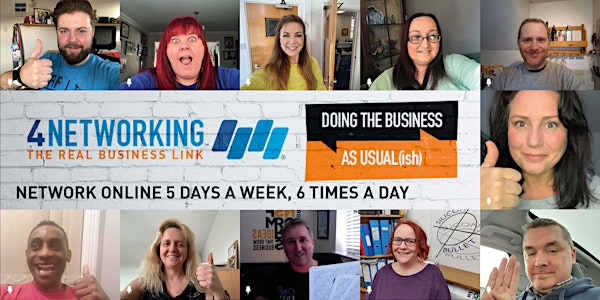 Network Online with 4N Yorkshire & NE England: Tuesday 7th April : 8-9.30am
Location
Yorkshire & North East England
Wherever you are right now!
United Kingdom
Sales Have Ended
Ticket sales have ended
Sorry you missed this one! Do check out the other online meets though - we are running 6 each and every day!
Description
As a business owner.... How are you going to get your phone & tills ringing?
This Covid-19 has changed everything. For us all. The world we woke up to is very different to the one we lived in Feb 16th when #4Nis14.
So we as a National Face to Face Business network of over 14 years have had to change and move fast with that change. Everything, we are writing in this text (it's 4N founder Brad writing this BTW) has been written at a point when we as an organisation, just like you, are having to deal with a massive change in the dynamics of a long established business, we are pivoting fast. Things will evolve, change and develop as things evolve, change and develop.
Welcome to the future of business networking. Those were the first words that I said at the launch of 4Networking back in 2006. "Welcome to the future of business networking, online." Certainly for the time being. 4Networking is a membership organisation, and will continue to show leadership and lead our members through this most difficult of times that people and business from all around the globe face. In the good ol' days, our thousands of members used to meet each day (in real life meetings) to swap leads, referrals and do 1-1 appointments. Covid-19 changed all that.
So now. We have maintained our unique format, but changed our focus to take our meetings online.
So our same vibrant, energetic, fun format, which continues to be open to EVERYONE. The 4Networking online community and meetings, make doing business easier. Easier to find sales, opportunities, suppliers, advice & expertise… and of course, supportive friends when you need them. And right now, we all need them.
The fact that you are reading this, means that you are just a few clicks away from joining us for a virtual meet
The meeting will run via zoom and the link will be emailed to you upon you booking. What you have to look forward to for just £5+vat :
* 40 second intro round.
*4Sight (An insight, not a sales pitch into an Interesting area
* 3 x 1-2-1 appointments with other networkers within the digital business networking meeting.
You will have the chance to network with people you would NEVER get the chance to meet in real life - expand your network like you've never done before, AND have some fun at the same time!
4NETWORKING: THE ONLY JOINED-UP BUSINESS NETWORK IN THE WORLD
The alternative, is there is no alternative. We are your best chance of survival, and then your best chance of success. Please make the decision. The decision, to fight back during this time.
Please join & support the 1000's of worried members during this time, we all have our part or play, the collective strength of the network will help us all during this unprecedented most difficult of times.
We will get through this. Together. Brad Burton - 4N Founder