Professional Quality Networking, UK Wide, Online Only networking for those who want to learn & collaborate with like-minded people.
About this Event
NETWORKING90 - 90 MINUTES OF QUALITY, PROFESSIONAL NETWORKING
Looking for a networking event that will not only have like-minded people, but values your time & your business too?
At IW2N90, we offer all the benefits of traditional networking PLUS all our networking meetings are online, so you can network, learn + build relationships from the comfort of your own home.
You'll learn from inspiring + knowledgeable speakers who will come to every meeting; whether they're invited to attend for one session, or members of the group.
PLUS as only one person per profession is permitted to join each group, you'll get the opportunity to secure membership + establish yourself as the natural point of contact for people wanting your expert knowledge. You've been there, done that + got the T shirt – now it's time to showcase your expertise + learn from others who are expert in their field.
These events are for people who are:
• Senior employees, founders, directors, and business owners
• Based in, or doing business in, the UK
• Interested in doing business in the UK + further afield
• Professional, proactive, ambitious + positive?
IW2N90 may be the networking group you're looking for + we'd love you to visit our next online meeting.
What to expect at our events:
Each meeting has a set format:
• Introduction + welcome
• Ask the Expert - One member or an invited guest speaker will do a presentation on their specialist subject (15 minutes + 10 minutes for questions) or Business MasterMind Session: The group has a facilitated discussion around a pre-submitted business issue affecting one of the members
• 60 second elevator pitch - Each member + visitor does their 60 second pitch (20 minutes)
• Zoom Around - How can you help someone else in the group? No waffle; straight down to business (20 minutes)
• 1:1 - Mini 1:1s in breakout rooms (15 minutes)
• Close (5 minutes)
As a visitor, you can visit one group twice, or two groups once, but if you wish to come again you will need to join your chosen group.
These groups have a one person per profession rule, so you will need to check that your industry is not already snapped up.
Will the meetings still be online when the coronavirus lockdown ends?
Yes. Online meetings can welcome members irrespective of where they live + work, which is what we want to do with our events.
They are also incredibly time efficient as there's no travel time. You can turn on your computer, have the meeting + 90 minutes later you can get on with whatever's next on your to do list.
If you'd like to join us at this event, then book your place and we look forward to welcoming you.
WHY COME ALONG TO ANOTHER ZOOM MEETING?
We are not stuffy, nor pushy, but we are professional. Networking is our heaven, and we have been running networking events since 2007!
All our events are designed with quality over quantity, and yes we like to have fun along the way.
Networking90 has two active groups, Brunel, and Darwin - yes name them after iconic people!
Please note: if you have already visited twice before - that's great - but this does mean we request you join as a member and reserve the right to refuse entry. If you prefer "no-membership" networking, then why not try our IW2N60 ?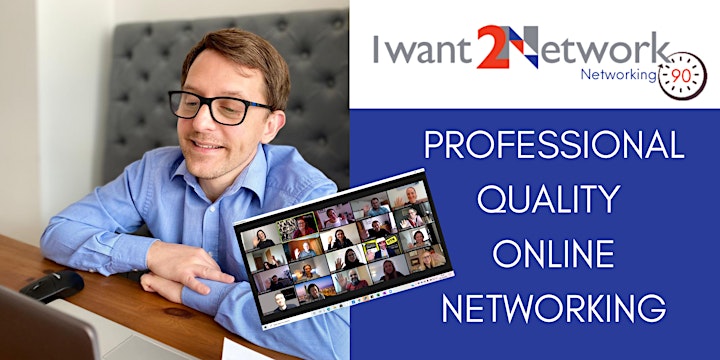 WHAT OUR MEMBERS AND ATTENDEES THINK ABOUT OUR EVENTS
We pride ourselves on delivering high quality professional networking. Peoples time is money and therefore its all about quality not quantity. Our events have been designed to be online, rather than a face to face event been thrown online.
Want to find out about what our members think of Networking90?
Then check out our testimonials on our Google Page
"I have attended Lizzie's networking groups, in person and online, for over 4 years now and they are always a brilliant mix of fun and productive. New connections at every meeting and a fair proportion of my business comes through her groups. I highly recommend visiting and soaking up the atmosphere, the professionalism but also semi-informal approach which is a great hot bed for doing business and leveraging our networks, with Lizzie ensuring we squeeze the most out of every meeting."
"Networking 90 is a gift to the world of online networking! I get to meet new people, share my business, and explore new ideas in a supportive and fun environment. Lizzie is an amazing facilitator and connector. I'm grateful to feel so supported especially in lockdown which can feel very isolating as a business owner."
Date and Time
Location
Refund Policy