Professional Quality Networking, UK Wide, Online Only networking for those who want to learn & collaborate with like-minded people.
About this event
Join us for our Joint December Networking Event - with our Ramsey, Darwin, and Brunel groups all together
Expand your network, learn, collaborate and upscale your business
Effective professional networking for men and women through monthly online events. In this joint networking meeting our one-profession per category rule is relaxed to enable further collabroation.
More about our networking events for men and women:
You want to network but time and money are precious. We get it.
Our groups offer support, opportunities and referrals without pressure or targets. We have been running professional networking since 2007 and we believe in quality over quantity. Stay focused, be selective and you'll find that networking starts to work.
UK-Wide Networking
It's so important to make authentic long-term connections and that's why we bring ambitious people together, from across the UK and beyond. Networking without borders – thanks Zoom!
Worried about wasting your precious time? Don't. We pack so much into 90 minutes - every meeting is an hour and a half well spent.
Grow your business
Our culture of camaraderie, collaboration, continuous learning and innovation allows you to scale and grow your business surrounded by people who want to see you succeed.
What is Networking90?
IW2N90 is a membership-based online monthly networking group designed for driven individuals who want to learn and collaborate in a facilitated group environment.
Business-Focused Networking
Just because our meetings are friendly and relaxed, it doesn't mean they're not efficient and focused. Quite the opposite.
The rules are simple: One person from each profession, strict time-keeping and a friendly atmosphere. We pack a lot in and keep you smiling for the full 90 minutes. Pressure and targets don't work, so there's no obligation to refer, unless it's a really strong lead.
Learn from Experts (and share your expertise when you join)
Each meeting includes an inspiring speaker, usually a member, who is the only representative of their profession, and therefore the resident expert, sharing knowledge and skills.
When you join as a member you'll also get this opportunity to host the session, to help others improve and grow with your expertise.
Business-Focused & Social Events
Working from home or as a sole trader can be isolating and with 4 social events a year included in your membership, you'll never be alone. From comedy nights to cooking workshops and wine tasting, you'll get the social side of networking too.
Networking90 – the benefits:
Efficient use of your time – you won't believe how much you'll get from 90 minutes a month
Network from the comfort of your own home – PJ bottoms welcome (in fact, encouraged)
Value for money - only £35/month for endless knowledge sharing and collaborating
Social events throughout the year for those who crave real life contact
Become a resident expert. The one-profession rule makes you the guru in the room!
Members love lots of things about our meetings but our most popular feature is the unique mini 1-2-1s. No need to carve out extra time between meetings to chat to useful connections.
Find out more about us in our video: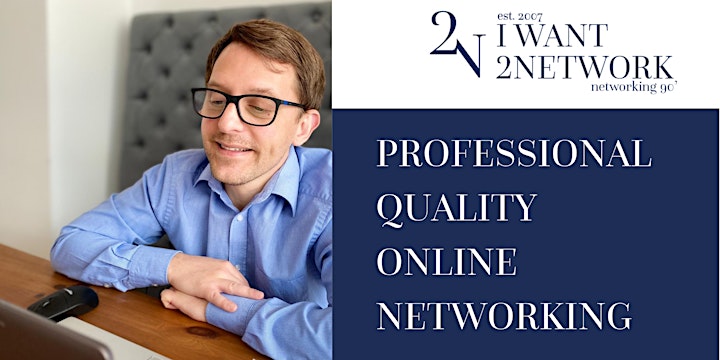 WHAT OUR MEMBERS AND ATTENDEES THINK ABOUT OUR EVENTS
We pride ourselves on delivering high quality professional networking. Peoples time is money and therefore its all about quality not quantity. Our events have been designed to be online, rather than a face to face event been thrown online.
Want to find out about what our members think of Networking90?
Then check out our testimonials on our Google Page
"I have attended Lizzie's networking groups, in person and online, for over 4 years now and they are always a brilliant mix of fun and productive. New connections at every meeting and a fair proportion of my business comes through her groups. I highly recommend visiting and soaking up the atmosphere, the professionalism but also semi-informal approach which is a great hot bed for doing business and leveraging our networks, with Lizzie ensuring we squeeze the most out of every meeting."
"Networking 90 is a gift to the world of online networking! I get to meet new people, share my business, and explore new ideas in a supportive and fun environment. Lizzie is an amazing facilitator and connector. I'm grateful to feel so supported especially in lockdown which can feel very isolating as a business owner."
"Highly recommended. Efficiently run, a great mix of people and Lizzie is terrific at making you feel relaxed and welcome. She works extremely hard behind the scenes and it shows in how well organised and structured the events are."
"The best thing about Networking90 is the mini 1-2-1s at the end in breakout rooms. No need to carve out extra precious times between meetings!"
Date and time
Location
Refund policy
Organiser of Networking 90: UK Wide, Online Business Networking, Joint Meeting
Expand your network, learn, collaborate and upscale your business
Effective professional networking for men and women through monthly online events
We offer two types of meetings. Select your style, or mix it up and join us for a bit of both.
• Speed60. Live or virtual networking. No membership fee and no commitment.
• Networking90. Membership-based online business networking group.

Networking Smarter
Events are friendly and relaxed but get the job done. Relationships are built beyond the sessions through WhatsApp groups where we engage with each other's social media posts, make useful introductions and stay in touch between meetings.